Desirae Lazar is the manager of one of Twitch Stars – Summit1g, a make-over artist and mother of two. She was thrust into fame by the virtue of her relationship (that is being the wife) with Jaryd Lazar who is widely known by his gaming moniker Summit1g. Though the couple would go on to divorce, it was an amicable one as they not only remained friends but continue to be partners in business.
Who Is Desirae Lazar
Desirae Lazar is famous as the beautiful wife of one of the world best Twitch stars known as Summit1g whose real name is Jaryd Russell Lazar. Being that Lazar is merely a celebrity belonging to the B class, not a lot about her is publicly known especially facts regarding her early life much to the dismay of her husband's fans eager to know more about her.
Though her educational background is also not public knowledge, Lazar sure exhibits smart attributes which are visible in the fact that she has been successfully managing her husband Summit1g career. The Twitch streamer is said to be worth between $2 million and $7 million.
With respect to her career, Desirae Lazar was formerly an online administrator of a gaming centre prior to crossing paths with Jaryd Lazar.
Desirae Lazar loves playing games like H1Z1, Twitch or Fortnight online although she has not made it a full-time job. Besides being her ex-husband's business manager, she is also his number one fan, constantly gushing about his feats on her Twitter, Instagram, and Facebook pages.
Other Fact About Summit1g's Wife
Desirae Lazar's Career As a Make-Over Artist
Desirae Lazar did not make video gaming her full-time career because she had make-up as her major interest. She constantly updates her fans and Twitter followers with tips and products to use. Some of the products she occasionally promotes are the Urban Decay brand.
Family
Lazar's parents are super supportive of her career. Although their full identities and origins have not been made known, her mother's Twitter handle is Mommy1G. Desirae Lazar's Twitter post sometime in 2015 tells us that her dad and mom are divorced while her father has another child (son) with another woman who by extension is Desirae's half brother.
Summit1g once stated in one of his live streams that his first date with Desirae was attended by her concerned mom. The concerned mother who was worried about her daughter's safety even joined Desirae and Summit1g in the movie theatre.
Desirae seems to share a strong and special bond with her mum who sometimes attends gaming events with her daughter and son-in-law (Summit1g). Plus, she ceaselessly gushes about the achievement of both Desirae and Jaryd Lazar on her Twitter page.
Desirae and Jaryd Lazar might be divorced but their families are often seen hanging out together as there is apparently no love lost among them. They even spent part of the Yuletide season together in December 2018 and of course, came together in February 2019 during the first birthday celebration of Desirae Lazar's twin daughters.
Marriage With Jaryd Lazar Widely Known As Summit1g
Desirae Lazar's love story began with her reaching out to Summit1g online. She was an admin on a gaming site where Jaryd played online video games. After a brief period of communicating online, they decided to see physically in 2007.
After about nine years of courting, the two decided to become man and wife on April 25, 2013, a couple of days after Summit1g's birthday. They were wedded in the presence of their loved ones and close friends.
However, for undisclosed reasons, the couple decided to separate amicably after two years of marriage. They got divorced quietly sometime in 2016 bringing to an end their about 12 years intimate relationship. Desirae Lazar on her own part retained her husband's surname Lazar, she, however, added Rios to her name on Facebook account. The couple is still best friends and business partners as Desi as she is fondly called remains as the manager of Summit1g's business affairs.
She has hooked up with another man with whom she birthed two twin adorable daughters while Summit1g since 2017 is with his new girlfriend Caroline aka Lilchiipmunk. The two women get along very fine.
She Is A Mother Of Two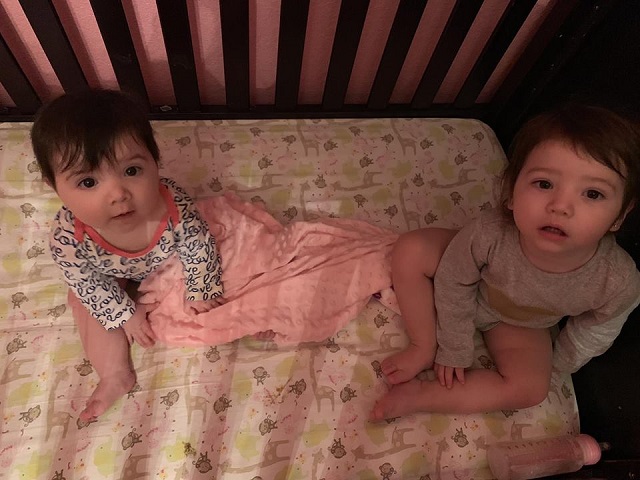 It is often speculated that Desirae may have wanted to have kids and Jaryd Lazar may not have wanted kids hence their amicable separation. This speculation is backed up by the facts that Desirae wasted no time with her new man in giving birth. Desirae Lazar with her new boo welcomed her first issue, twin daughters sometime in February 2018.
Their first birthday was celebrated on the valentine's day 14th February 2019 with a great turn out by her close gaming community including her ex-husband Summit1g, Smokey, Blue622, Kevin Davenport, Yota_Ninja and more. As usual, Desirae shared the moments with her followers by uploading pictures of the event to social media. Desirae resides in Colorado Springs with her family.
See Also: Jessica Goch – Bio: 5 Things You Didn't Know About Ninja's Wife
Lover of Fur Animals
The mother of two loves fur animals especially dogs. As a matter of fact, she and Summit1g had two beautiful dogs whose names are Abby and Oreo. The doggies often featured in pictures and videos of the couple.
Height
Standing a few inches shorter than Jessica Goch's the wife of Ninja (Tyler Blevins) who has a height of 5 ft 5 inches, it is safe to assume that perhaps Desirae Lazar is 5 ft 3 inches tall.