Desmond Doss was a staunch Seventh-day Adventist who chose not only to proclaim the doctrines of his faith but to apply it in his day to day life as a member of the United States Armed Forces. With this, he was able to accomplish unimaginable things during his active years of service, most notably saving 75 lives in the heat of the Battle of Okinawa during the Pacific War.
As a result of his actions, Doss became a hero and was awarded the Medal of Honor, America's highest and most prestigious personal military decoration, for his bravery. There is certainly more to know about this gallant American soldier who gained many admirers and fans after his act of bravery.
Desmond Doss was Raised By a Father Who Was a Carpenter
Desmond Doss was born as Desmond Thomas Doss on the 7th of February 1919 in Lynchburg, Virginia to William Thomas Doss and Bertha E. Oliver Doss. His father earned an honest living as a carpenter while his mother was a homemaker and shoe factory worker.
Doss's parents brought him up in a devout Seventh-day Adventist home where they imbibed in him biblical principles that he held on to tenaciously. These principles shaped his lifestyle as he continued to practice Sabbath-keeping, nonviolence, and a vegetarian lifestyle all through his life.
He was also known to have a natural ability to understand and share the feelings of others right from his childhood. A good instance was when he traveled several miles just to donate blood to an accident victim who wouldn't have made it otherwise.
He Carried His Strict Christian Principles into The Army
When Desmond Doss chose to join the army on the 1st of April 1942, he carried along with him the strict Christian lessons he got from home. With nonviolence being one of the major principles of his faith, Doss never carried a weapon as a soldier, and neither did he kill an enemy soldier all through his time in the Second World War.
As the war progressed, Doss's only weapon remained the Bible and his faith in God despite the fact that he was assigned to an infantry rifle company. Some viewed this as a careless mistake that was capable of leading him to his death, abduction, or at least a severe injury. Through his faith, Doss was able to persevere and survive, though he sustained extensive injuries that claimed some of his vital organs.
His act of faith earned him so much ridicule from fellow soldiers who jeered and laughed at him for his decision. Many saw him as a liability as it was said that a soldier without a weapon was not worthwhile. Doss was scolded, intimidated, assigned to tough duties, and declared unfit for the army. His situation then was comparable to that of an outcast not wanted by his own people. One time, a soldier at the barracks promised to take Doss's life during combat but it happened that no one could toss him out as he refused to leave.
Doss Found His Forte With the Medic Unit During the War
While World War II intensified, Desmond Doss found his rightful place in the medic unit where he ensured no life under his custody was lost. He went as far as risking his own life to enter a Japanese forth in order to save some wounded soldiers by attending to every one of their injuries and offering what could facilitate their recovery.
The Christian soldier continued on this path and never looked back despite the mockery he had to endure from colleagues who considered his ways to be strange and unconventional. When it was all said and done, however, he earned himself so many accolades, both nationally and internationally.
At the White House on October 12, 1945, Desmond Doss was honored by President Harry S. Truman with a congressional medal of Honor as one of the best 431 uniformed men out of the 16 million who fought the war.
Doss was wounded thrice during the war. He was left with no option but to live without five of his ribs and one lung until his demise on the 23rd of March 2006. In his later years, he suffered from Shell Shock (PSTD), a health condition that affected his relationship with his son.
How Doss Saved The Lives of 75 Soldiers
During the battle at the Okinawa Maeda Escarpment, also known as Hacksaw Ridge, Desmond Doss saved the lives of many American soldiers who were battered by the fast and furious grueling onslaught of the Japanese.
For half of the day on the 5th of May, 1945, Doss worked tirelessly to ensure he saved a large number of soldiers. Although he sustained a severe injury while doing this, the patriotic American stopped at nothing to rescue wounded soldiers from the Japanese forth, risking his own life in the process.
Because of this, Doss will continue to be remembered historically as the soldier who risked his life to save over 75 other soldiers.
Desmond Doss was Married Twice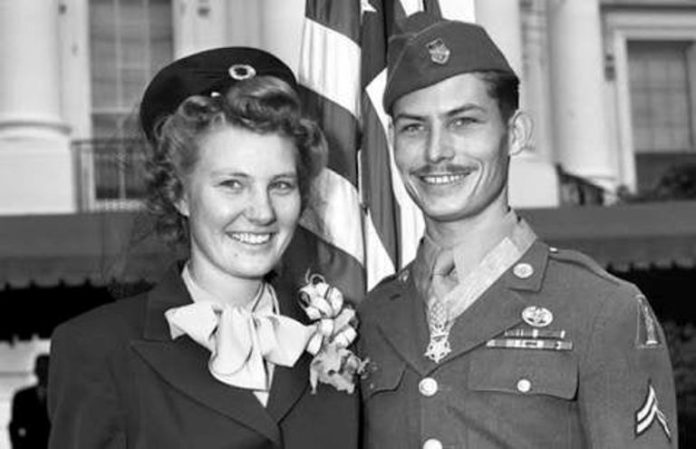 Though we can't lay our hands on the details of their union, Desmond Doss enjoyed a blissful marriage with his beautiful wife, Dorothy Pauline Schutte. The devoted soldier exchanged wedding vows with Dorothy in 1942 and their 49-year-old union was blessed with a son named Desmond Thomas Doss Jnr., who was born in 1946.
Desmond and his wife had a home characterized by love, prayers, and trust in God. It was said that their house was a home for the wounded and battered. After Dorothy died on the 17th of November, 1991 following a car accident, Doss remarried a couple of years later in July 1993 to Frances May Duman. The couple lived together for 13 years before Doss Died. Frances died two years later in 2008.
See Also: Child Soldiers in Uganda, Africa – History, Facts and Statistics
Who are the Other Members of Desmond Doss's Family?
As earlier mentioned, Desmond Doss's parents were William Thomas Doss and Bertha E. Oliver Doss. His parents had one other son named Harold. From what is perceivable, the Doss family seemed to be a close-knit one who lived their lives according to the Christian faith.
Desmond's brother Harold, fondly called Hal, enlisted in the Navy and served in Europe. Just like his brother, Hal was a patriotic soldier who continued to fight even when the ship he was serving on was severely damaged on the 12th of April 1945. After the incident, Hal was mistakenly listed as those killed in action because of the extensive damage the ship suffered. He, however, miraculously survived. Hal later died in 2007.