Following in his father's footsteps, Devin Booker has gained prominence as a basketball star. He played for the Kentucky Wildcats and was later drafted by the Phoenix Suns during the 2015 NBA Draft. Despite being one of the youngest in the league, Devin has shattered a lot of records and has proven his relevance in his team. Apart from excelling in his career, he has also gained fame what with his publicized relationship with Jordy Woods.
Devin Booker's Biography (Age and Ethnicity)
Devin Armani Booker was born on October 13, 1996, in Grand Rapid Michigan. He is of American and Mexican descent. His father, who was an NBA star taught him the basis of basketball and by the time he got to Grandville High School, he proved to the school team that he was no amateur in basketball. Devin later transferred to Moss Point High School, joined the school's basketball team and emerged as the Missippi Player of the Year after he averaged 22.8 points per game.
As a junior at high school, Devin Booker was honored as the Gatorade Player of the year and was also ranked as the Sun Herald best Player of the Year. In his senior year, he emerged as the winner of the three-point shooting contest as organized by Under Armour after he totaled 30.9 points in each game that season. By the time, the baller completed high school, he bagged a lot of accolades and moved over to the University of Kentucky where he continued honing his skills as a future basketball star. While playing for the Kentucky Wildcats, the baller was honored with a listing on the All-SEC Second Team, SEC All-Freshman and the Sec Sixth Man of the Year after averaging 2.0 rebounds and 10 points in each of his games throughout the 2014 and 2015 season.
Having done so well in his first year, Devin decided to take a bow from college and go pro. Within the period his intentions went public, his dreams became feasible after he was selected as the 13th overall player by the Phoenix Suns. He started out with the team in the NBA Summer League and gained a lot of attention after he earned an average of 4.9 rebounds and 15.3 points per game.
Devin Booker went ahead and played with the team during the 2015/2016 NBA regular season, becoming the first player at 18 to ever appear in the league. His rookie seasons were noted for his outstanding performances on the court. He recorded a season-high 21 points in a game against the Sacremento Kings and joined the league of youngsters who recorded a double-double in the NBA. That season ended with 2.5 rebounds and 13 points per game.
The Grand Rapid born baller added more skills to his tricks the following season, in his first game that season he scored 22.1 points per game and later wowed his audience shattering records in the month of March after he recorded 70 points in a single game. For that performance, he became one of the six players in the history of NBA to attain such height.
By the next season, Devin was already regarded as one of the many players in the NBA who made history. He topped as the third youngest players to record 4,000 career points following Lebron James and Kevin Durant. He finished the season with a total of 4.5 rebounds and 24.9 points per game.
Devin Booker's Family – Parents, Sister, and Girlfriend
Devin Booker was born to Melvin Booker and Veronica Gutierrez. His dad, Melvin was noted as one of the outstanding basketball players during his heydays. He has a stepsister, Mya who is suffering from microdeletion syndrome.
Apart from the affairs of the basketball court, Devin has also been very active as an internet personality. He caught the attention of many after he started dating Jordy Woods; Kylie Jenner's best friend. The two met sometime in 2018 and has continued to blossom in their relationship.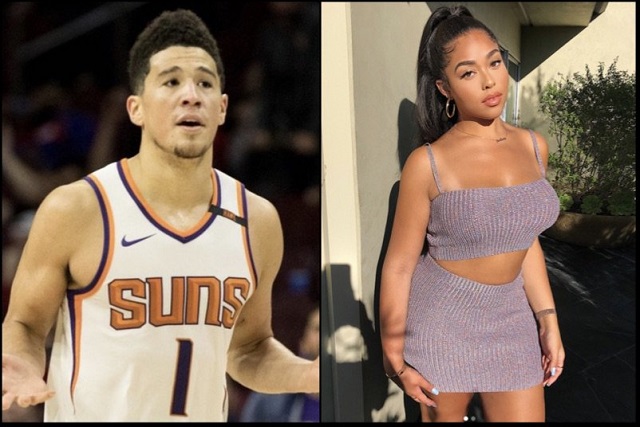 Jordy woods isn't just famous because of Kylie and Denvin, she is also a known American model and a social media sensation. She ventured into modeling when she was way younger. Today, she has made a name for herself working with Ford Modeling Agency.
See Also: Trevon Duval Height, Weight, Body Measurements, NBA Career
Body Stats – Height
With a height of 6 feet 6 inches, you could take a sure bet on why Devin Booker would never be overshadowed on the basketball court. He has one of the perfect heights any basketballer would ask for and his body physique has contributed immensely to his skills. As a shooter, Devin has worked so hard to maintain a weight of 95kg in order to attain stability any time the ball goes off.