Following in his father's footsteps, Devin Booker has gained prominence as a basketball star. He played for the Kentucky Wildcats before the Phoenix Suns drafted him in the 2015 NBA Draft as the 13th overall pick. Despite being one of the youngest in the league, Devin has shattered multiple records and proven his relevance in his team. Now a prominent part of NBA's Phoenix Suns, Devin Booker's stock is rising. In turn, it has driven interest in his life, outside of his productive plays on the court.
The Rise of the Devin Booker Family
In his short career in the NBA, Devin Booker is quickly setting himself apart as one of the best talents in the league. He has achieved accolades like the youngest player to score over 60 points in a game and the youngest in NBA history with consecutive 50-point games. It is a performance record that has helped Devin put his stamp on his last name, Booker, shared with his father, Melvin, who spent two seasons in the NBA.
He was born to him and his mother, Veronica Gutierrez, a cosmetologist, on October 30, 1996. His parents met during the 1995/96 season, while Melvin played for the Grand Rapids Mackers. They later grew close and birthed a son, Devin. Basketball kept his father traveling all over the globe. Still, Gutierrez helped Devin and Melvin maintain a relationship by bringing their son to his games in the summer.
This seemingly simple move achieved two things. It kept the family together, even though they never married, and introduced Devin to the game of basketball. That bond between father and son, eventually helped Devin become an NBA star.
How His Father Paved His Way to the NBA
Devin Booker's father may have played for three teams in the NBA, but he was never a star. He spent most of his playing days abroad, playing for teams like Sony Milano, Scavolina Pesaro, and Khimki. But he knew what a successful career required, and after he retired in 2008, went about imparting it in his son.
Because he initially lived with his mother, Devin grew up in Grand Rapids, Michigan. But after his father's retirement, he joined him in his hometown, Moss Point, Mississippi. It was a move from suburban life to urban life, with predominantly black people.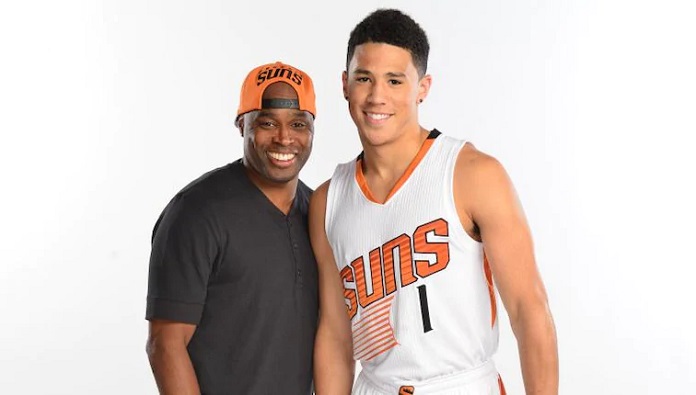 Melvin Booker became an assistant basketball coach at Devin's school and his alma mater, Moss Point High School. There, he became his son's trainer during his sophomore year. He taught rudiments of the game, how to become a great player and a better professional. Melvin also taught Devin how to shoot and the benefits of a great work ethic. The result was a record of 30.9 points per game for Devin as a high school senior. He also finished his career at Moss Point as the all-time leading scorer, with 2,518 points.
After one season in college at Kentucky, he averaged 10 points per game. He was named the 2015 Southeastern Conference Sixth Man of the Year. He also entered the 2015 NBA Draft, and with his father and mother by his side, the Phoenix Suns picked him, fulfilling his and Melvin's dream.
Devin Booker Has Two Siblings via His Mother
Before her mother's relationship came to be, she had two children from two previous relationships. The children, Mya Powell and Davon Wade, became Devin's half-siblings. All three children grew up in Grand Rapids, Michigan as part of a big and comfortable family.
Davon Wade was born on February 17, 1994, and is a graduate of Western Michigan University. We are not sure of his professional history, but real estate entrepreneurship appears to be at least one of them. He held the listing for his brother's $4.195 million Arizona home in 2020, with Kirk Linehan of eXp Realty.
https://www.instagram.com/p/B_fximLHKlO/?utm_source=ig_web_copy_link
As for Mya, she was born in 2001, and she suffers from Microdeletion syndrome, a chromosomal genetic disorder. Mya and her siblings have a close relationship, which included playing everything from basketball to kickball. Thanks to Devin's relationship with his sister, he formed a connection with a Suns' superfan, Jenna Warren, who has Down syndrome. Outside of his two siblings, Devin Booker had a maternal grandfather, Jesse Gutierrez, who passed away in June 2017.
Devin Booker's Love Triangle with Jordyn Woods and Kendal Jenner
Outside of his family relationships, where things are seemingly wholesome and quiet, Devin Booker's love life is a lot more fractured. The Phoenix Suns star used to be in a relationship with model and socialite, Jordyn Woods.
It is unclear how long Devin and Woods were together. But during their time as a couple, they went on a now-infamous double date in May 2018 with Kendal Jenner and her boyfriend at the time, Ben Simmons. A lot went down after Booker and Woods break-up, including Woods' ex-communication from the Jenner clan after a kissing scandal with Tristan Thompson.
Regardless, things turned scandalous between the three when news of Kendal Jenner and Booker on a road trip to Sedona Arizona during the 2020 pandemic made the grapevine. It sparked rumors of a possible relationship between the two, which was met with now-deleted cryptic messages by Woods on social media.
However, the rumor and narrative appear to be an exaggeration. Sources close to Devin and Kendal say the two are neither hooking up nor dating, and it was simply two friends taking a road trip to get out of the quarantine bubble.
Devin May or May Not Be Single
The coincidental messages by Woods may have been overblown. However, one set of messages that might mean a lot more is one from a Hannah Harrison, a reported girlfriend of Devin Booker. After watching her supposed boyfriend go on a road trip with one of the most famous persons on earth, she posted some cryptic messages.
The IG posts suggest she broke up the relationship immediately and blocked the basketball star on the platform. However, there have been reports that Devin is single and has only been casually dating. Combined with his extreme silence when it comes to his love life, it is difficult to determine if they were dating or it was another coincidence that has been played up by gossip tabloids.