Diamond Platnumz is a Tanzanian Bongo Flava artist, actor, dancer, businessman, and philanthropist with a net worth estimated at $7 million.
Platnumz has many streams of income. He is the chief executive officer of Wasafi Records and has so far released three solid albums with so many singles and collaborations. As a businessman, he launched both Wasafi radio and television in 2018. His contributions to the entertainment industry have not gone unrewarded as he has swept a plethora of awards over the years. It has also brought him a huge fortune.
Just How Rich Is Diamond Platnumz?
Taking his multi-faceted career into consideration, one would not be surprised to hear that the Bongo flava artist is well on his way to hitting the one billion milestones in net worth. Though, this is only possible when his fortune is calculated in Tanzanian currency. However, a recent review of his accumulated fortune came to a whopping $7 million dollars which is a great feat considering his humble beginnings.
Diamond Platnumz's present fortune is a culmination of what he earned from concerts, tours, album sales, collaborations, and endorsements. The multi-talented artist has also proved that he can hold his own in the cut-throat world of business, establishing his own radio and television outfits in Tanzania and making them viable. His record label is also considered to be doing great.
How Diamond Platnumz Become The Richest Musician In Tanzania
Diamond came from an impoverished background where his father left the task of bringing the kids up to his mother Sandra Kassim who played a pivotal role in his rise to fame. Even without any sustainable means of income, the singer's mum spent the little she had on her son's future, buying him albums from established musicians and helped him in writing lyrics for his early songs. Sandra believed so much in her son that she took him from one talent show to the other with the hope that he would get an opportunity to perform. Sandra's effort obviously paid off as Diamond is presently considered among the richest artists of African origin.
When he finally began to find his feet on the music scene, Diamond dropped his debut album entitled Kamwambie in 2012, the album which featured a total of 12 tracks was well received by the populace garnering him an impressive fanbase. After Kamwambie, it took a couple of years for his second album Lala Salama to hit the music stand in 2012, sporting 10 songs.
His third album A Boy from Tandale which is still making waves among fans and the general public was dropped in Kenya on the 14th of March 2018 with collaborations from other African artists like Davido, Flavor, Tiwa Savage, P Square, and many more. Since the release of his third album, the musician has dropped quite a good number of singles including the hit track Jeje and has been featured in music videos by other African artists.
With what Diamond Platnumz earns from his music career, the bongo flava artist went into business, establishing his Wasafi recording company. He also launched the Wasafi radio and television stations in his home country Tanzania. Needless to say that, all Diamond's ventures are doing wonderfully well earning him revenue in millions of dollars.
Is Diamond Platnumz The Richest Musician in East Africa?
Statistics placed Ugandan musician, actor, activist, businessman, and philanthropist, Bobi Wine as the richest East African musician with a net worth in excess of $7 million. However, the latest review of Diamond's fortune which shot him from $5.1 million to $7 million has brought him to the same level as Bobi and he is now counted among the richest artists in East Africa.
Belonging to the crème de la crème class in the world of show biz has exposed the Tanzanian to other international starts boosting his standing a notch higher in the entertainment world. The East African star being a young man in his early thirties has age on his side and with time, he might well top the list of the wealthiest musicians in the black continent.
Here is a Break Down of How he Makes his Money
Diamond Platnumz's average daily takings from his music career and record label is estimated at Tsh 2 million but an annual calculation brings it to a total of 730 million Tsh. Reports from Gafla said his 2018 New Year gig which came to approximately 10 shows in both the United States of America and Europe increased his already affluent account by Tsh 7 million.
However, a lion's share of his annual revenue emanates from the fees accruable from the singer's music and copyright royalty. The Tandale, Dar es Salaam born musician can take as much as TSh 400,000 just for a single performance in his home country. Though, when it comes to performing at an international level, his appearance fee increases to as much as Tsh 2.5 million. There was a time when he was required to put up a performance in Kigali Rwanda, Diamon's fee went right through the roof. Reports had it that he took Tsh 10 million for that particular outing.
His Wasafi record label also generates substantial revenue for the Jeje crooner. A single audio recording costs a total of Tsh 30,000 while recording for video takes up to Tsh 600,000.
The Wasafi CEO also Generates Funds from Endorsements and other Ventures
Naturally, when one attains great heights in the entertainment industry, it follows that he or she will be highly sought after by A-list companies for commercials and endorsement. The story of Diamond's emergence to the limelight follows such plot. The Tanzanian native has become the darling of some multi-nationals such as coca-cola, DSTV, Vodacom, Red Gold, and many more.
Diamond Platnumz is currently enjoying endorsements with Vodacom and Coca-cola, though his earnings from that angle have not been made public. On the 23rd of January 2019, Pepsi officially introduced him as their brand ambassador for East Africa. The Tanzanian branch of Pepsi Management unveiled the Jeje hitmaker as the promotional figure for the brand in all of East Africa.
He became the official brand ambassador of Parimatch Africa on the 13th of September 2019 and a few days later on the 25th of of September, he was named brand ambassador for the Nice One. Diamond became the new Brand Ambassador for Coral Paints (Tanzania) on the 4th of March 2020.
Among the artists of Tanzanian origin, he was considered to be the highest-selling ringtones by numerous mobile phone firms in 2013. Besides, the hitmaker has won more awards than he can count, nominated for 28 and winning 23. While he was coming up the success ladder, the competition was quite stiff. At the Tanzanian music awards in 2011, he had to go home empty-handed while another recording artist by the name 20%, swept five awards at once. However, the story changed for Diamond in 2014 when he set the records, winning 7 in all. However, he previously won three from the same awards ceremony in 2010.
His Lifestyle is a Proof of Just how Affluent he is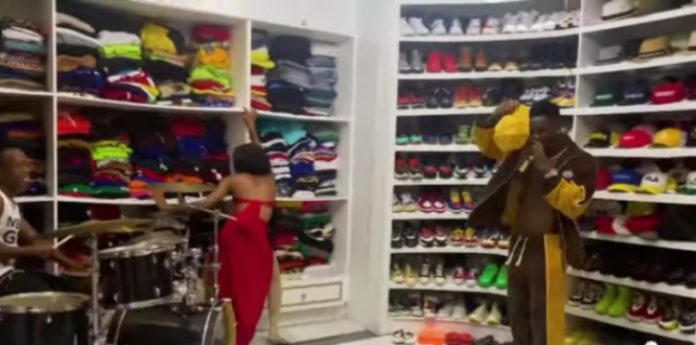 Diamond's affluence is evident in the kind of lavish lifestyle he favors. For one, the singer's Dar es Salaam mansion is a sight to behold, from the exterior with the glittering swimming pools and line up of automobiles to the interiors sporting one of the best decors you can ever imagine. From the kitchen to the living room to the bedrooms, the house is unimaginably luxurious. On his personals items like clothes, shoes, and caps, the Tanzanian artist has a closet full. He also owns another mansion in SA
Diamond Platnumz' fleet of cars includes the most expensive brands like Toyota Landcruiser Prados, A BMW X series, Hummer H3, and a Toyota Noah. He once spent an astounding $450,000 acquiring a renegade Rolls Royce Phantom in black color.
The bongo flava artist is equally generous with his wealth, gifting his family, friend, and workers with expensive cars. Some signees under his record label like Zuhura Kopa, Lavalava, and Mbosso are beneficiaries of his car gifts, so are his mom and baby mamas.