Whenever you hear the name, Diandra Luker, what first comes to your mind is Michael Douglas' ex-wife. It is quite unfortunate that the multi-talented producer gained worldwide fame and recognition through the wide publicity of her 2000 divorce from her ex-husband, Michael Douglas who is a multiple award-winning American actor and producer. Through the divorce, Diandra Luker got the whopping sum of $45 million and some properties as her settlement.
Luker has a career herself as a producer. Her works include Beatrice Woods: Mama of Dada, Off The Menu: The Last Days of Chasen's and Broken Lines. In addition, Luker is a dedicated humanitarian worker who has gone ahead to collaborate with many notable humanitarian societies including the Red Cross Society to execute several benevolent acts. Learn more interesting facts about Michael Douglas' Ex-wife.
Diandra Luker Biography
Though the exact date of birth of the beautiful actress has been kept away from the prying eyes of the media, Diandra Luker was born on the island of Majorca, Spain in 1956. She was raised in Spain. Her father was a former United States ambassador to Switzerland while her mother possesses an Anglo-French racial background. Due to the nature of her father's job, he traveled a lot and because of that, he enrolled Luker into a boarding school in Switzerland for her to fully focus on her studies. The talented producer later relocated to the United States to further her higher education at Edmund A. Walsh School of Foreign Service located in Georgetown.
With regards to her personal life, the gorgeous actress met the multiple award-winning actor, Michael Douglas when she was 19 during the swearing-in ceremony of the then United States president, Jimmy Carter. Their love was so strong at first sight which prompted the renowned actor to propose to the beautiful damsel, after two weeks of dating. The pair went on to exchange marital vows in March 1977 and in the next year, they were blessed with a son, Cameron Douglas.
Net Worth
Though the exact net worth of the adroit producer cannot be deduced. Diandra Luker has garnered enormous wealth through her excellent works as a producer. After adding the whopping sum of $45 million she received from Michael Douglas as her divorce settlement to the earnings from her several works, it is obvious that the gorgeous actress' financial value is running in millions of dollars.
Facts About Michael Douglas' Ex-wife
1. Diandra Luker is a humanitarian worker
Diandra Luker has been a member of many Humanitarian organizations including Red Cross Society from her young age. She is so active in rendering humanitarian services that one of the charitable organizations by the name of Metropolitan Museum of Arts saw her doggedness and zeal and contracted her to write documentaries about their film and television department.
2. Luker's divorce from Michael Douglas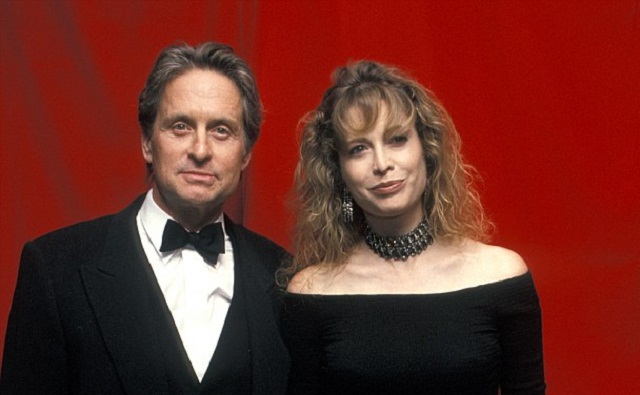 What seems like a blissful marriage suddenly turned to cat and dog affair after ten years. The adorable marriage of Diandra Luker and Michael Douglas hit rock bottom after 18 years to the point that it took the court 5 years, from 1995 to 2000 to render a final verdict on the divorce case. The verdict was in favor of the skillful producer as she received the sum of $45 million with some properties as her settlement. The separation gave her fame and fortune though in a negative manner as some media platforms tagged her a greedy woman.
3. She has worked as a model
Michael Douglas' wife has also done some work as a model. She signed with Ford modeling agency and has repped brands like Caroline Herrera, Oscar de la Renta and Donna Karen.
See Also: Dana Delany – Biography, Net Worth, Husband, Movies And TV Shows
4. She is a prolific film producer
Diandra Luker has gone ahead to produce many films and documentaries. Her work as a producer includes Frederic Remington: The of Other Dogs, Beatrice Woods: Mama of Dada, Off the Menu: The Last Days of Chasen's, Broken Lines and many more.
5. Diandra Luker's children
With Douglas, Luker had her son Cameron Douglas before having twin boys, Hudson and Hawk with a business tycoon, Zach Hampton Bacon III through a surrogate mother. She later adopted a daughter, Imira, from Kazakhstan after parting ways with the business tycoon. So far, Diandra Luker is a mother of four adorable children.