In the world today, only a few of the world's female population loves sports. Most women would prefer practicing in other career fields than handling a ball or even talk about sports as commentators. However, Dianna Russini is one of the few that fell in love with sports while she was way younger. She has taken her zeal in sports to the screens working with ESPN as the anchor to SportsCenter. It is no doubt that Dianna is one of the rarest kind of females in the world, find out more about her in this article.
Dianna Russini of ESPN's Age and Biography
Born and raised as Dianna Marie Russini on February 11, 1983, in New York City, Dianna is a lady who had a flair for sports right from when she was a child. During her days at Old Tappan High School in New Jersey, she craved a niche for both journalism and sports but her desire for sports was greater. In high school, Dianna Russini was a four sports All-State athlete who played basketball, soccer, softball, and track. She was a guru on track events while she played fairly in soccer and was a three-year starter for her school's basketball team.
Upon graduation from high school, Dianna furthered her education at George Mason University and was recruited into the school's soccer team regardless that she wasn't really perfect in the game. She knew her lapses in the game and decide to put in more efforts in practice, thus, within a short while, she topped her peers making it to the Divison 1 level. By the time she got to her second year in the University, she was made the school team's starting striker.
While Dianna Russini made progress on the field, she never killed her desire for journalism as she knew it wasn't just time to unravel it during those first few years at the University. After gaining grounds with the school team, she later became an intern in some local radio stations. Russini kept on shuffling from one radio station to another until the 9/11 attacks which further led to her decisions on leaving sports and concentrating fully in journalism.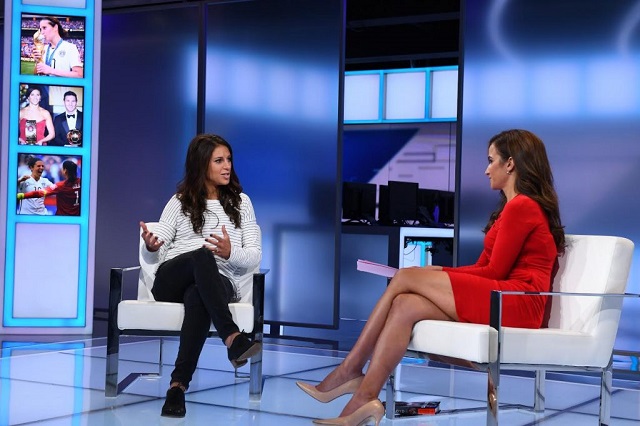 Then, Dianna Russini became a Student Sideline Reporter for Comcast, she worked with them through from 2003 to 2005, when she graduated with a bachelor's degree in Journalism. Upon graduation, she worked as a newscaster for News 12 Westchester from 2005 to 2007. She later worked with WNBC, New York, Comcast Sports in Seattle, Portland, NBC 30 in West Hartford, Connecticut, and NBC in Washington D.C. In 2015, Dianna scaled through the interview conducted by ESPN that year and became the anchor of Sports Center and has kept the job till the present time.
Does She Have a Husband or Boyfriend?
When it comes to relationship and marriage, Dianna Russini seems not to give a cut about them. She has never been married and has never claimed any guy as her boyfriend, fiance or husband. In fact, sometime in 2018, she publicly told the world that she was on the search of a boyfriend yet she has many fears about marriage. That announcement finally annulled the thoughts in the heart of many who thought she may have been in a relationship and decided to keep it private.
In as much as that has been said, Dianna Russini is no saint when it comes to relationship hoax. She was once paired with the American baseball player, David Wright. Well on our part, we wouldn't know how true if the relationship ever happened as not too long after the rumor went viral, Wright got married to model Molly Beers.
Marie has also been involved in a controversy. In fact, she was accused by Washington Redskins general manager Scot McCloughan's wife Jessica McCloughan to be her husband's side chick. Jessica also claimed that Russini gave some players Blow Jobs in return for information about the team. That was one hell of a rumor, after much ado, it was later concluded that the accusations were false.
How Tall is she?
Dianna Russini can be best described as beauty with brains. She is an elegantly beautiful woman. She is 5 feet 11 inches tall and is believed to measure 32-24-34 inches for her bust, hips and waist sizes respectively.