Andy Williams had three children – Noelle, Christian, and Robert – with his ex-wife Claudine Longet, a French-born American singer and actress. Noelle was born on the 24th of September in 1963, while Christian was born two years later on the 15th of April 1965. The youngest, Robert, was born in 1969.
All of Andy Williams's children have chosen to live a relatively quiet life to that of their dad. As a result, their current whereabouts are not known. Two still survive to this day, as Andy's first son Christian passed away in 2019.
Did Andy Williams Have Any Children?
Howard Andrew Williams was mostly known as Andy Williams and in the course of his seventy-four-year career, he recorded forty-three albums and sold over a hundred million records. Williams was born on the 3rd of December, 1927 and in 2012 on the 25th of September, he died from complications that resulted from cancer of the bladder. The diagnosis of his sickness had been given in 2011 and by the following year when he died, Williams was eighty-four years old and was survived by his three children, six grandchildren, and his wife.
During his lifetime, Andy Williams enjoyed success, fame and wealth. His foray into the entertainment industry began in 1943 when joined the Williams Brothers musical group alongside his older brother. With hard work, Williams eventually built a very successful solo career for himself with Moon River being the most popular song of his discography. He got married for the first time to Claudine Longet, a French-American dancer and actress. They had met in Vegas in 1960, where Longet worked as a dancer.
On the day they met, Longet was parked by the side of the road and was having issues with her car when Williams who was driving by decided to assist her. They started a relationship soon after and on the 15th of December 1965, they tied the knot when Longet was twenty and Williams was thirty-four. The couple was married for fourteen long years but eventually got divorced in 1975. Prior to the divorce, however, they had separated in 1970 after having had three children.
The first of the three children is Noelle who was born on the 24th of September in 1963. Two years after, on the 15th of April 1965, Christian, the second child was born and Robert who came to be called Bobby was born in 1969, a year before his parent's separation on the 1st of August, he was named after Robert F. Kennedy the politician who was friends with his parents Williams and Claudine.
The second woman who Williams got married to is Debbie Meyer and they remained married until his death. They had no children together.
Where Are They Now?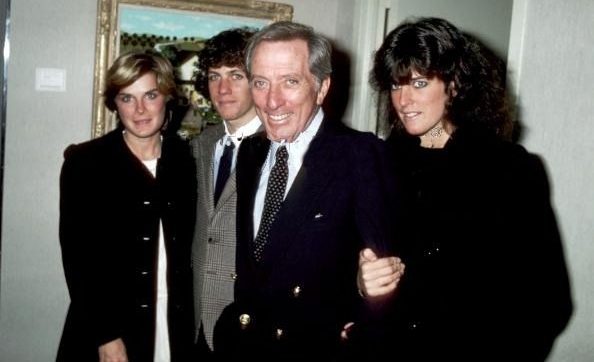 The three children of Andy Williams had appeared in some episodes of their father's television show and some of his specials when they were kids but as adults, they chose not to follow in their parents' footsteps by not having careers in entertainment. All three of them live very quiet lives, they grew up in Aspen where their mother lived. Longet went under the radar after she was convicted of an accidental shooting which might have also hindered her children from having careers in entertainment.
Noelle, the first of Andy Williams' children got married to Keii Johnston, a stuntman and in 1987 she had her first son, Andrew Dean Johnston who is the first grandchild of Andy Williams, she went on to have three more children. Keii and Noelle eventually got divorced; it is not known when the divorced happened or if she got remarried.
The sons, Christian and Bobby chose to work in the business world where they have thriving careers as businessmen. When Andy Williams died, he had six grandchildren; hence, it is safe to believe that the sons have children as well even though the records of when their marriages happened is not known to the public.
Christian used to live in Costa Rica but in July 2019 he died. The cause of his death was ruled as drowning. As already stated, the Williams children all lead quiet lives and because of this, little to nothing is known about them.