One of the major determinants of success in life is one's spouse as they can go a long way in contributing and helping to achieve set goals and dreams or deter one from achieving them. Dr Seuss was married twice and was fortunate to marry women who not only loved him but contributed significantly to the achievement of his many successes. Although he is long gone, his legacy continues to speak loud, thus people often wonder who Dr Seuss' children are and what they are up to. Find the details below.
Who are Dr Seuss Wives?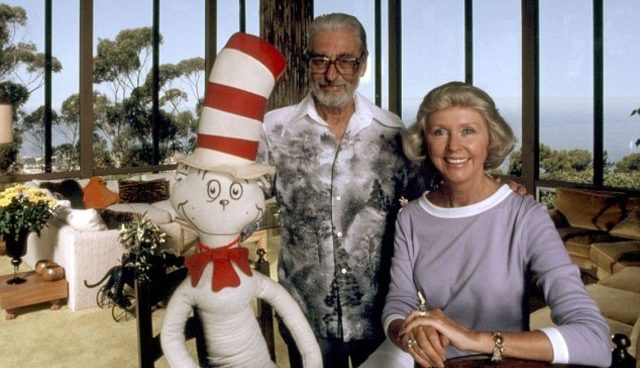 Helen Marion Palmer (m. 1927–1967)
Helen graduated from Wellesley College in 1920 with honors. She taught at the Girls High School in Brooklyn before moving to England to attend Oxford where she met Ted (as she fondly calls him) whom she later married. She is an animator, cartoonist, and writer like her husband and some of her notable works are; Why I Built the Boogle House, A Fish Out Of Water, I Was Kissed by a Seal at the Zoo, Do You Know What I'm Going to Do Next Saturday?
Theodor met his first wife Helen Palmer in Oxford when he enrolled for a D.Phil at Lincoln College. Helen who was a writer herself fell in love with the brilliant writer and they soon began to date. When she noticed his love and talent for drawing, she encouraged him to pursue a career in drawing instead of teaching. He took her advice seriously before he quit school and returned to the United State where he began to submit his drawing and writings to various magazines, advertising agencies and book publishers which led to his big break.
After he got a stable job as an illustrator and writer at Judge (a humor magazine) in 1927. He married Helen on the 29th of November of the same 1927.
As Theodor got wealthier, the couple never kept regular office hours, they traveled extensively as he believed that it helped his creativity and they had visited 30 countries together by 1936.
Unfortunately, Helen fell sick towards the end of her life. She struggled with partial paralysis from Guillain-Barre syndrome, was diagnosed with cancer and was bedridden for several years. Her discovery of her husband's blooming affair with Audrey Stone Dimond who was then a friend of the family finally drove Helen over the edge. She committed suicide on the 23rd of October 1967. She overdosed on barbiturates. Dr. Seuss had no children from his marriage to Helen.
Audrey Stone Dimond (m. 1968–1991)
Aubrey who was basically raised by her mother enrolled in a nursing program at Indiana University where she met a pre-med student (E. Grey Dimond) whom she consequently married. They became friends with the Giesels when they moved into their neighborhood in La Jolla, San Diego. Although Ted was 17 years older than her, they fell in love and began an affair which led to her divorcing her husband to marry him.
After Helen's death, Audrey and Theodor were married on the 21st of June 1968. They remained married until his death.
Audrey went ahead to live a full and happy life and also began to oversee her husband's estate after his demise in 1991. She created the Dr. Seuss Enterprises with the aim of protecting the integrity of Dr. Seuss books and expanding its horizons. She was entrenched deeply in the managing and marketing of all his materials that many complained about her aggressive commercialism which they felt went beyond the wishes of her husband. She's also a well-known philanthropist contributing millions to several institutions and organizations.
Audrey Geisel died at the age of 97, at her home in La Jolla, California. Her death was recorded on December 19, 2018.
Dr. Seuss Didn't Have Any Children
Apparently, Dr Seuss has no children to really carry on his legacy. It is ironic that someone whose major career revolved around children's entertainment never had any children of his own. He once said about children that he prefers to entertain them. However, he was a step-father to his second wife's daughters from her previous marriage.
His first wife – Helen couldn't have children. So it is difficult to tell if this is what cemented Seuss's decision not to have any as he could have had with his second wife – Aubrey who had two daughters from her first marriage.
According to Aubrey, Ted was afraid of children, especially their unpredictability. She had to send her two daughters (aged 14 and 9) to boarding school after they got married. As she noted that they all wouldn't have been happy together. After Seuss's death, she apologized to her daughter for not being the best of mothers and have become closer with them, getting them involved in some of Dr. Seuss's projects.