Dina Meyer is a unique model and actress who has graced our screens for over two decades. A true thespian, she began her career in the industry as a kid and has performed in every facet of entertainment including modeling, dancing and of course acting. With an exhaustive list of movies to her credit, Meyer has sure established herself as a household name. Though her popularity has waned in recent years, she continues with her amazing talents contributing to the ever competitive industry in a good number of movies and TV series. Find out lesser-known facts about the model turned actress, including her journey to fame, relationship status, financial value, and much more.
Dina Meyer Biography
The Jewish-American actress was born on the 22nd of December 1968 in Queens, New York where she was also raised. Dina Meyer's theatrical talents were evident from an early age. In fact, given her love for performing arts, she was sure of what her future career would be even before she became a teenager. An unconventional kid, Meyer had an unusual elementary education. After studying dance as a kid, she proceeded to New York's High School of Performing Arts.
However, she had a more traditional college experience at Long Island University, where she studied Business Administration as a major and French as a minor. But after college, Meyer's love for the stage made her ditch the profession for the entertainment industry. In other to aptly hone her acting skills, Meyer enrolled to study under Sanford Meisner at The Neighborhood Playhouse, New York, for nearly three years.
Career
Meyer's sojourn into showbiz dates back to her childhood days. She began modeling at the young age of 9 till about 16 years. As an actress, Meyer debuted on TV in 1993 portraying the role professor Lucinda Nicholson in Beverly Hills, 90210. It was this role that prompted her relocation to Los Angeles, California. She also made her film debut that same year with a minor role in Strapped.
Her outstanding performance in the soap opera soon landed her a lead role as Jane in the 1995 movie Johnny Mnemonic alongside Keanu Reeves. The action-thriller was quite significant for Meyer as it established her as a versatile actress following her amazing stunts. Meyer has thereafter starred in several other movies notably, Dragonheart (1996), Starship Troopers (1997), Bats (1999), the 2002 sci-fi Star Trek Nemesis, Birds of Prey and the Saw horror film franchise. Other notable TV features to her credit are Friends, Ally McBeal, Six Feet Under, Scoundrels, CSI: Crime Scene Investigation and CSI: Miami.
Meyer made appearances in the 2015 movie Lethal Seduction where she played Carissa Kensington the psychotic cougar, as Kelly in the 2016 action movie AmeriGeddon as well as an FBI Agent in Turbulence (2016). Though Meyer's popularity may have waned over the years, she continues to entertain fans and critics alike with her versatility.
Is She Married?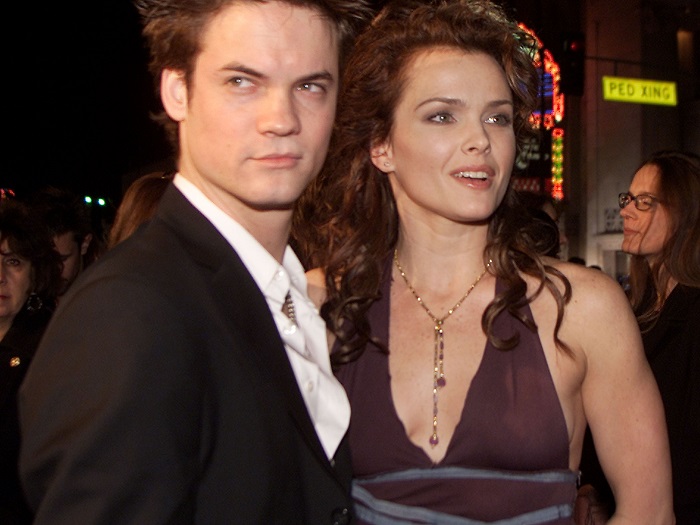 The beautiful model cum actress has never been married and is presumed to be single, at the time of this writing. But just like many other celebrities, Meyer's past relationships have always made headlines.
In the year 2001, the actress was romantically linked to her American colleague Shane West. Though the purported lovebirds were often seen together at public events and red carpets, they nonetheless concealed details of their romance. However, they were speculated to have parted ways the next year. Again in 2002, Meyer was rumored to have dated Singer Billy Joel but the alleged spark between the duo seemed to have also been doused quickly.
Her Net Worth And Other Facts
1. Meyer's numerous contributions to the entertainment industry have sure paid off. She has so far earned herself a decent financial portfolio and can afford a comfortable life. Her net worth is estimated at $5 million.
2. Dina Meyer has two brothers, an older one Gregory and the younger one Evan.
3. The light-haired brunette stands at a height of 5 feet 7 inches and weighs 52.2 kg. Her body measurements are bust – 34 inches, waist – 24 inches and hips – 34 inches.
4. Dina has an active social media life. She is present on various popular online platforms including Instagram, Facebook, and Twitter. She also has a personal/official blog.
5. Meyer has interesting ways of unwinding from work. An outgoing person, her hobbies are snowboarding and rollerblading.
6. As of 2019, she resides in Los Angeles, California.