Food, for the better part of the early years of human life, was nothing more than what we needed for survival. There was no artistry or curation to the method of cooking. The scarcity of food left no room for artistic expression until we figured out agriculture and we could make as much as we wanted. No longer under the pressure of survival, food started to become something else to us. It became a way to express ourselves, to connect with each other. That is what contestants on MasterChef, one of the many cooking shows on television seek to achieve. Just like a sporting competition, contestants on MasterChef are faced with the responsibility of expressing their artistry through food and are judged by a panel of judges made up of expert chefs. It is from this great competition that the world came to know about Dino Masterchef.
It is a big deal when a person goes through the hurdles that MasterChef presents, including satisfying a harsh critic like Gordon Ramsey and emerge winner of the competition. This was exactly what Dino Angelo Luciano did when he won the 2017 edition of MasterChef. Since he won, his fans and supporters have been wondering what is next for the Master Chef. Read below to learn more about Dino Angelo Luciano.
Dino Angelo Luciano Biography and Ethnicity
Dino Masterchef was born to his parents on the 21st of September 1989 in California but he was raised in Bensonhurst, New York after his entire family, who were New Yorkers, decided to move back to The Big Apple. One of the few interesting things we have been able to gather about Dino is that he is a multi-talented man and cooking is just one of his many skills. In a world where plurality in skills is the new norm, it is great to see upcoming star Chefs who are a lot more than just food. Today, he is a Chef on his way to having his own shows and restaurant but at some point in his life, he was just a regular growing boy that was part of a loving family.
As a result of the undisclosed nature of his parents' background, it is difficult to determine his exact ethnicity but with his skin color and grandparent's origin, he is definitely from a white ethnic group, possibly Italian.
It was his connection to his family that led him onto the set of MasterChef. Right from his young age, Dino was taught how to cook by his family members in a group effort that was led by his grandmother, who was a Sicilian. The cultural value of food to his family gave room for him to learn how to cook and furthermore, appreciate food as more than just a means of survival but as a form of art.
However, until Dino Masterchef contested on MasterChef, his cooking ability was meant just for him and his friends. He suffered from Obsessive Compulsive Disorder since he was 7, but he pursued other skills like ballet dancing, writing, and even sharpened his skills as a musician who knows how to play the saxophone, piano, and guitar. Though he is a talented ballet dancer, Dino maintains it is merely a hobby he uses in keeping himself fit while being a chef. He is also a skater and a surfer.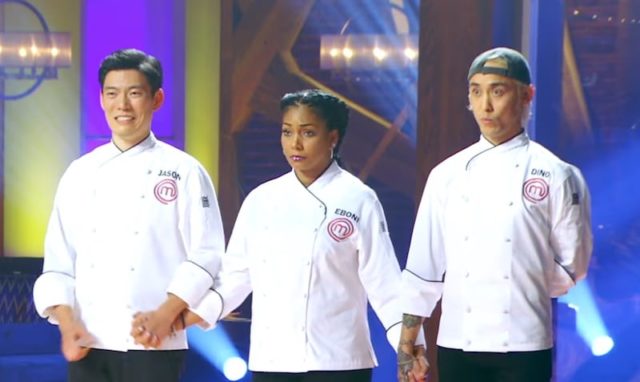 When Dino was selected as a contestant on the season 8 of MasterChef, little did he know that he would go on to win the $250,000 grand prize of the competition. He made his way through several contests, defeating regular men and women like himself who consisted of high school teachers, a minister, a model, a nurse all who had been selected from across the country. Through the progress of the show, he was described as the dark horse by celebrity Chef Gordon Ramsey and his prediction turned out to be true as he ended up winning the show, beating Eboni Henry, an Addiction Counselor, and Jason Wang, a High School Music teacher, who finished as runners-up.
Is MasterChef Dino Gay or Does He Have a Girlfriend?
Due to his flamboyant dressing style and his voice, Dino has been a subject of rumors that he is gay. However, according to his Instagram, he is very much not. He is in a heterosexual relationship with a chef he met while he was on MasterChef.
Dino Angelo is currently in a relationship with his girlfriend whose name is undisclosed at the moment. The couple has been together for over a year having met while he was on the show, MasterChef.
Where is He Now?
Dino Angelo Luciano from MasterChef season 8 is currently the head of a new Muse & Market restaurant in Phoenix. He is also working on his own cooking show, which he intends to make in the form of a cross between traditional cooking shows and a movie.
Dino is very active on social media, especially Instagram as @dino.ballerino.