Banky W is a Nigerian singer, rapper, actor, entrepreneur, and politician with a net worth estimated at $9 million.
Banky is renowned for his stunning vocal power and sound singing skills. He is also admired for his smooth transition to acting and has become one of the 'movers and shakers' in the Nigerian film industry. He has used his many gifts to rake in quite a large amount of money for himself over the years. Considering how much impact he has had, it is no surprise that he is well off.
How Banky W's Net Worth Of $9 Million Came About
Banky W's net worth of $9 million stands him out as one of the wealthiest Nigerians in the entertainment business. But how did he make all that wealth? Let's take a look at all his endeavors.
It is noteworthy that, as a multi-talented man, Banky W has been able to showcase his talent in different career paths including making music and movies. He has also been able to make some money as an entrepreneur.
Banky W's Journey To Music Greatness
Banky W started singing when he was really little. As a matter of fact, music was the thing he really cared about as a child and his parents noticed it. He was so passionate about singing that whenever he did anything wrong, his parents would punish him by banning him from doing anything musically like singing, listening to music, or playing instruments. This was the worst punishment anyone could mete out to Banky W at the time because of his total love for the art.
While still very young, he joined the choir in his church and developed his skills as a singer who had a great aspiration to make it huge in the music industry as he grew older.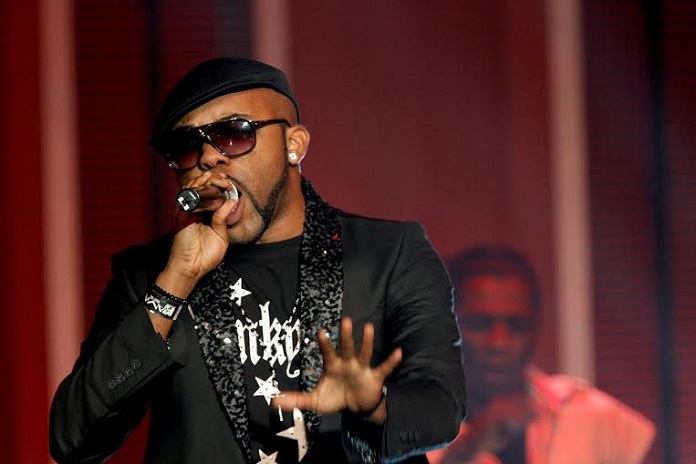 He Won A Talent Show
Banky W's love for music pushed him to take part in a talent show. It is noteworthy that the singer was born in the United States and spent his growing-up days between Nigeria and America. It was in America – New York to be precise – that he took part in the talent show and he emerged victorious, winning the star prize.
Talking about it once, he described the talent show as a very small one. However, he explained that wining it boosted his morale to things further musically. He also revealed while in the USA, he started his music from his neighborhood. According to him, he could not find the right record label, so he started his own label – EME (Empire Mates Entertainment) in his dorm room as a student – with his best friend.
After this, they started recording and printing out CDs. They would then out the CDs in the trunk of his car and then sell the CDs themselves for $5 apiece. He also started singing at salons ad soon became some sort of local neighborhood celebrity.
Return To Nigeria
After he graduated from the university, Banky W got a job at GlobalSpec, a technology services company. But his heart was not there, so he quit and moved back to Nigeria on Valentine's Day in 2008. At first, things were not moving on as smoothly as he anticipated and he spent all the money he had without making massive progress.
He was on the verge of giving up when, eventually, his life turned around after he recorded his single 'Strong Ting' in 2009. This was a turning point in his life as things picked up afterward. He went on to record other songs that got him lots of hype around Nigeria including Jasi, High Notes, and others.
So far, Banky W has recorded and released four studio albums and one EP (Extended Play) which have gotten him high acclaim and won him awards including;
John Lennon Song Writing Award 2006, R&B Category, for 'My Regret'
Best R&B Artiste, Nigerian Entertainment Awards 2006
Best Male R&B Artiste, Urban Independent Music Awards, USA, 2006
Best International Album, Nigerian Entertainment Awards 2007 for 'Mr Capable'
Best R&B Video, Nigerian Music Video Awards 2008 for 'Don't Break My Heart'
Best Male Vocal Performance, Hip hop World Awards 2009 for 'Don't Break My Heart'
R&B Single of the year, 2010 Hip Hop World Awards for 'Strong Ting'
Best R&B Singer (Male) and Best Music Video 2010 City People Entertainment Awards
Banky's Best Songs
Banky W has written so many songs that have garnered so many accolades and gained him international recognition.
Some of his best songs include:
'Capable' released in 2008
Ebute Metta released in 2008
Lagos Party released in 2009
Strong Ting released in 2009
Omoge You Too Much released in 2009
Jasi released in 2013
Do It To Me released in 2013
Good Good Loving released in 2013
Yes/No released in 2013
Jaiye Orimi released in 2014
All I Want Is You released in 2015
High Notes released in 2017
Banky W's Best Albums
Banky W has released four different albums but some critics agree that his last three albums have had the most impact.
Mr. Capable was Banky W's second album which was released in 2008. It served to announce his presence in Nigeria.
The W Experience was his third album which was released in 2009. The album consolidated his position as one of Nigeria's most important RnB stars. It got him right up to the top as an A-list artiste.
R&BW was Banky W's fourth album which was released in 2013. The album only went on to confirm Banky's firm grip as one of the RnB movement in Africa.
Best Collaborations
Banky has released so many singles since his career started but not all of those songs were sung by himself alone. Some of those songs were sung in collaboration with other artists. The singer has had some really great collaborations during his career. He has been featured on other artists' songs and has also featured other artists on his records.
Some of his best collaborations include:
Good Good Loving (Remix) was released in 2013 and featured 2Face Idibia
Be My Lover (Yes/No, Pt. 2) was released in 2013 and it featured Niyola)
Mi Re Do (Cocoloso) was released in 2016 and it featured Stonebwoy and Shaydee
Banky W has made a lot of money from his music. Because of his huge popularity, in 2014, it was reported by Vanguard that the singer charged between N2.5m and N3m per show. He also raked in money from concerts and online streaming platforms.
Banky W's Smooth Transition To Acting Fame
Banky W is a multi-talented man. Besides singing and rapping, he has also transitioned into an actor and has done so well in Nollywood. Interestingly, he did it so effortlessly. Speaking about his acting career once, Banky explained that he has always loved to act since he was little.
Growing up, he acted in dramas and even wrote some of his school plays and so he had already had some informal training in acting. Because of this, he decided to give acting a chance professionally and it has paid him handsomely well.
He Went To A Film Academy
To make sure his transition to professional acting was really seamless, Banky W decided to get some professional training by attending a film school. In 2017, the singer attended the prestigious New York Film Academy where he studied Screenwriting and Directing.
Later on, in a spotlight interview by New York Film Academy, Banky W explained that he has always had a passion for storytelling and that he always knew he would one day go from being a musician to being a director of videos and TV commercials.
Banky W has acted in some highly talked-about movies since his acting debut. In 2016, he played a leading role in The Wedding Party, a romantic comedy-drama film. The movie went on to become the highest-grossing Nigerian film at the time and established Banky W as an A-list actor.
In 2017, the singer reprised his role in The Wedding Party 2: Destination Dubai, a sequel to The Wedding Party. Interestingly, The Wedding Party 2 took over from The Wedding Party as the highest-grossing Nigerian movie of all time and remained at the top for years before the record was broken by Omo Ghetto (The Saga), a Nigerian comedy film released in 2020.
In 2018, Banky W played the leading role in Up North, a drama film. The movie got lots of positive feedback. In 2019, he starred in Sugar Rush, a Nigerian crime action comedy film that went on to become the fourth highest-grossing Nigerian film of all time.
There is no denying the fact that Banky W has raked in quite a whole lot of money from his appearances in these blockbuster movies since his acting career kickstarted. And there is no sign that he is soft-pedaling at all.
He Has Landed Many Endorsements
Over the years, the singer has landed so many endorsement deals and this has contributed to building u his Banky W's net worth. This is not surprising at all, considering his massive success as one of Nigeria's most sought-after RnB stars. Some of the endorsement deals he has landed over the years are listed below;
In 2008, he signed his first endorsement deal with Etisalat, a Nigerian telecommunications company. This was after the release of his song, Ebute Metta. The deal was reported to be worth about N150 million. Banky W also composed a theme song for Etisalat called 0809ja for life.
In 2012, Banky signed an endorsement deal with Coca-cola and became the new face of the Coca Cola Open and Win campaign.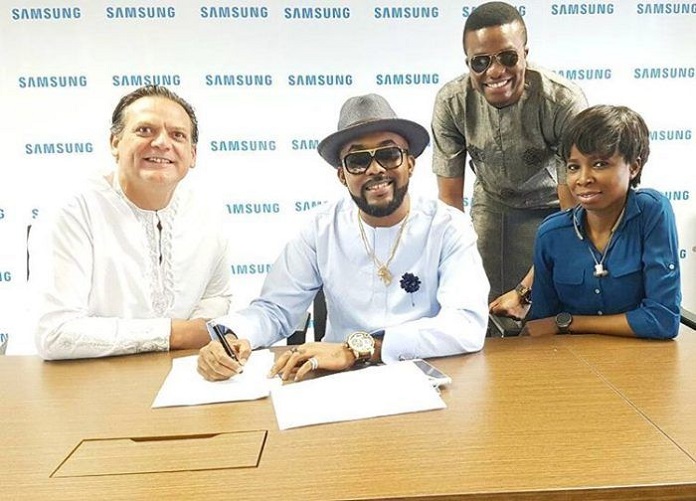 In 2013, the singer landed a huge endorsement deal with Samsung Electronics West Africa. Reports showed that was worth an amazing N140 million. The deal was renewed in 2017.
In 2014, Banky W signed an endorsement deal with MTN. The deal was reportedly worth about N50 million. He would later extend the contract in 2015.
In 2014, the RnB powerhouse signed an endorsement deal with Ciroc Nigeria. The deal was reportedly worth about N30 million. The deal later renewed in 2015 and then in 2017.
In 2018, Banky W landed another deal with Uber, one of the world's major ride-hailing technology.
Banky W Is Also A Businessman
Apart from making music and starring in movies, Banky W is also a businessman. In fact, Banky W's net worth has been built to this level mainly because of his business acumen. The artiste is actually a co-owner of E.M.E., a talent management company focusing on creative marketing, advertising, PR, and brand events. The company has worked with a number of high-profile clients including Ebuka Obi-Uchendu, DJ Xclusive, Tolu 'Toolz' Oniru, and even Banky's wife Adesua Etomi.
Initial, E.M.E. was a record label that was founded by Banky W and Tunde Demuren in 2002 and went on to serve as a home and launching ground for top music icons like Wizkid and Shaydee, and Skales. Banky W is credited with helping to kickstart the career of Wizkid who has since gone on to become one of Africa's biggest music stars. While Wizkid and the stars were signed to E.M.E., they helped to rake in a lot of money for Banky W and other executives.
Apart from his talent management company, E.M.E, Banky W also co-owns a publishing company known as Muzik Men Publishing which he formed with two others; Segun Demuren and Tunde Demuren.
Is Banky Richer Than Wizkid or Davido?
Banky W has made quite a lot of money since he made an entrance into the Nigerian entertainment industry. Over the years, he has been compared with other superstars like Wizkid and Davido. However, it is noteworthy that while he one of the very wealthy Nigerian entertainers, he is not among the top 5 richest Nigerian artists.
With a net worth of $9 million, Banky W trailed behind the likes of Wizkid who has an estimated net worth of $20 million, and Davido with an estimated net worth of $19 million. Other artists like Burna Boy with about $17 million and 2Baba Idibia with about $16 million are also richer than Banky W.
However, Banky W's impact in the Nigerian music industry cannot be overstated. His artistry stands out from other Nigerian superstars especially because of his incredible vocal prowess. He has often been described as one of the Nigerians with the best voices in the industry. His albums have also been described as full of 'originality and freshness'.
How Banky W Spends His Money
Banky W may have so much money at the moment but he is, interestingly, not one to show off his wealth by buying the latest cars and displaying them. In 2018, it was revealed that he had been using the same car, a 2008 Range Rover Sport, for seven years. The revelation was made after two women stalked the singer when he and his wife left a supermarket in the vehicle after making purchases.
The women followed Banky W's car and made a video mocking the star for using an 'old' vehicle despite being rich and famous. The video went viral and Banky W eventually replied and revealed that he bought the car in 2011 and promised himself that he would never buy another car until he owns the house that he lives in. According to him, even though it is nice to have more than one car, it would be better to own a home first because owning a Rolls Royce and parking it in a rented apartment did not make much sense.
Banky W later auctioned the car and used the money to support the Vocational School for the Blind in Oshodi, Lagos, and the Pink Oak Cancer Trust Fund.
The same year, in 2018, news emerged that Banky W had become the proud owner of a mansion in Lekki, Lagos. The swimming pool had the letter 'W' inscribed in it. At the moment, Banky W is more concerned with investing and using his money for doing business and raking in more money.