Details of how Omah Lay's net worth of about $400,000 to $600,000 was accrued have become one of the highly sought-after pieces of information about the Nigerian singer. This is not surprising, considering his stunning rise to stardom and the attention he has garnered in a short time, leading people to become curious about whether his huge career success has translated into an equally glorious financial breakthrough. Omah Lay's breezing success is truly stunning and his journey from relative obscurity to full-blown superstardom has awed everyone, especially because of how quickly he achieved the feat. He has continued to delight fans with incredible music since he started his professional career.
How Omah Lay Accrued His Net Worth
Even though he is still relatively new to the business, there is no denying the fact that Omah Lay has been able to rake in quite a lot of money from music. The star singer is known to have released a number of smash hits since his debut and is regarded to be one of the most important figures among the new crop of singers flying the Nigerian flag high.
At the moment, the exact figure of Omah Lay's net worth is not certain. This is because different figures have been floated since he hit the limelight. However, it is believed that he is worth between $400,000 to $600,000. Apparently, this is bound to increase as time goes by.
The Singer's Main Source Of Income Is Music
For now, the only thing Omah Lay is known for is music. The superstar has not been linked to any other kind of business dealings. So, it is safe to say that Omah Lay rakes in his money primarily from his music endeavors.
It is noteworthy that he is not just a singer but also a producer. So, music production has contributed substantially to his net worth. As a matter of fact, music production is how his career in the music industry began. Omah Lay has garnered millions of streams across digital streaming platforms with massive hit songs which have shot his popularity and fortune to an insanely huge level.
His Humble Beginnings As A Producer And Switch To Singing
Before he started singing professionally, Omah Lay was first a music producer. The singer began producing music when he was just 15 years old, in Port Harcourt, Rivers State, Nigeria. For the record, Omah Lay was born and raised in Port Harcourt. Before this time, he was rapping in the streets of Marine Base in Port Harcourt until he got bored and decided to learn music production.
When he started producing music at age 15, he got really good at the job that he began to produce for several underground artists in Port Harcourt. Being a good songwriter, Omah Lay also wrote songs for artists during his music production days. However, after some time, he decided he was going to start singing himself because he felt he was not getting the kind of recognition he really deserved.
In 2019, the singer recorded and released some singles, including Hello Brother and Do Not Disturb. These songs did very well in Port Harcourt when they were released and earned him lots of radio airplay at the time. His music eventually spread across the country and, as expected, record labels started taking note of him. Soon, he landed a record deal which set his feet firmly on the path to greatness.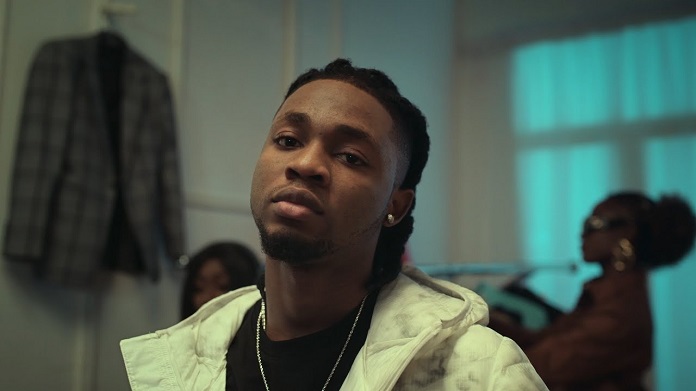 KeyQaad Took Him To Lagos
Omah Lay kept making lots of buzz with his singles and soon, he caught the attention of KeyQaad, a record label in Lagos. The label contacted him and offered a deal. Omah Lay signed his record deal with KeyQaad in June 2019. This made him relocate from Port Harcourt to the city of Lagos. Surprisingly, this was the first time he was ever leaving Port Harcourt.
However, for some reason, the singer is now signed to a different record label called  Dvpper Music. Without a doubt, leaving Port Harcourt for Lagos turned things around for Omah Lay.
In January 2020, Omay Lay released his single Bad Influence. The song became a huge hit, raking in millions of views across digital streaming platforms and making him one of the hottest stars in Nigeria. On Valentine's Day, 2020, he released the single titled You. This went on to become another massive hit and catapulted him to the pages of reputable publications, including Native Mag who cited him among the Freshmen to watch out for in 2020. There was no doubt about it, Omah Lay was already gripping audiences with his incredible style.
Omay Lay Released Two EPs In 1 Year
He is quite a unique artist who likes to do things his own way. Usually, many new artists would work towards releasing an album once they start getting the needed attention that would propel them to stardom. However, Omah Lay went a different route, choosing instead to release two extended plays (EPs) in one year.
"Get Layd" Cemented His Place As A Star Of Note
Omah Lay's debut EP is called Get Layd. The star singer announced the coming of the EP in early 2020 and this excited fans who were waiting eagerly to hear more sounds from the young man who was already being considered to be the hottest new star of the year.
Eventually, on May 22, 2020, Omah Lay dropped his debut EP, Get Layd. The project contained five tracks, including 2 previously released tracks, You and Bad Influence.
Thank you so much to everyone that worked on this project with me, it's been an amazing journey and I couldn't have wished for a better team. Most importantly, Thank you guys for being patient with me, thank you for holding me down 🙏🏾. #GetLayd drops at midnight 💜 pic.twitter.com/NXw7u7euJF

— Omah Lay (@Omah_Lay) May 21, 2020
As expected, Get Layd became an instant hit, inserting itself among the highly commercially successful music projects of 2020. It even became the most streamed Afrobeat project on digital stores such as Audiomack, Deezer, and Apple Music at the time. In fact, Get Layd was so successful that Apple Music awarded Omah Lay with the Favorite New Artiste of The Month of June in Africa recognition. The piece went a long way to reassert Omah Lay's importance as a star of note who had come to take his place among the heavyweights in the Nigerian music industry. It officially made him a force to reckon with.
"What Have We Done" Proved His Career Was Not A Fluke
While he was still stirring people up with his Get Layd EP, Omay Lay decided to drop another EP a few months after Get Layd was released.  When he announced the release of the new EP, it caused a stir among fans.
Omah Lay released his second EP titled "What Have We Done" on November 20, 2020. Just like the first EP, Get Layd, this EP also contained five tracks, including the smash hit, "Godly" and "My Bebe". Explaining why he picked "What Have We Done" to be the title of his EP, he said the title captures his astonishment at the unbelievable rate at which he managed to rise to stardom and the way this has changed his life.
I like to think that I have grown since the last time you heard from me and I'm sure you'd hear that from my music.

— Omah Lay (@Omah_Lay) November 19, 2020
The EP got streamed massively across various digital platforms and enjoyed massive radio and TV airplay. One thing was certain; Omah Lay's second EP proved that the success of his first project was not a fluke at all but an authentic projection of the hugely talented superstar that he is.
Why He Made Two EPs Instead Of An Album
Many fans have wondered why Omah Lay chose to release two EPs in one year instead of combining the two projects into an album and write his name among the artists with albums. Some people went as far as saying the star singer did not have good advisers who should have told him what to do.
However, when he was asked about this in an interview, Omah Lay explained that he is the kind of person who just goes with the flow and spur of the moment and does not indulge in too many calculations and endless planning to do things. According to him, he just felt the urge to record and release a number of songs and that's exactly what he did with his first EP. Eventually, he felt another urge to release another body of work, and without too many careful calculations, he released his second project. For him, It was all about the flow and what he felt was good for a particular period.
Best Of Omah Lay's Songs
Omah Lay has released so many songs since he came to the limelight and most of them have enjoyed awesome reception, making him one of the few artists to have several hit tracks in circulation at the same time. Like all musical artists, Omah Lay has some songs that are generally considered to be bigger hits than others. Below are some of the singer's biggest songs so far:
You
Godly
Damn
Bad Influence
Lo Lo
Hello Brother
It is clear that many more hits are on the way from this super-talented artist who has announced his presence with a bang in the Nigerian music scene.
Awards/Recognition
On February 21, 2021, the star singer won the coveted Next Rated Award at the 14th Headies Awards.
He was recognized as Apple Music Favorite New Artiste of The Month of June 2020 in Africa.
He was recognized as November "BET Amplified International" Artist of The Month!  in November 2020.
BET International is proud to announce @omah_lay as our November "BET Amplified International" Artist of The Month! BET Amplified is our seal of approval on the next big thing in music! Stay tuned to our social accounts to see more of Omah Lay throughout the month of November! pic.twitter.com/1djkGMv1ms

— BET UK 🇬🇧 (@BET_UK) November 6, 2020
Omah Lay's Net Worth Compared To Rema's
The singer is apparently wealthy and still raking in more wealth as he keeps making more hits. However, he is not as wealthy as Rema, the young Nigerian singer is equally doing great exploits with his music.
Rema, who burst into the limelight in 2017 after being signed by Mavin Records, has reportedly raked in quite an enormous amount of money since his breakout. Different sources have pegged his net worth at between $800,000 to $1 million. Apparently, this eclipses Omah Lay's current worth.