Heather Renée Sweet, known better as Dita Von Teese, is an American burlesque dancer, singer, model, costume designer, actress, and entrepreneur. She made waves in the 90s thanks to her revitalization of burlesque, earning her the moniker Queen of Burlesque. Her modeling styles also brought her widespread recognition. The ex-wife of Marilyn Manson has a lot to be known about her, and we dig in below to reveal her net worth and more.
Dita Von Teese Bio (Age)
Dita Von Teese was born on the 28th of September, 1972 in Rochester, Michigan. Having Scottish, English, Armenian and German heritage, she is the second of three daughters in her family. Dita, real name Heather Renée Sweet, was born to a manicurist mother and a machinist father. Her mother's love for golden-age Hollywood movies put in her a deep interest in vintage styles and 1940s cinema. From an early age, she began to learn ballet, and by the age of 13, she was able to dance solo for a local ballet company. By the age of 15, she realized there was going to be no more improvement in her ballet skills, and decided what she had was enough.
Her family moved to Orange County, California due to her father's job posting. Dita Von Teese became very fond of lingerie and lacy undergarments after seeing them in the Playboy magazines her father had. This fueled her to work for a lingerie store as a salesgirl at the same age of 15. Dita trained herself in costume designing, being very fond of corsets and basques. She very much preferred having something lacy and elaborate to something plain. Dita Von Teese went to University High School in Irvine, California. While in college, she studied historic costuming and had the dream of working as a stylist for films. To this end, she designed and copyrighted her own photoshoots.
Career
Dita Von Teese started out her career at a local strip club at the age of 19. She created her own style, incorporating a vintage-inspired look, with a beehive hairstyle, and elbow-length gloves. She also infused her ballet into her routines, creating a new look that both fascinated and confused the strip club's clientele. Her reason for this? She was rather disappointed in the rehashed and dull routine the other strippers used.
Before getting into the world of fetish, Dita Von Teese had a brief stint in glamor modeling. Her emulation of Bettie Page in her photoshoots gave her an edge against other models in the field. She became known as a tightlacer; her waistline reducing to 22 inches thanks to using corsets for years on end. When necessary, her waistline could be reduced to 16 and a half inches. Dita Von Teese appeared in several fetish magazine covers, including Marquis and Bizarre. She gained prominence appearing on the cover of The Seductive Art of Japanese Bondage, where she was bound and gagged.
Starting out her burlesque routines in 1992, the Queen of Burlesque was instrumental in revitalizing the art, giving it new breath and affording it greater appreciation amongst the populace. Her routines consisted of long, elaborate dances with characters and props usually inspired by films and musicals from the '30s and '40s. Sally Rand, another burlesque dancer, inspired Dita Von Teese's feather fan dance; a dance that features the largest feather fans in the world. She has featured a giant powder compact, a filigree heart and a carousel horse in her numbers, and her signature show featured a giant martini glass.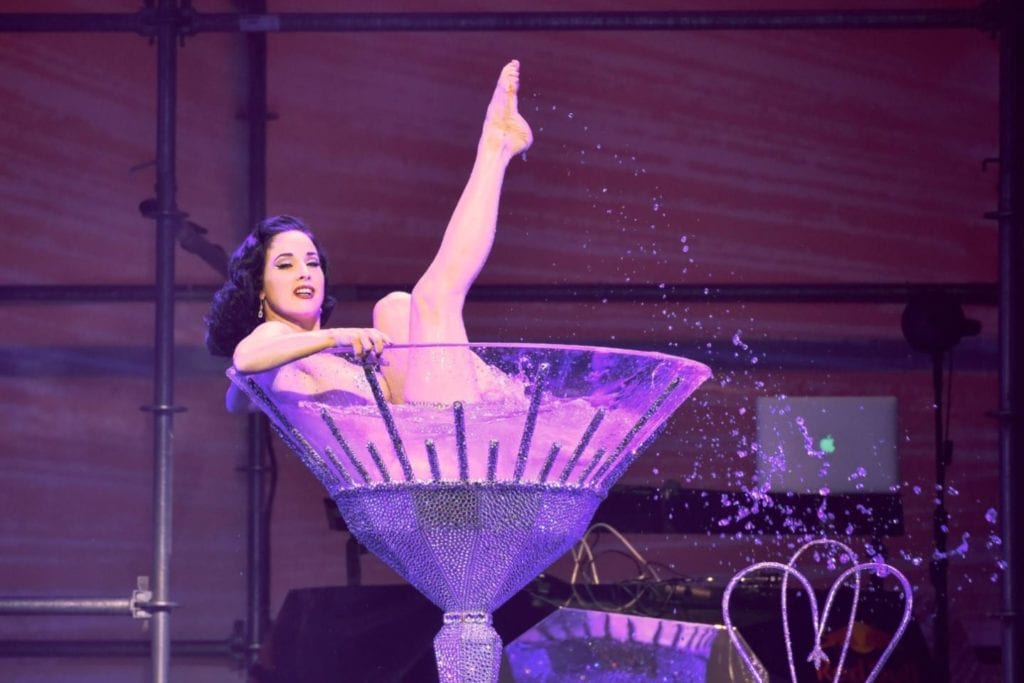 The Queen of Burlesque appeared in Playboy magazine in 1999, 2001, and 2002. Back then, she was originally known as Dita, a tribute to silent film actress Dita Parlo. However, Playboy insisted on her having a last name, to which she picked Von Tresse. A misspelling by the widely popular magazine in 2002 ended up with Heather as Von Teese, and she has since stuck by the name.
Not only has she been on the erotic side of the entertainment industry, but Dita Von Teese has also graced the movie industry with her looks and skills. She has appeared in such films as Romancing Sara (1995), Matter of Trust (1997), Decadence (2000), The Adventures of Lela Devin (2001), The Death of Salvador Dali (2005), and High on Heels (2007). She was the lead actress and executive producer of The Adventures of Lela Devin. She won the Best Female Performance at the Beverly Hills Film Festival for her role in The Death of Salvador Dali.
Dita Von Teese has made a name for herself in fashion, often gracing runways with her retro looks. Her vintage style has become widely accepted, and she has appeared on best-dressed lists in several events. Her official website was created in 1992. Referred to as one of the first model sites on the internet, Dita has done her best to own the copyrights of the majority of her images.
Net Worth of Marilyn Manson's Ex-Wife
Dita Von Teese has built a career by the workings of her own two hands. From strip club to burlesque performances to earning her father's respect by appearing on Playboy magazine. Altogether, she has been able to get a cool net worth estimated at $2 million.
Height and Other Information
Full name: Heather Renée Sweet
Date of Birth: 28th of September, 1972
Place of Birth: Rochester, Michigan
Height: 5 feet 3 inches / 160 cm
Weight: 52 kg / 115 lbs.
Marital Status: Divorced
Spouse(s): Marilyn Manson (2005 – 2007)