Daren Jay Ashba a.k.a DJ Ashba is an American guitarist, performing artist, and producer, popularly known for being the lead guitarist of the Los Angeles hard rock band, Sixx: A.M. He has also worked with other rock bands including Guns N' Roses, BulletBoys, and Beautiful Creatures. He is affiliated with a lot of popular rock artists including Neil Diamond and Motley Cruel, whose concert was the first one that Ashba ever attended. Asides music, DJ Ashba is also famous for being the spouse of Nathalia Ashba.
Born on November 10, 1972, in the city of Monticello, Indiana, United States of America, Ashba was raised by his parents both of whom played pivotal roles in his music career. His mother was a classical pianist and introduced him to music while he was still a toddler. She taught him to play the piano and by the time he was only five years old, he performed "Ode to Joy" by Beethoven at his first piano recital. From that moment on, things only got better for Ashba. He began to learn to play the drums and bought his own set of drums at the age of six.
By the time he was eight, he bought his first guitar with the money he made from a menial job, working on the fields. He learned to play this guitar from a local guitarist who taught him every day on his way to work. As a celebration of his 16th birthday, his father took him to a Motley Cruel concert. Ashba would later say that being at that concert made him realize that was what he wanted to do for the rest of his life. By the time he was 18, he packed his things and moved to Hollywood, where he began to pursue his music career.
Is DJ Ashba Married?
DJ Ashba has been married to a woman named Nathalia Ashba (nee Henao) since September 2013. Although it is uncertain how these two lovebirds met, they dated for one year before he proposed to her. He was 40 at the time and she was 21 years old. His proposal to her had been tad dramatic and extremely romantic if you're a fan of adventurous love. He had asked three police officers from Las Vegas to take them on a ride in the police helicopter. At the end of the trip, he proposed to Nathalia and she said yes. Although a sweet and romantic gesture, it had cost the three police officers their jobs with the pilot banned from ever working for the police department.
Their relationship has been described as cool and full of life by the media and by fans. In 2018, the couple started a YouTube show called I Will If You Will which shows how crazy and edgy married life can be. Their first video was released on February 7, 2018, and has had fans glued since then.
See Also: Melanie Hamrick & Mick Jagger – Untold Truth Of Their Romance
Who Is the Wife, Nathalia Ashba?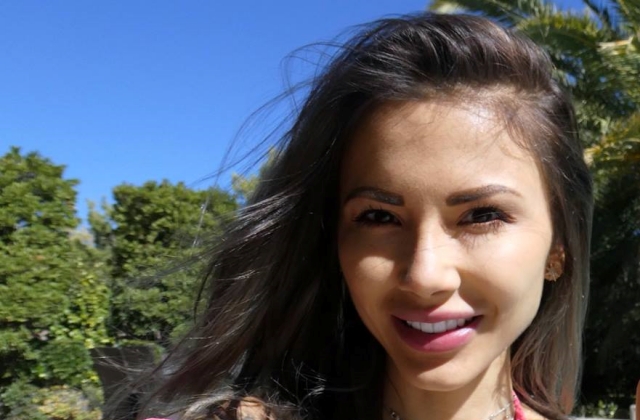 She was born as Nathalia Heno on October 5, 1991, in Pereira, Columbia and by the time she was 8 years old, her family relocated to the city of Rome in Italy. At the age of 13, she started dancing and modeling and has remained a top-notch model since then. In 2012, she was named Miss Model of Europe. Her work as a model has led her to work with famous brands all over the world and in September 2014, she launched her own sunglasses collection together with lamitalian. She also has a fashion and lifestyle blog that reads in Italian, Spanish, and English.
When DJ Ashba and Nathalia Ashba started dating in 2012, people were a bit skeptical about their relationship because of the 19-year difference between them. However, barely after a year of dating, the couple exchanged marital vows in September 2013, after DJ Ashba proposed to her with a large diamond solitaire ring. Nathalia is known to be a dangerously adventurous person and on their YouTube show I Will If You Will, she gives out advice to couples who wish to ignite the flame in their marriage. The first episode on their channel featured a poisonous tarantula and a couple of snakes. So far, the couple does not have any children and despite many years together as husband and wife, they have not referred to the fact.