Just as it is in various parts of the world, there are professions that are more rewarding than others in Kenya. One of such in the East African country is medicine. In Kenya, medical doctors take home a salary between Ksh170,000 to Ksh588,000 at the end of every month. However, depending on the specialization and qualifications a doctor has, the salary can be reasonably higher and also have chances of growing over the years. Here, we are going to shed more light on the salaries of doctors in Kenya and how they compare with doctors in a few other African countries.
Breakdown of Doctor's Monthly Salary in Kenya
In Kenya, medical doctors are well remunerated and go home with an annual salary that is good enough to take care of all their needs, and that of their loved ones. The annual salary of medical doctors in the East African country is between Ksh2 million and a little above Ksh7 million.
But before we arrive at this figure, a lot came into play. As hinted earlier, medical doctors are of different categories and levels, and this has a lot to do with what their annual salary package will look like. It is also a fact that in the East African country, medical doctors in some parts of the country tend to earn better and thus get better annual salaries compared to what other professions have to offer as an annual take-home.
Kenyan Medical Doctor Earn Ksh379,000 Per Month On Average
Taking an in-depth look at this annual basic salary of medical doctors in Kenya, and breaking this salary down to what a doctor's monthly take-home package (basic salary on monthly basis) would be, it stands within the range of Ksh170,000 and Ksh588,000. This is indicating that the least a medical doctor can earn as a monthly income in the East African country of Kenya is Ksh170,000, while the pay can go as high as Ksh588,000 per month. Doctors' average salary in Kenya stands at Ksh379,000 per month.
With these facts made available on the salary range, the median salary per month is Ksh399,000 for resident doctors in Kenyan hospitals. In essence, this means that 50% of the total number of medical doctors practicing in Kenya earn more than Ksh399,000 on monthly basis, while the remaining 50% take home less than Ksh399,000 as monthly salary.
The middle salary value stands as the median, and on a normal day, no doctor will want to fall to the lighter side of the salary scale, where doctors earn less than the median salary on a monthly basis. Viewing the salary scale from a salary distribution diagram for resident doctors in Kenya in a published report, it was reported that 25% of Kenyan doctors working in the country are earning income not up to Ksh256,000 per month, while the remaining 75% of these doctors earn above Ksh256,000 on a monthly basis. It was clearly revealed that 75% of resident doctors in Kenya are making below Ksh533,000 as monthly basic salary, while only 25% of them are earning above Ksh533,000 every month.
Experience Is The Chief Determining Factor on What a Kenyan Doctor Earns as Salary
One of the major factors that determine how much a medical doctor takes home as basic remuneration at the end of the month is his or her level of experience, which is measured by the years such a doctor has spent in the field of practice as a fully qualified doctor. In the light of this, medical doctors are categorized or grouped based on their level of experience as earlier stated, these levels of experience are;
Entry Level
Junior Level Career
Mid Level Career
Senior Level Career
Experienced Level
Medical Specialist / Consultant
Talking of the type of doctors that earn the most in Kenya, medical specialists/consultants are the most paid set of doctors, not only in Kenya but in other parts of the world. They have the highest level of work experience and are knowledgeable in their line of expertise.
Kenyan Doctors Salaries Based on Experience
1. Entry Level Medical Doctors (Ksh150,000 to Ksh193,000): These are doctors who are just starting out in their career, they have work experience of 0 to 2 years, and they handle minor cases such as the treatment of illnesses and injuries in patients. They earn a monthly income of around Ksh150,000 to Ksh193,000.
2. Junior Level Doctors (Ksh193,000 to Ksh258,000): This is the next level in the ranking. It is the level that precedes the mid-career level, and it is higher in rank than the previous level (entry-level). Doctors in this level have 2 to 5 years of work experience as fully qualified doctors. Their monthly basic salary is in the range of Ksh193,000 to Ksh258,000. At this level, the salary increases by around 34% against the entry-level salary.
3. Mid-Level Career (Ksh270,000 to Ksh382,000): This is the next level of experience in the doctors' career cadre. At this level, the medical doctor has attained a work experience of 5 to 10 years at the hospital as a resident doctor and has acquired quality knowledge and experience. Doctors at this level are becoming more confident in handling some major cases in the hospital. This level of clinical experience boasts of a salary increase of around 48%, meaning that doctors with this level of experience will take home a monthly payment in the range of Ksh270,000 to Ksh382,000.
4. Senior Level Career (Ksh465,000): This level precedes the experienced level in the cadre. Doctors in this level are superior to doctors in the mid-level career, they have better knowledge, exposure, and clinical experience than doctors in the previous level. With this level of experience in the medical field, doctors can confidently handle major medical cases like the prescription of medication, ordering diagnostic tests, diagnosing ailments, and recording patient information.
Doctors falling into this category have nothing less than 10 years of work experience in the hospital (they have between 10 years to 15 years of work experience). Doctors in this level get a pay rise of 22%, meaning that they have a salary up to Ksh465,000.
5. Experienced Level (Ksh465,000 to Ksh507,000): Any doctor at this level is at the top of the ladder, and he is known to be full of experience, knowledge, and needed skills for good administration and running of a big hospital with several departments and units. He or she would have attained a high level of capability to control situations, handle numerous medical cases, ranging from minor to major medical cases, mild to highly contagious ailments, think fast, and take quick and positive decisions in an emergency situation within the hospital environment.
Any doctor that falls in this range is expected to have had nothing less than 15 years of clinical experience and above (15 to 20 years) as a fully practicing resident doctor in the hospital. The monthly salary expectation of any doctor in this category can not fall short of anything in the range of Ksh465,000 to Ksh507,000. This will be an increase of 9% from what doctors in a senior-level career are paid on a monthly basis.
6. Medical Specialist/Consultant (Ksh507,000 to Ksh548,000): Just like doctors in the experienced level, doctors in this level are at their peak, and they have similar qualities to the experienced level. They have areas of specialties with which patients consult them. They are so good at what they do and are full of experience in handling medical cases of any type. More so, doctors in this level take on leadership roles at the hospital and are good at management and administration of the hospital. The government also consults them from time to time for advice and policy formulations that will improve the health sector.
Doctors in this level are known to have nothing less than 20 years of work experience as resident doctors in the hospital. With these years of experience as a medical doctor, doctors in this level are known to earn between Ksh507,000 to Ksh548,000 on a monthly basis, and it can go far beyond that range. That amounts to an 8% increase from what doctors in the experienced level are paid every month.
The Different Branches of Medicine in Kenya and what Doctors Specialize in Each Earn
The medical profession is also known as one of the careers with numerous lines of specialty and many sub-career paths. These professional paths include;
Audiology
Epidemiology
Podiatry
Otolaryngology/ENT specialist
General Practitioner
Pediatrics
Dentistry
Oncology
Rheumatology
Obstetrics and gynecology
Surgery
Geriatrics
Urology
Psychiatry
Dermatology
Orthopedics
Endocrinology
Neurology
Plastic surgery
Nephrology
Radiology
Gastroenterology
Neonatology
Cardiology
Anesthesiology
Kenyan Doctors' Salaries also Differ Based on their Fields of Expertise
To a large extent, Kenyan doctors' monthly take-home is not the same based on their areas of specialization. There are some fields of expertise in medicine that are highly sensitive, tough and require further proficiency in terms of knowledge acquisitions, time, energy, money, and dedication with a strong passion to become a specialist in such fields.
In these areas of specializations, you will only find a few specialists who have worked hard to become what they are in their chosen career path. Special paths like these require special remunerations that are not generic, therefore experts in these fields are expected to earn more than those in other medical fields. Also, irrespective of location, salaries are not the same in the field of medicine in Kenya.
From our findings, the medical field of specialization with the highest remuneration is cardiology, while the least paying career path in medicine is audiology.
Cardiology
Salary: Ksh500,000 to Ksh650,000
The job of a cardiologist is to treat the heart and its blood vessels, as well as issues and ailments related to the heart. It is a line of specialty that requires extensive training, knowledge, and experience. Cardiologists also analyze a patient's family and medical history to deduce probable risk factors and take actions to curb cardiovascular ailments. What with their importance in the medical field, they reportedly earn between Ksh500,000 to 650,000 in Kenya.
Anesthesiology
Salary: Ksh 500,000 to Ksh550,000
Anesthesiologists are known for administering drugs that deaden pain or make patients sedative during surgical operations. They keep a close watch on vital signs exhibited by patients during surgery. The management of emergencies at the hospital such as cardiac arrest and breathing problems is often part of their job. And for doing this in Kenya, they earn between Ksh500,000 to Ksh550,000 monthly.
Neonatology
Salary: Ksh420,000 to Ksh480,000
The primary duty of a neonatologist is to care for newborn premature infants and critically ill infants. This path or line of specialty is a subspecialty of pediatrics. Doctors who choose this path work in neonatal intensive care units.
Gastroenterology
Salary: Ksh 400,000 to Ksh 460,000
A gastroenterologist is specialized in digestive organs, this includes the gallbladder, bowels, liver, stomach, and pancreas. They treat patients with a stomach disorder, diarrhea, and persistent heartburn.
Radiology
Salary: Ksh400,000 to Ksh460,000
Detection and diagnosis of physiological ailments with the use of imaging technologies is the main duty of a radiologist. They scan a patient's body to discover cancer cells and fractured bones in accident victims through this method of technology.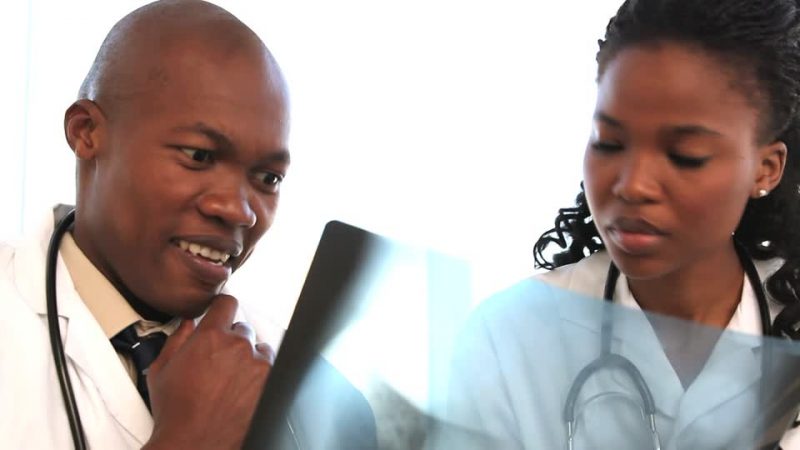 Nephrology
Salary: Ksh400,000 to Ksh450,000
Their duty is to treat kidney-related ailments and also mineral and fluid unevenness connected to kidney disease, as well as high blood pressure.
Plastic Surgeon
Salary: Ksh400,000 to Ksh450,000
Plastic surgeons specialize in reconstructing, restoring, and altering the human body surgically. They usually conduct reconstructive surgery when patients have parts of their body destroyed through accidents, illness, malformation, or a high degree of burns in fire incidents.
Neurology
Salary: Ksh400,000 to Ksh460,000
Neurologists specialize in looking after the nervous system which comprises the brain, spinal cord, and nerves. They take care of patients suffering from Parkinson's disease, epilepsy, brain, and spinal tumors and Alzheimer's disease, and patients with stroke who need monitoring and care.
Endocrinology
Salary: Ksh400,000 to Ksh460,000
Treatment of the endocrine system is the main job of an endocrinologist. The endocrine system comprises the glands that secrete hormones that regulate virtually all body functions. These specialists are known for treating patients suffering from thyroid disease or diabetes.
Orthopedics
Salary: Ksh 400,000 to Ksh 450,000
Orthopaedists are specialists who deal in the correction of disorders, damages, and defects of the bones in the body. With casting, surgery, and bracing, they make corrections to the functional and hereditary bone abnormalities.
Dermatology
Salary: Ksh400,000 to Ksh500,000
Dermatologists specialize in taking care of skin-related issues like moles, acne, scars, skin allergies, and sun damage. One key facet of their job is examining patients for skin cancer risk factors.
Psychiatry
Salary: Ksh350,000 to Ksh400,000
A psychiatrist's duty is to analyze and treat disorders of the mind. These disorders are treated through psychotherapeutic procedures and medication.
Urology
Salary: Ksh500,000 to Ksh550,000
Urologists take care of urinary tract-related issues such as urinary tract infections, kidney-related issues, bladder, adrenal glands, and male reproductive organs.
Geriatrics
Salary: Ksh250,000 to Ksh300,000
Geriatric physicians specialize in caring for the elderly and the aged. They diagnose and treat ailments that crop up in elderly patients due to aging.
Surgery
Salary: Ksh350,000 to Ksh400,000
Surgeons specialize in carrying out a wide variety of surgical operations in the theater room. Surgery has several specialties, which include cardiovascular surgery, oral surgery, neurosurgery, ENT surgery, and general surgery.
Obstetrics and Gynecology
Salary: Ksh350,000 to Ksh420,000
Obstetrics and gynecology physicians have their specialty in the care of pregnancy and childbirth. They aid in preventing diseases in women, in particular, diseases related to the reproductive system.
Oncology
Salary: Ksh360,000 to Ksh420,000
Oncologists specialize in caring for cancer patients. They concentrate on the prevention, diagnosis, and treatment of cancer, and also administer chemotherapy and work for hand in hand with surgeons and radiation oncologists to help patients suffering from cancer. Oncologists take time to help cancer survivors with follow-up sessions.
Dentistry
Salary: Ksh350,000 to Ksh400,000
Dentists are well known around us. They are called doctors of the mouth. They are the ones you run to when there's an issue with your oral cavity. They examine the health of the teeth, gum, and oral cavity by checking for various oral problems like bleeding gums and cavities.
Rheumatology
Salary: Ksh260,000 to Ksh320,000
Rheumatologists specialize in diagnosing and treating autoimmune diseases, allergies, and also tissue and joint ailments that affect the immune system.
Pediatrics
Salary: Ksh260,000 to Ksh320,000
Pediatricians take care of children right from when they are born to adolescence. They engage in diagnosing and treating them for a variety of health issues, and they have consolation rooms that are usually bright and appealing to children.
General Medical Practitioner
Salary: Ksh250,000 to Ksh290,000
A general practitioner, also known as a family physician, specializes in giving basic care to all the members of a family, from children to the elderly. They carry out screening tests and routine check-ups, follow up on ongoing conditions. They identify major health issues in patients before referring them to a specialist.
Otolaryngology
Salary: Ksh250,000 to Ksh290,000
Doctors who specialize in this path are also known as ENT specialists. They focus on issues pertaining to the ear, nose, and throat, as well as care for the diseases related to the neck and heat.
Podiatry
Salary: Ksh250,000 to Ksh300,000
Podiatrists specialize in treating issues affecting the ankles or feet. They are being referred to as foot doctors that treat afflictions like nail disorders, calluses, athlete's foot, and other injuries and infections.
Epidemiology
Salary: Ksh 250,000 to Ksh 280,000
Doctors that go this route specialize in searching for potential diseases that could surface and lead to a lot of problems. They search for vaccination for current terminal ailments like cancer, HIV/Aids, Covid-19, and many more.
Audiology
Salary: Ksh 250,000 to Ksh280,000
Audiologists specialize in caring for ear-related issues. They assist children suffering from hearing loss by helping them to learn how to communicate. They generally work in hospitals, audiology clinics, physician's offices, they sometimes also work in schools.
To a very reasonable extent, the salaries and entitlements of medical doctors in Kenya also vary based on some other factors. One of these factors includes the location; hospitals where doctors are resident (whether government-owned or private-owned hospitals), level and years of experience in practice, and line or area of specialty. Take, for instance, doctors resident in government-owned hospitals may earn slightly less than what is obtainable at privately-owned hospitals.
How Do Kenyan Doctors' Salary Compare with Other Countries?
Kenya is not doing badly in terms of monthly salaries for medical doctors working within their health system. Taking a closer look at what Kenya pays as the average salary for doctors, compared to what doctors earn in other east African countries, one can deduce that Kenya outperforms other countries within the East African enclave.
Kenya Pays Doctors Better than Other East African Countries
Take for instance, while doctors' average salary stands at $3,187 per month in Kenya, other east African countries like Uganda, Rwanda, Ethiopia, Tanzania, Burundi, Eritrea, Somalia, and others pay far less.
South Africa Pays Doctors Better than Kenya
Comparing Kenya to South Africa in monthly remuneration for doctors, Kenya performs a little below South Africa. While Kenyan doctors take home $3,187 per month, South African doctors pocket $3,402 per month on average.
Nigeria and Ghana Pay Doctors Less Than What Kenya Pays
However, Kenya outperforms Ghana and Nigeria in paying doctors. It is surprising to know that Nigeria pays consultants far less than what Kenya pays as the average salary for doctors. Consultants are paid between $1,800 and $3,100 per month in Nigeria, while Kenya's average salary for doctors stands at $3,187. Meaning that Nigerian doctors are poorly paid when compared with what Kenya pays monthly for doctors.
Conclusively, placing Kenya side by side with other African countries, Kenya is not doing badly when it comes to remunerating medical doctors working within their health systems. However, there is still room for Kenya to step up her game and improve on the health sector of the economy by formulating policies that will boost the growth of the health sector and increase doctors' remuneration to compete better in the continent and other parts of the world. This will significantly reduce brain drain of doctors from the country's health sector.
However, becoming a qualified medical practitioner is not that easy to come by. A lot has to be sacrificed to become a medical doctor and there are no shortcuts to this. It takes time, energy, money, dedication, strong zeal, and passion to sail through the ocean in becoming a fully-trained and qualified medical doctor, the more reason it is difficult for many people to get into this line of profession and the more reason this career path attracts huge income and remunerations.