The former Twitter CEO Jack Dorsey is not married but was previously in a relationship with model Raven Lyn Corneil, business owner Kate Greer and actress Lily Cole.
Jack Dorsey, a high-profile internet entrepreneur, and computer programmer regards both Square (a mobile payments company majorly engaged in the sale of hardware and software payment products) and Twitter (popular social networking site) as his major relationships. However, the chief executive officer and co-founder of Twitter and CEO of Square has been linked to the names of several female celebrities in the past. Considered as the globe's most eligible bachelor by Forbes in 2013, many people have expressed curiosity about who Jack Dorsey's girlfriend is.
Who is Jack Dorsey's Girlfriend or Wife?
From what is perceivable, the co-founder of Twitter is obviously single, though he loves to keep details about his personal life under lock and key. However, he is just the same as every other billionaire who lives in the lap of luxury, residing in the most beautiful of houses, driving the most exotic of fast cars, and of course, dating the best among the elegant models of this world. Until the internet mogul breaks his silence on the identity of the current lady in his life, we would not be able to say exactly who Jack Dorsey's girlfriend is, but there are quite a handful of women he has dated in the past.
His Relationship With Raven Lyn Corneil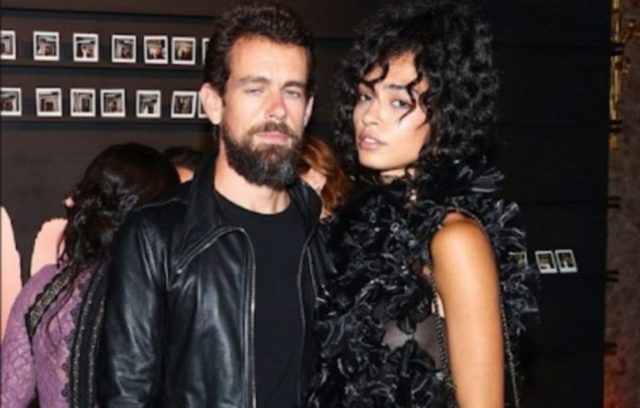 Sports Illustrated model Raven Lyn Corneil appears to be the latest in the long line of Jack Dorsey's girlfriends. Raven, who is approximately younger than Jack by 20 years first set the rumors running rife about her relationship with Jack in September 2018 when the duo was spotted together at New York Fashion Week. According to W Magazine, the lovebirds were equally seen attending a Harper's Bazaar Party as an item.
Raven was part of the Sports Illustrated Swimsuit which featured her in their 2018 edition. Though she keeps sharing several posts about work, the model's social media account has no clues regarding her love life. Ninety percent of everything she uploads on Instagram seems to be about her modeling career. A native of Minneapolis, Minnesota, Raven was among the ladies named by Maxim in a December 2017 feature as one of the Beautiful Girls. While on that interview, the model hinted on what qualities she would consider as particularly important in a spouse or boyfriend. According to the beauty, a man who is devoid of passion in the bedroom is not capable of winning her over.
It is not clear cut where Jack Dorsey first met Raven but whispers have it that he acquired a house worth the whopping sum of $4,225,000 for her. The estimate for the price of the house came from a search conducted on public records on the LA County Office of the Assessor website. The house which is located along Skywin Win in the Hollywood Hills is reportedly the last word in luxury.
But then, if the property were to be a clue, we would not be completely wrong to surmise that the duo has gone their separate ways. According to Variety, the 16th of August saw the house on the market for the asking price of $4.495 million. From what we could sieve from the available reports, Raven appeared to have long vacated the premises, leaving behind empty interiors. The 3,700-square-foot house came complete with five bedrooms situated in an isolated location very close to the popular Mulholland Drive. Vivid descriptions of the house by Realtor.com compared it to a sun-drenched modern residence with views of both the city and mountains via a wall of glass. The obvious conclusion to draw here is that Raven was obviously Jack Dorsey's girlfriend, but now his ex.
Jack Dorsey's Other Relationships
It is a known fact that Raven was not Jack Dorsey's only girlfriend as the chief executive officer of Twitter has been involved with other popular ladies. He was an item with Kate Greer – an artist and businesswoman who became his partner in 2010. Though they separated at one point, the couple still came back together in 2013 before finally calling it quits.
According to reports from Page Six, Kate wasted no time in hooking up with another billionaire after her split from Jack. The billionaire in question was none other than capitalist Peter Fenton of Silicon Valley: Venture whom the publication described as Jack's foe.
The records also captured another rumored candidate among Jack Dorsey's girlfriends as British-born actress and model Lily Cole. That relationship obviously never sailed since she is now dating Kwame Ferreira.