Rob McElhenney has a wife and kids. He is married to American actress Kaitlin Olson since 2008, and they are parents to two children; Axel Lee and Leo Grey McElhenney.
Rob and Kaitlin, who are both stars on the FX/FXX comedy series, It's Always Sunny in Philadelphia, wedded on September 27, 2008, after dating secretly while starring in the second season of the show. They welcomed Axel two years after their wedding in September 2010 and then Leo two years later again in April 2012.
Who is Rob McElhenney's Wife?
Rob McElhenney's wife is Kaitlin Olson, an American actress best known for her role as Deandra "Sweet Dee" Reynolds in It's Always Sunny in Philadelphia.
Kaitlin is 48 years old as she was born on August 18, 1975. Her parents are Donald Lee Olson and Melinda Leora. Her father made a living as a publisher of the Portland Tribune while her mother worked as a nurse.
After attending and graduating from Tigard High School in Tigard, Oregon, in 1993, Rob McElhenney's wife enrolled at the University of Oregon to study theater. She graduated in 1997 with a bachelor's degree in theater arts before moving to Los Angeles to pursue a professional acting career.
Life as a pro actress didn't get off to a great start for Kaitlin, as she only managed to land guest appearance roles. She appeared in TV shows and films like Curb Your Enthusiasm, The Drew Carey Show, The Jamie Kennedy Experiment, Out of Practice, Miss Match, Family Guy, and Coyote Ugly before being cast as Deandra "Sweet Dee" Reynolds in It's Always Sunny in Philadelphia.
How Rob McElhenney Met and Married Kaitlin Olson
Like many Hollywood love tales, Rob McElhenney crossed paths with Kaitlin Olson when they were both in the line of duty. When Rob's comedic show It's Always Sunny in Philadelphia kicked off in 2005, Kaitlin was one of the first hands that were brought on board. At the time, the thirty-year-old comedic actress had just moved to Los Angeles to pursue her show biz career. Olson was cast in the role of Dee Reynolds. Her character won the hearts of viewers and critics alike.
Between June and August of 2006, as the show entered its second season, Rob McElhenny had caught Olson's fancy so much so that they began a romantic relationship. As he recounts, Olson was the funniest woman on the set, and her personality was one thing that endeared her to him the most.
After dating for two years, the love birds got married on Saturday, September 27, 2008; it was a modest ceremony that was held in California. As a couple, the first move Rob and Kaitlin made was to acquire the Philadelphia-based Skinner's Bar (located at 226 Market Street), which they renamed Mac's Tavern.
Meet Rob and Kaitlin's Kids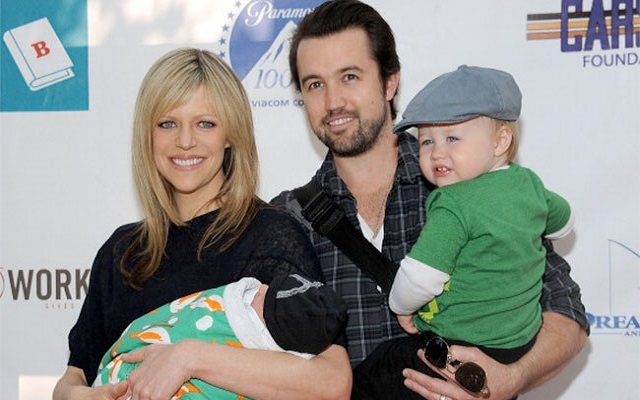 In 2010, McElhenney and Olson welcomed their first child, whom they named Axel Lee McElhenney. Axel was born on Wednesday, September 1, 2010. Two years after, the couple welcomed their second son, whom they named Leo Grey McElhenney. Leo was born on Thursday, April 5, 2012. So far, there is no news about their plans to have another child. Olson herself seems to be having a great time with her boys.
In 2011, a year after the arrival of their first son, Rob McElhenney reported added a whopping 50lb in preparation for the seventh season of his show. The Philadelphia-born actor grew a beard to add extra humor to his character and to spice up the show with a new comedic direction.
Sources believe that the move created fear among cast members who were very much concerned about his health. After he ended filming for that episode, however, McElhenney eventually worked himself back to shape; losing 23lb in a month. In terms of age, McElhenney is about two years younger than his sweetheart.
Is He Still Married to Kaitlin Olson?
Considering the rate at which celebrity marriages crash, one can pardon those asking if Rob is still married to Kaitlin. So far as we know, the couple are very much together. Since the birth of their second son in 2012, the two have appeared on various individual projects as well as their joint project. They also co-manage a number of businesses. Together, the couple and their two lovely boys live in Los Angeles, California.