Robert Plant's children were initially four, however, one passed away, and as such, he has three children now. His sons are Karac Pendragon, Logan Romero, and Jesse Lee, while his daughter is Carmen Jane. 
Plant had his first three children with his first wife, Maureen Wilson, who he was married to for sixteen years. After the death of their first son, the couple got divorced, and Plant then fathered his fourth child with his ex-wife's sister Shirley Wilson. Here is more about the family life of the great heavy metal songster.
Does Robert Plant Have Children?
The widely known music artist first met his ex-wife, Maureen Wilson in 1966 at a Georgie fame concert that got canceled at the last minute. The pair got married in West Bromwich, England, on the 9th of November 1968. The couple had three children together, namely: Carmen Jane Plant, who was born on 21st October 1968, Karac Pendragon Plant, born on 20th April 1972 and Logan Romero Plant, born on 27th January 1979. He later welcomed a son named Jesse Lee in 1991 with his former sister-in-law, Shirley Wilson. Plant and Maureen, however, signed the divorce papers in the year 1983.
Robert Plant, along with his ex-wife and daughter, was involved in a ghastly car crash in 1975 that almost took the life of Maureen, who was the driver of the Austin Mini that got her leg broken and her pelvis fractured. She suffered a concussion for 36 hours from a fractured skull. Plant and his daughter sustained serious injuries, which they recuperated from after getting adequate medical help.
Plant's ex-wife is a qualified nurse and the cousin of one of the founding members of the Band of Joy, Guitarist Vernon Pereira. She also played an uncredited role in the 1976 movie, The Song Remains the Same.
Meet Robert Plant's Sons And Daughter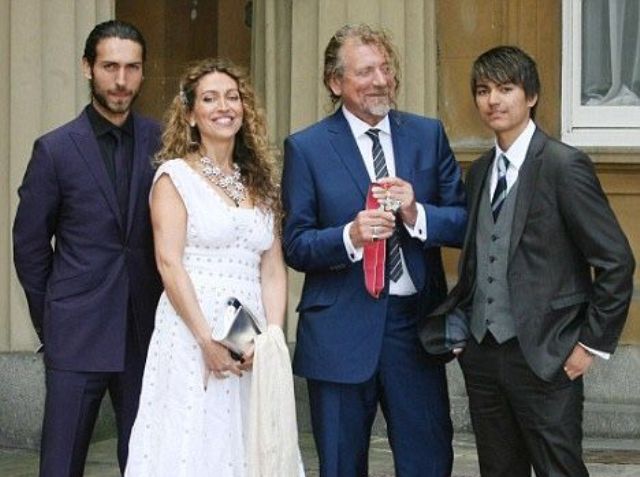 Robert Plant's first son, Karac, sadly passed on five years after his birth, having suffered from stomach enteritis. His death was quite devastating for Plant, who was on Led Zeppelin's 1977 North American tour in the United States at the time of his death. Karac, who passed away on the way to Kidderminster General Hospital on 26 July 1977 after failing to respond to the treatment given to him in the ambulance, was cremated and buried in the first week of August 1977.
His second son, Logan, is following in the footsteps of his father as he is a singer-songwriter and former lead vocalist for the Black Country Bandits and the Sons of Albion. He is an alumnus of the University of Wales, where he graduated with a Diploma in Sports Massage. Prior to kicking off his music career, Logan Plant modeled for Boss Model Management and also was a center-half forward for the football club Inter Cardiff in the League of Wales.
He then joined the Black Country Bandits in 2004 and performed with them at the Bergen Blues Festival in Norway. After the group disbanded, he joined the Sons of Albion in 2006 and moved on to release, along with his bandmates, four singles, and one album. He now serves as the founder of Beavertown Brewery. He got married to Bridget E. Smith on 4th September 2005.
Jesse Plant seems to have kept his personal details private, as there is little to no information about him except that he is known as Plant's son.
Robert Plant's only daughter is a professional dancer who teaches belly dancing and ethnic dancing. She has made appearances at many music festivals, including the Rivermead Womad Music Festival and Glastonbury Festival. She got married to Charlie Jones, a bassist, on 18 May 1991, and they share three children together.
Who Is Robert Plant?
The lead vocalist and the brain behind the lyrics of the rock band Led Zeppelin, Robert Plant, is regarded as one of the greatest lead songsters of all time. His unique creative skill sold him to the world after penning one of the musical group's hit songs, 'Stairway to Heaven'. He is also recognized for his contributions to the lyrics of most songs released in 'Led Zeppelin III' and 'Led Zeppelin IV albums. Following the split of the rock and roll band, the talented music artist began his solo career and went on to release several albums that were quite successful.
He further got associated with several bands, including the Honeydrippers, Priory of Brion, Strange Sensation, Band of Joy, and Sensational space shifters, as well as his new acoustic band Saving Grace formed in 2019. Some of his studio albums include 'Pictures at Eleven', 'The Principle of Moments", 'Now and Zen', 'Fate of Nations', 'Mighty Rearranged', 'Lullaby and the Ceaseless Roar'.
As a result of his contributions to the music industry, Plant has been recognized with several awards and titles, which include the Q Award Prize for Outstanding Contributions to Music, Rock and Roll Hall of Famer, Grammy Awards as well the Grammy Lifetime Achievement Award. He is a commander of the British Empire and a third vice-chairman of the English Football Club Wolverhampton Wanderers. He was featured in a documentary titled, Robert Robert Plant: By Myself.