For some people, YouTube is a platform where they can watch movies or music videos; others see it as a perfect search engine which provides answers to all of their questions. However, to Ethan and Grayson Dolan – better known as the Dolan Twins, it is a money-making avenue.
Who Are The Dolan Twins and What Are Their Ages? 
The Dolan twins are YouTube stars who became famous as a result of the humorous videos they share on the platform. Some of these videos include The Eat It or Wear It Challenge, Grayson Gets His Wisdom Teeth Removed, Guys Try Girl Products, Can We Tell Ourselves Apart? and Baby Picture Challenge – a very funny video in which the loser wears a diaper and run around in a store.
Born on December 16, 1999, Ethan and Grayson Dolan, known together as the Dolan Twins, are natives of the Long Valley section of Washington Township, Morris County, New Jersey. They became famous after they started sharing comic videos on the short-form video hosting service, Vine, in May 2013.
It was actually the older twin, Ethan, who posted his first video which showed him in a black waste bag and the air in the bag was then sucked by a vacuum cleaner. This was followed by Grayson's video of a kid stealing his mayonnaise. The videos were viewed by many people, including a certain girl who told Grayson that she watched all their Vines with her brother and encouraged him to do more videos. This was a time when many people were becoming stars on Vine so the Dolan Twins started making skits and just crazy videos they thought people would love. With time, they gained a small following and from there they kept growing.
Subsequently, they moved on to YouTube because it provided more time for videos, unlike Vine which gave just six minutes. As they became more popular, they were signed to post their videos on a separate channel by a YouTube network owner named Brian Robert. Their very first video on the channel titled The Blender Challenge garnered 2 million views in just one month. Consequently, they earned a huge number of visitors to the channel and this led to an increase in the number of the channel's followers to 2.4 million.
In 2015, they got signed to AwesomenessTV and have remained with the media and entertainment company since then. In 2016, the Dolan Twins went on a world tour titled the "4OU" Tour and also won that year's Teen Choice Awards for Choice Web Star: Male and Choice YouTuber. The following year, they made it to the list of the top ten most tweeted about celebrities.
On March 27, 2018, the brothers announced that they would be taking a step back from YouTube through a video on their channel. Speaking in the short video titled Bye For Now, Grayson explained the major reason for their decision to take a break, stating that they felt stuck, creatively. Ethan added that there were a couple of things that they needed to take care of in their lives other than YouTube.
Continuing in the video, Grayson explained that they started posting videos on Youtube just for fun and that when they began, they had no jobs and made no money from it. But since then, Ethan said, "we've been running away from the fact that YouTube is kind of becoming a job and losing its spark for us."
Is Any of the Dolan Twins Gay?
There have been speculations that one of the Dolan twins, Greyson, is gay but there is nothing tangible to prove that and, the twins have neither confirmed or denied the rumors.
However, many of their fans have made it clear that even if Greyson was gay, it holds no significance as they would still love them no less.
Details of their Dad and Sister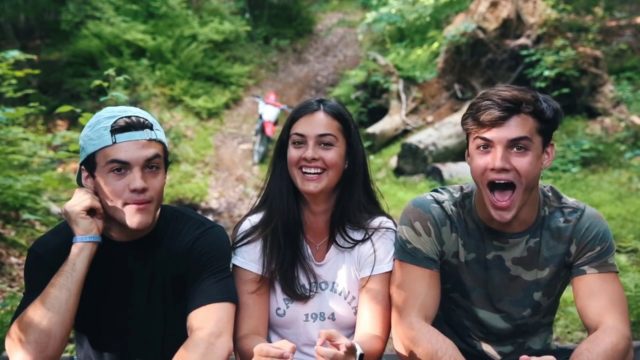 The social media stars are the sons of Lisa, a hair salon owner and Sean Dolan, superintendent of a school in New Jersey. They have an older sister named Cameron Dolan. Although everything appears to be going well for the brothers, there is a lot about them that the camera does not see.
Just like every other person, they also have their thick and thin times. Sometime in November 2016, the twins released a video on YouTube titled You're Not Alone, in which they talked about their father's battle with the killer disease, cancer, and how it has taken a heavy toll on them. However, even in the midst of the difficult times, they choose to stay positive and have learned to appreciate every moment they spend with their dad as well as being thankful for their health.
Cameron, who is two years older than Ethan and Grayson, is also a star on Instagram and Vine. She was actually the one who introduced her brothers to Vine, featuring them frequently on her videos. She became active on Instagram in April 2012 and later joined Vine some months after it was launched on January 24, 2013. Cameron is being followed by more than 750,000 people on Instagram and has more than 150,000 followers on Vine.
Their Net Worth
The celebrity YouTubers reportedly have an estimated net worth of $4 million which came mostly from their vlogging career. However, Grayson is said to own a larger chunk of the net worth, $3 million specifically while the remaining $1 million belongs to Ethan.
From 2013 when they started posting videos on Vine until now, they have attracted over 6.4 million subscribers on the platform and more than 4.4 million YouTube subscribers since 2015. Their fan base further grew after they embarked on an ad campaign for the use of Twitter new stickers.
Height and Body Measurements
The Dolan twins are good looking and it is one of the several factors that brought them massive admiration. Even though the details of their body measurements are hard to come by, it is known that the twin brothers measure 5 feet 11 inches in height.