Donte Divincenzo has got it all going righ fro him all thanks to his focus on basketball. He started playing professionally with the Milwaukee Bucks in the National Basketball Association (NBA) after he was selected with the 17th overall pick in the 2018 NBA draft. Prior to his professional career, he played for the Villanova Wildcats during his college days. Here is everything you should know about him.
Donte Divincenzo's Early Life and Achievements
Donte Divincenzo was born on the 31st of January 1997 in Newark, Delaware. Reports have it that his interest in sports started when he was still a child. He was often seen involved in a lot of sports activities but took a special interest in the game of basketball and football. As he grew, he decided to focus more on basketball.
The lad was quite smart while growing up and with ease, he enrolled in an all-boys Roman Catholic independent school. Donte later attended Salesianum school and led his team to two consecutive state championship. As a junior, he was numbered as one of the most skilled players in his school as he averaged 15.8 points, 4.7 rebounds, and 2.9 assists in each game and was also a part of the team that played in the Nike EYBL finals. Coming into his senior class, the young basketballer averaged 22.9 points, 9.0 rebounds and 4.0 assists per game. Later that year, Delaware Sportswriters and Broadcasters Association's Boys' named him as the Basketball Player of the Year in 2015.
Following the completion of his high school studies, Donte Divincenzo entered college with his head high as an outstanding high school basketball player. He featured in 9 games as a freshman playing for Villanova. His season was cut short as he incurred an injury on his right foot where he fractured his fifth metatarsal bone. The following season, Donte completed the season averaging 8.8 points and 3.8 rebounds in each game. Afterwards, he registered 19 points, 3 rebounds in addition to 2 assists in a 70-57 win against St John. Subsequently, during the NCAA Tournament, he totalled 21 points and 13 rebounds leading to a victory against the Mount St.Mary's. For this, he was named to the Big East All-Freshman team and also to the Philadelphia Big Five Rookie of the year.
Donte was placed off the court during his sophomore season, he recorded a career-high 30 points in a victory against Butler University in Indianapolis as soon as he returned. By the end of his regular season, he was listed as the Big East Sixth Man of the Year. He continued on top of his games and showed his stints during the 2018 NCAA Tournament. Donte DiVincenzo scored 12 points in addition to 8 rebounds in a win against the Texas Tech earning him the NCAA Final Four Most Outstanding Player. reports also have it that he scored the most during the tournament.
Afterwards, the basketballer was nicknamed the Big Ragu by Gus Johnson who is a sportscaster after the win against the University of Virginia. Gus nicknamed him because of his Italian red hair. On May 29, 2018, he made a public announcement to join the 2018 NBA draft without the help of an agent forgoing his last two years in his collegiate career. 
NBA Career
After Donte DiVincenzo declared his intents on joining the NBA draft in May 2018. He was drafted by the Milwaukee Bucks with the 17th overall pick that same year. He was also the second of the four Villanova players to be selected that year. On July 10, 2018, the Bucks publicly announced that they had sealed a deal with the basketballer.
As he has begun his pro-career, the young baller will no doubt make name for himself in the apex basketball league going by what we have seen him do in high school and college.
See Also: Who Is Markelle Fultz? Here Are 5 Facts You Need To Know
Parents and Girlfriend
Donte DiVincenzo was born to John. F and Kathie DiVincenzo. His father works as a middle school basketball coach and his mom works as a realtor. The basketballer is the younger brother to John A. DiVincenzo
.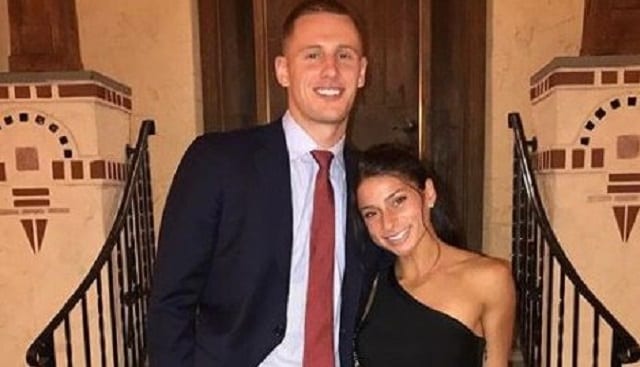 Donte DiVincenzo has been in a jolly relationship with his sweetheart Morgan Calatoni. Morgan is a cheerleader with the Temple University. She was born sometime in the month of February 1997 and is of an Easton, Pennsylvania native. The cheerleader is a twin and is a graduate of Wilson High School.
He has a super athletic build, although he is still young, he has perfected his physique in the gym. Donte Divincenzo stands at 6 feet 5 inches with a balanced weight of 93kg. Considering his height, the shooting guard stands two inches above the 6 feet 3 inches minimum for his position in the NBA.