Before the 2000s, the world of reality television was overshadowed by game shows and did not cover the day to day lives of regular people. This changed with The Kardashians and following their debut in May of 2007, many more reality shows have sprung up and created stars and socialites, such as the likes of Dorinda Medley.
The gorgeous lady has gone on to attain fame as an American socialite, Entrepreneur, and reality TV star who came to be known for being a part of the reality television show, The Real Wives of New York City (RHONY).
Dorinda Medley Was The CEO of a Cashmere Company
Before she became the star she is today, Dorinda Medley had a thriving career in all that she tried to do. After University, Dorinda worked in the showrooms of the fashion brand, Liz Claireborne. She was also employed in the New York office for a short period of time and shortly after, she moved to London. Her move to London was as a result of her then-husband – Ralph Lynch. Lynch, who is an investment banker was promoted to the managing director of the London branch of the financial service company, Credit Suisse.
While she lived in the United Kingdom she made the most of her time by setting up a Cashmere company, DCL Cashmere. The company became so popular that it had Princess Diana on its clientele list alongside other celebrities.
She Lost A Husband in 2011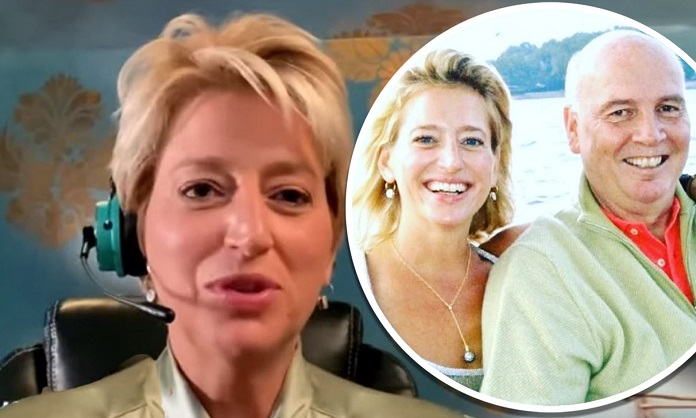 After spending more than 10 years in London, Dorinda Medley returned to New York after she divorced Lynch and sold her business – DCL Cashmere. She relocated with her daughter, Hannah, who she had with her first husband. To make ends meet, Dorinda ventured into real estate and while she was working as a realtor, she met Richard Medley – and just like her first husband, Medley worked in finance as a hedge fund adviser.
After a few months of courting, the two exchanged vows in 2005 in a close-knit dinner-like ceremony. When they got married, he gifted her with an 11 square ft estate in Berkshires which she knew as a child growing up in Berkshires.
Sadly, their union didn't last very long, and this time it was not a divorce. The six-year-old marriage ended with the tragic death of Richard on November 16, 2011. The autopsy reported "liver failure" as the cause of death. Those were tough times for the Dorinda. When she spoke about how she dealt with his death, she talked about developing rituals that made it easier to cope with his absence in her life. Her marriage to Richard Medley made her a step-mother to his two children and in 2016, she made a memorial in honor of his life on social media.
RHONY Launched Dorinda Medley Into Stardom
Dorinda Medley has an interesting relationship with The Real Wives of New York as she had been on the show as a guest before joining the cast fully during its 7th season in 2015. More so, RHONY was initially supposed to feature the lives of mothers in New York and Medley was a single mum who had just moved to New York. Ramona Singer, who she became friends with when their children were in the same school, was the person who brought her on to the show.
Medley had planned to only be on the show for a year but she stayed on and became a renowned character on the show for several seasons. Fans know her for her incredible toughness and her ability to speak the truth to anybody on any matter and within a short while, The Real Housewives of New York City (RHONY) brought Dorinda into the limelight and paved the way for her professional development. More so, when she joined the show, she was still grieving the loss of her husband and for her, the process seemed therapeutic as she was able to just talk about her feelings.
However, in August of 2020, she announced that she was leaving the show. She has not specifically stated the reason for her decision but reports have clarified that she was not fired. Instead, her exit was based on a decision made by the network and Medley, as they all agreed that she needed a break.
Dorinda Medley's Endeavors Has Made Her A  Wealthy Woman
Dorinda Medley was filming for 5 days a week, eight hours a day during her time on RHONY. It was gathered that for each episode, Medley earned an estimated $250,000 per month. More so, the Reality TV star who owned Cashmere Company was a wealthy woman even before she joined RHONY. She successfully ran this business while she was in London and even when she returned to New York.
As of now, her net worth is estimated to be $20 million. Although a chunk of this money comes from her thriving Cashmere Company, Medley's financial status has also been boosted by her appearance on Real Housewives of New York.
It is also known that she is involved in major philanthropic activities which had its roots in her husband's generosity as he participated in a number of charitable activities. More so, her deceased husband's connections gave her access to people such as Brad Pitt, Angelina Jolie, Desmond Tutu, and Hillary Clinton, whom he gave generously to support their foundations.
The Reality TV Star Is Highly Fashionable
Dorinda Medley is known for her impeccable style and how well she pairs up outfits. She stands at a height of 5 feet 6 inches and is known for how well she dresses and her ability to pair fashion items that suit her. She has been described as being able to wear clothes that can be considered strange or elegant and still making a statement while she's at it.
All of this contributed to the relationship she had with John Mahdessian who is known for the work he does with Madame Paulette, a cleaning and restoration company which he owns. The socialite reported found love once again in her current partner, John Mahdessian, a year after her husband's death and they officially began seeing each other in early 2012.
However, the two broke up in 2019. Medley explained that he is not a suitable partner for the level she has gotten to in her life. The reality TV star believes that moving on was the best decision, so they had to call it quits.