It is every guy's dream to have a good woman by his side and the legendary musician Jon Bon Jovi considers himself lucky to have Dorothea Hurley as a wife. Though she came to public attention through association with her spouse, Dorothea is a Karate instructor, making the records as a junior karate champion during her days in high school and later settled down as an instructor in New Jersey. The karate expert is also a restaurateur alongside her husband. As at the time that they met, Jon Bon Jovi had to make do with being just friends with the woman he loves since Dorothea was already romantically involved with his buddy Bobby.
Friendship turned to romance during their 20s when Bobby was no longer in the picture, they seemed to be in an almighty hurry to tie the connubial knot and had to elope in 1989 during a stop in LA while Jon Bon Jovi's band was on their New Jersey Syndicate Tour. They eventually got married in Las Vegas and since then, Dorothea Hurley has been a constant source of care and support for her superstar husband even in hard times.
Dorothea Hurley's Age and Early Life
The records for her date of birth say 29th of September 1962 and she was born in New Jersey United States where she also grew up. Though their professions are not known, Dorothea Hurley's parents have been identified as Donald Hurley (father) and Dorothy Pawlyk (mother). There is no record of any siblings which may mean that she was an only child.
She is a high school graduate which she accomplished at Sayreville War Memorial High School located in Parlin, New Jersey.
Dorothea Hurley's Children
Dorothea Hurley's children are four in number, the oldest, a girl named Stephanie came on the 31st of May 1993, and she was joined by Jesse, their first son who announced his entrance on the 19th of February 1995. The couple had a second son named Jacob on the 7th of May 2002; their last child Romeo joined the family in 2004.
Dorothea's children have earned media attention at one time or the other both for positive and negative reasons. In the case of her daughter, it was definitely for something bad as she was found almost half dead in her room at Hamilton College for taking an overdose of heroin. Stephanie was only saved by the quick intervention of the medical team.
Dorothea Hurley's first son Jesse attracted media attention for a good reason which is football. He has been very active in the sports as well as lacrosse right from his days at Poly Prep Brooklyn. Jesse continued with football when he went to study political science and business economics at the University of Notre Dame where he recorded impressive stats as a member of Notre Dame Fighting Irish football team.
Jesse's most recent feat is the wine company he launched together with his father and renowned French winemaker Gerald Bertrand. The brand called Hampton Water was well received and was subsequently introduced in LA.
How She Met and Became Jon Bon Jovi's Wife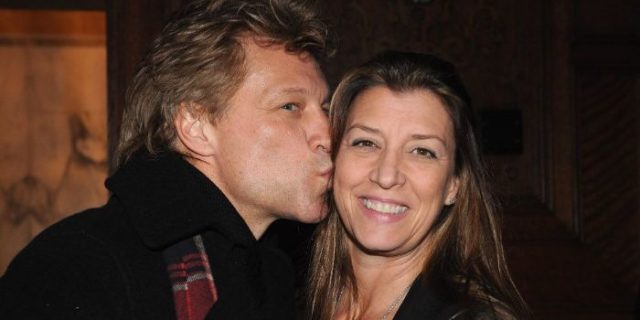 There is definitely something about juvenile romance, especially one founded in high school, for some, it fizzles out after graduation but there are some lucky few like Dorothea Hurley and Jon Bon Jovi whose high school romance endured through life. They got married at Graceland Wedding Chapel, located in Las Vegas on the 29th of April 1989. As theirs was a case of elopement, they didn't have the privilege of having family and friends present at the occasion. There were even no wedding rings to show for the ceremony.
It is no longer news that celebrity unions fizzle out faster than the flame of a candle in the wind but for Dorothea Hurley and her spouse, the reverse is the case. Their marriage has endured for over three decades and still counting, besides, with the blessing of four kids, their union appears to be completely unshakeable.
Her Husband Has Her To Thank For His Success
Jon Bon Jovi attributes the success of his marriage to his spouse whom he aptly described as the glue of their union as she has played a significant role in keeping the matrimonial home together despite their navigation through turbulent waters.
Net Worth
Dorothea Hurley is quite successful in her own right as a karate instructor and a restaurateur but her net worth has never been made public. However, the wife of Jon Bon Jovi has no financial worries as she is obviously buoyed by her husband's wealth which was last listed at a whopping $300 million.