Lisa Oz is the wife of Dr Oz, the American TV personality, author, and professor emeritus of cardiothoracic surgery at Columbia University. Lisa Oz is a 60 year-old American author, entrepreneur, producer, and media personality who has authored and co-authored many books and hosted her own TV show. 
The couple tied the knot in 1985, and Oz has been instrumental in building her husband's health and wellness brand as well as his entertainment empire. Get to know more about her here, including details about her career, family life, and what have you.
Summary of Liza Oz's Biography
Full Name: Lisa Oz
Date of Birth: July 20, 1963
Lisa Oz's Age: 60 year old
Place of Birth: Philadelphia, Pennsylvania, U.S.
Education: Bryn Mawr College (BA); Union Theological Seminary
Ethnicity: White
Nationality: American
Religion: Christian
Sexual Orientation: Straight
Marital Status: Married
Lisa Oz's Husband: Mehmet Oz ​(m. 1985)
Children: Four Children (Daphne Oz, Arabella Sezen Oz, Zoe Yasemin, and Oliver Mustafa Oz)
Parents: Gerald and Emily Jane (Asplundh) Lemole
Lisa Oz Height in Inches: 5 feet 4 inches
Lisa Oz Height in Centimeters: 162 cm
Weight: 58 kg
Lisa Oz Net Worth: $1 million
Instagram: lisaoz
Who Is Dr. Oz Wife, Lisa Oz?
Lisa Jane Lemole was born on the 20th of July 1963 in Philadelphia, Pennsylvania. Her father's name is Gerald Lemole while her mother's name is Emily Jane. Her father is an accomplished heart surgeon and was part of the team that performed America's first heart transplant in 1968.
Oz spent her formative years in Philadelphia and completed her high school diploma in 1981. She subsequently attended Bryn Mawr College (Pennsylvania) as well as the Union Theological Seminary at Columbia University.
On leaving college, Lisa Oz briefly dabbled into acting. She scored minor parts in several productions, including the 1993 film, Boxing Helena. Boxing Helena is a horror/mystery about a surgeon who is so obsessed with a lady that he amputates her limbs and holds her hostage in his home.
What Does Dr Oz's Wife Do for a Living?
Lisa Oz is one lady who capably wears several hats. She is an author, podcaster, as well as a journalist. The Pennsylvania native has hosted her own shows on Veria Living TV and Sirius XM. She is also the editor-at-large of a magazine known as Dr. Oz: The Good Life. Oz is also a bestselling author. She has penned several books, including Us: Transforming Ourselves and the Relationships That Matter Most (2010) and The Oz Family Kitchen.
The latter is a cookbook that contains more than 100 delicious recipes from the Oz family collection. It also contains advice on cooking healthy meals, shopping smart, as well as nutritional tips and health insights.
Another part of Oz's multifaceted career is podcasting. She joined hands with the renowned editor, Jill Herzig, to launch the You Turns Podcast in 2018. The podcast is aimed at helping people who are going through monumental changes in their personal lives. It provides them with access to experts so that they can gain practical strategies on how to confront these challenges.
Meet Lisa Oz's Husband and Children
Lisa Oz is married to arguably the most popular doctor in America, Dr. Oz. (Mehmet Cengiz Oz), born on the 11th of June 1960, in Cleveland. He is of Turkish descent and holds Turkish and American nationalities. Dr. Oz obtained his undergraduate degree from Harvard University. He also attended The University of Pennsylvania Medical School prior to qualifying as a medical doctor.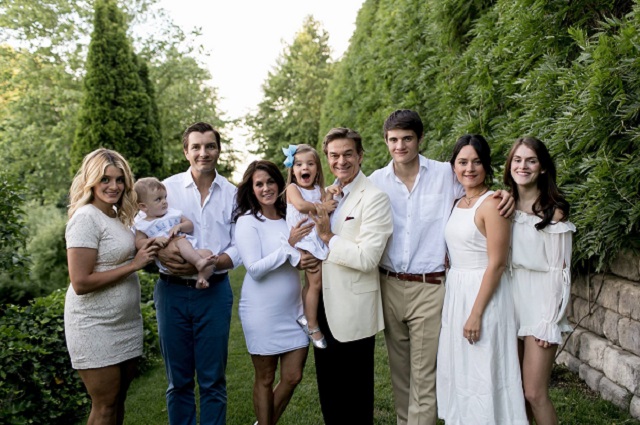 Dr. Oz is now a renowned cardiothoracic surgeon as well as a host of the popular medical/health show, Dr. Oz. Lisa and her husband were first introduced to each other by their parents in 1982. The two subsequently started dating and tied the knot on the 29th of July 1985. They have since enjoyed a stable union.
She has stood by his side in the face of several career controversies and has also played a pivotal part in his success story. The couple has since shared their tips for a long-lasting union. They include, focus on the positive aspects of your spouse, take charge of your own happiness, share your passion, respect your spouse, and get physical, that is, have lots of sex.
Lisa Oz and her husband have four children together. They are Daphne, Oliver Mustafa, Arabella Sezen, and Zoe Yasemin. Arabella is an alumnus of Columbia University and is now an actress, screenwriter, and author. Yasemin, on the other hand, is a ballerina and is also skilled in basketball, lacrosse, and tennis. There is not much information on Oliver Mustafa as he maintains a low profile. He, however, accompanies his parents to public events occasionally.
The eldest Oz child is Daphne Oz. She was born on the 17th of February 1986 and holds a degree from Princeton University. Just like her parents, Daphne is an author and has penned several books, including Dorm Room Diet and Relish: An Adventure in Food, Style and Everyday Fun. She is also a TV personality and co-hosted ABC's The Chew from 2011 to 2017. Daphne Oz is married to an investment fund analyst, John Jovanovic, and they have four children together.
When Did Dr. Mehmet Oz and His wife Lisa Get Married?
Dr. Mehmet Oz married his wife Lisa on June 29, 1985, in Bryn Athyn, Pennsylvania. They have since been together for 38 years.
How Did Dr. Mehmet Oz and His Wife, Lisa, Meet?
Dr. Mehmet Oz met Lisa at dinner with their parents. He was introduced to his wife by his parent, who was friends with Lisa's parents. The American TV personality famously described his union as "sort of an arranged marriage".
How Many Children Do Dr. Mehmet and Lisa Oz have?
Dr. Oz and Lisa have four children: three daughters and a son. They are Daphne Oz, Arabella Sezen Oz, Zoe Yasemin, and Oliver Mustafa Oz.
How Old is Lisa Oz?
Lisa Oz is 60 years old. She was born on July 20, 1963, in Philadelphia, Pennsylvania, U.S.
What is Lisa Oz's Net Worth?
Lisa Oz is estimated to have a net worth of $1 million.