As an entertainer, Drew Carey is an accomplished man. He is a comedian who made his name in stand-up comedy. He has had a show of his own, The Drew Carey Show, and has hosted popular shows like Whose Line Is It Anyway? and the game show, The Price Is Right.
If we define romantic success as finding someone to marry, his love life is the only place where the actor/comedian has yet to find a legacy accomplishment. Despite coming close twice, with engagement to two women, the Cleveland-born entertainer has yet to walk the aisle and remains a single man.
Drew Carey's First Engagement was to Nicole Jaracz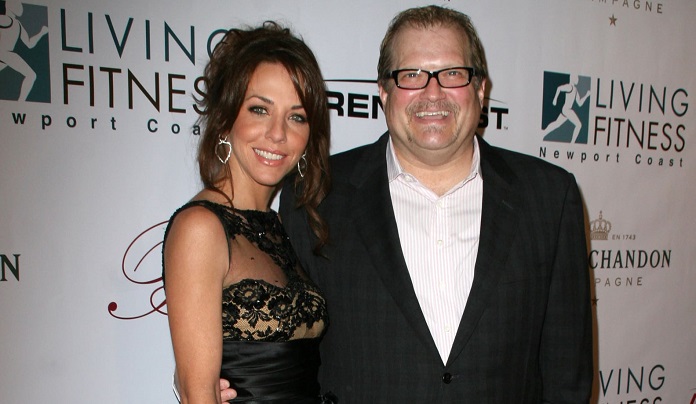 In the same year Drew Carey replaced Bob Barker as the host of The Price Is Right – after the latter exited his decades-long role – he got engaged for the first time. He got engaged in October 2007, to Nicole Jaracz, who at the time, had just graduated from culinary school.
Details about the early days of their relationship remain undisclosed. However, after five years of being engaged, Drew and Nicole would go their separate ways in 2012. The separation was amicable, at least in public. Through his publicist, he released a statement emphasizing their shared love and affection for one another.
However, while Drew Carey and Nicole never did get married, Drew became somewhat of a 'step-father' to her son, Connor, from a previous relationship. Despite not being a legal father to Conner, both had a profound impact on each other.
The comedian credits his 'step-son' for helping him achieve his goal of losing weight and reaching his goal of weighing 170 pounds in October 2010. According to him, he would get winded after a few minutes of playtime and realized he faced a real chance of dying before Connor graduates from high school. In turn, Drew Carey has remained a father figure to Connor, despite parting ways with his mother.
Drew Carey Got Engaged for a Second Time to a Sex Therapist
Unlike his relationship with Nicole Jaracz, we know a few details about the beginnings of Drew Carey's relationship with Amie Harwick. They met at a house party in June 2017, where they hit it off and began dating.
Amie Harwick was a licensed marriage and family therapist who graduated from California Polytechnic University. There, she earned a degree in psychology and later received her master's degree from Pepperdine University in clinical psychology. Amie was also the author of The New Sex Bible for Women. She had a widespread and robust reputation in West Hollywood and made regular appearances on podcasts, TV, and YouTube.
Throughout their relationship, the couple posted affectionate photos of each other on social media. Within a year of their relationship, Drew proposed to her in January 2018. Unfortunately, it did not last.
The two of them ended their engagement in November of the same year. Despite the breakup, they remained close until Amie became the victim of a homicide.
Amie Harwick's Ex-Boyfriend Allegedly Murdered Her
On February 15, 2020, Drew Crey's ex-fiancée, was found in her home with substantial injuries after an alleged attack from her boyfriend. She died shortly after transporting her to a hospital. Amie Harwick was supposedly strangled and thrown from the third floor of her home after an alleged fight with an ex-boyfriend, Gareth Pursehouse.
Before the fight and her death, she had twice filed a restraining order against him. A day after her death, he got arrested and subsequently charged with murder, with additional charges for 'lying in wait,' breaking and entering, and home burglary. He remains in jail awaiting trial after the court set his bail at $2 million.
In response to the murder, Drew Carey expressed his sadness at the gruesome death of his then-fiancée. He posted a tweet, exposing how lucky he was to have had her in his life. In a statement, he also acknowledged her spirit and accomplishments as a person and as a therapist.
I hope you're lucky enough to have someone in your life that loves as much as she did. pic.twitter.com/xMkQIwR6d6

— 🅳🆁🅴🆆 🅲🅰🆁🅴🆈 (@DrewFromTV) February 17, 2020
Following the news of the incident Tuesday 18, the comedian and game show host postponed the taping of The Price Is Right for the rest of the week.
Carey Has Forgiven his Ex-Fiancée's Murderer
In April 2020, a few months after the death of his Amie Harwick, Drew Carey made a startling admission. During an online program, The [email protected]: the comedian claimed he had forgiven the man who murdered his ex-fiancée.
According to him, he first admitted his decision to forgive while talking to high school kids during the taping of The Price Is Right's Kids Week. There, he mentioned that the murderer had a mental illness and had been abused as a kid.
While his decision to forgive the perpetrator so quickly raised eyebrows, Drew admitted he likes to practice instant forgiveness and unconditional love as it helps his heart heal.
Drew Carey Continues to Do What He Does Best
All his life, especially as an entertainer, Drew Carey made a name for himself with his ability to connect with an audience. His ability to elicit a laugh has also not gone unnoticed, which is why he hosts a variety of programs on different mediums.
Most recently, he began hosting a Friday night radio show, Friday Night Freak-Out with Drew Carey, on the satellite radio, SiriusXM. On the three-hour show, the comedian plays his favorite rock and soul music, featuring hit songs as well as new music.
He also continues to host The Price Is Right, which he has been hosting since 2007. In 2017, he joined Bob Barker as the only two people to host the show for more than a decade since the show's premiere in 1972.
However, following the global pandemic in 2020, new tapings of the show have been suspended until August 23, 2020. Regardless, Drew has continued to appear on screens in new episodes thanks to previously taped episodes.
He was also a contestant in the third season of The Masked Singer in 2020. Drew performed under the guise of The Llama and finished the season in 17th place. He has also made appearances in another show, Celebrity Family Feud, where he also lost, this time to Kevin Nealon and his friends.