There is probably no other person in the National Hockey League (NHL) that can take up to 12 minutes in the penalty and still have enough time to earn the First Star of the Game honor as Dustin Byfuglien has managed in one of his many outstanding outings. The Winnipeg Jets alternate captain, who plays primarily as a defenseman but has also had stints as a forward, has been described as the most menacing player on the ice. He is also recognized for his talent which makes him a rare breed in the sport.
Early Life And Education
On the 27th of March, 1985, in Minneapolis, Minnesota, Dustin Byfuglien was welcomed into the world by his Caucasian mother, Cheryl Byfuglien and African-American father Rick Spencer who were never married. While he was still young, Cheryl moved back home to Roseau from Minneapolis in order to be close to her family while Rick stayed back to continue his schooling. Cheryl Byfuglien later went on to marry hockey player Dale Smedsmo who helped shape her son's career choice by making him fall in love with the sport.
Byfuglien attended Roseau High School but was ineligible to play the sport under the Minnesota State High School League rules due to his poor grades. This prompted him to leave the state, he relocated to a suburb of Chicago named Warrenville, Illinois, where he would play amateur under-18 ice hockey for the Chicago Mission. Byfuglien later moved to Canada to play major junior hockey in the Western Hockey League (WHL) for first – the Brandon Wheat Kings and then the Prince George Cougars before joining the National Hockey League.
National Hockey League Career
Dustin Byfuglien's National Hockey League career started with the Chicago Blackhawks who drafted him in 2003 with the 245th overall pick. He spent a majority of his first few seasons with the Blackhawks minor league affiliates, the Norfolk Admirals and the Rockford IceHogs who are both of the American Hockey League (AHL). It was, however, during his time with the IceHogs that Byfuglien grew to become a sensational player, earning the American Hockey League's Player of the Week award, the first player from the team to get such honor.
Following a number of more sensational displays, Byfuglien was permanently recalled to his parent team in the 2007–08 season. He marked his return to the big league with a goal against the St. Louis Blues before going on to record his first career hat-trick against the Phoenix Coyotes a few weeks later. By the 2009-10 season, Dustin Byfuglien had become a focal player of his team, playing a significant role in making a successful Stanley Cup bid. He contributed with 5 assists and 11 goals in the playoffs, of which three goals came in the finals.
At the end of that season, Byfuglien was traded by Chicago to the Atlanta Thrashers. After just a few months with the new side, he was named the alternate captain of the team as he put pen to paper on a five-year contract extension worth $26 million. He was further selected to his first All-Star Game in that season where he clocked a 102.5 mph slap shot.
In the following 2011-12 season, the Atlanta Thrashers franchise moved to Winnipeg and changed its name to the Jets. The move did not seem to affect Byfuglien's game as he made 66 appearances for the Jets that season, scoring 12 goals and 41 assists. He has since been a mainstay in the side, further extending his spell with the team by signing a new five-year $38 million contract extension which will expire in the 2020-21 season.
Is Dustin Byfuglien Married?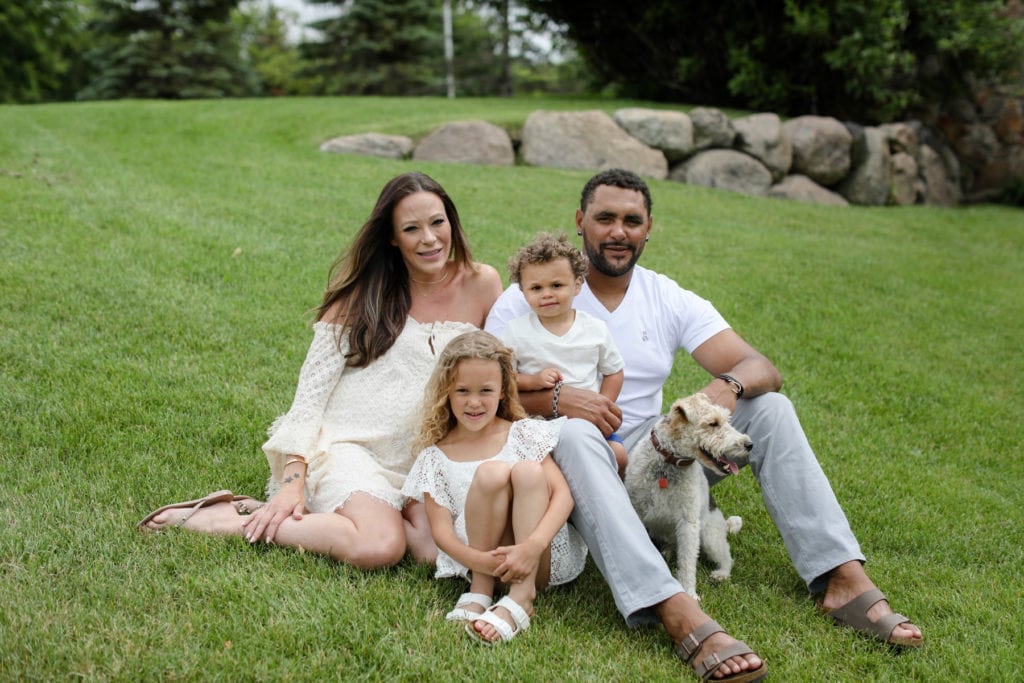 Dustin Byfuglien is indeed married. The player, who has gained notoriety for cross-checking opponents, married his girlfriend of over ten years, Emily Byfuglien in July 2014. The couple lives together with their three children and wire fox terrier dog in a lakehouse in Canada where Byfuglien, an avid fisherman, enjoys going boating.
Dustin and Emily had their first child, a daughter named Kira, while they were still dating on the 28th of December 2011. Their second child, son Kai, was welcomed to the world sometime in 2015 while the youngest, another son named Theo was born in August 2017.
Read Also: Who is Norman Kali (Evangeline Lilly's Boyfriend)? Bio, Here's All To Know About Him
Body Measurements
With a weight of 260 pounds or 120 kg, Dustin Byfuglien is among, if not outrightly, the heaviest player in the National Hockey League. He, however, falls a few inches short from being the tallest player in the league although he is well above the average hockey player with a height of 6 feet 5 inches or 196 cm.