Telkom is one of the biggest telecommunications service providers in South Africa with over 12 million customer base which keeps increasing by the day. Having such a wide clientele comes with a responsibility to provide efficient customer support services, with this in mind, Telkom provides a wide range of services to cater to the needs of its growing customers which include diversified ways of making Telkom bill payments, easy ways to check your Telkom account number as well as various ways to log into your Telkom account using different platforms.
Steps To Log Into A Telkom Account Via The Mobile App
Once you have the Telkom app on your mobile device, use the following steps to log into your account:
1. Go to the Telkom App on your mobile device and click on it to open the app.
2. Two dialogue boxes will appear requesting your username and password. Type them in the respective boxes.
N.B: Your username can also be your email address and this can be entered as indicated.
3. Click on the login button.
However, the above steps come in handy only if you have the Telkom mobile app. So, if you  are yet to download it, use the following steps to download the app:
1. For Andriod users,  go to the Google Play Store but if you are an Apple user, go to the Apple App Store.
2. When either Google Play Store  or Apple App store has opened, enter Telkom on the search bar
3. Select the Telkom test which comes with a blue logo.
4. Click on the install button and allow permission  to download the app on your mobile device
To start using the app, a Registration Process should be followed and the steps to get started include:
1. Open the Telkom app that has fully downloaded and select registration.
2. Enter your personal details following the questions that will be asked, including your email address as the username then agree to the terms.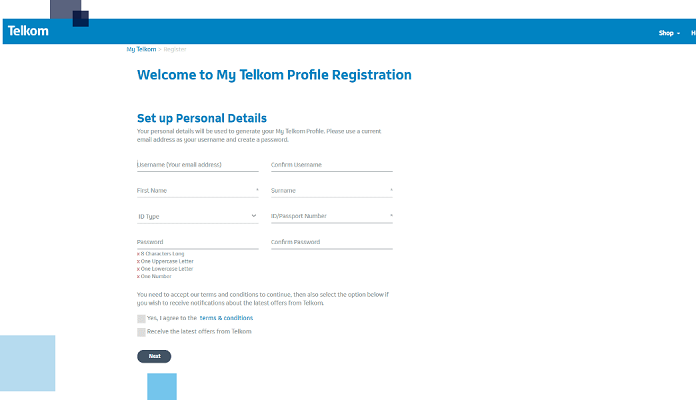 3. Click on the Next button.
4. An OTP will be sent to you via your email. Enter the OTP and click on continue.
5. Your registration will be successful if all the information provided is accurate.
How To Log Into Your Telkom Account Online
Apart from using a mobile app to log into your Telkom account, there is an option of doing so directly online. The steps to follow include the following:
1. Go to My Telkom page.
2. Go to the section that says Register/ Login below.
3. Enter your username which can also be your email address.
4. Enter your password.
5. Click on login to have access to your account.
How To Check Your Telkom Number By USSD Code
Like other telecommunication service providers Telkom has also provided USSD codes or shortcodes to enable their customers to have quick access to services like airtime top-up, balance inquiry, subscriptions as well as to check one's Telkom number among other things.
With regards to checking one's Telkom number the following quick steps will come in handy:
1. Open your phone's dialer and enter *1#.
2. Wait a few seconds and your number will pop up on the screen of your phone.
Another quick way to check your Telkom Phone Number is via the Telkom Please Call Me option using the following steps:
1. Dial *140*contact number# to send a please call me a message to the number you have entered.
2. The message you have sent will include your phone number. Simply copy it from the person's phone.
How Do I Get My Telkom Username & Password?
If by any chance you forgot either your Telkom username and password which you registered, don't fret Telkom can help you retrieve the information with ease. The steps to follow include the following:
1. Go to the My Telkom page, under the section that requires you to log in, there is an option which reads, 'I forgot my username or password'.
2. To retrieve the lost username, click on the text, username
3. A box will pop up requesting the type of ID you used to register. Enter the ID type.
4. Enter the number of the ID and click on the Next button.
5. Your username should appear afterward.
To get your Telkom password, follow the steps below:
1. Go to the My Telkom Page and under the login section, navigate to the option, ' I forgot my username or password'.
2. Click on the password text.
3. A box will pop up requesting your email, fill in the email you used to register your Telkom account.
4. A link will be sent to your email to reset your password.
5. Go to your mail, open the link, and reset your password.
6. With the new password you have chosen, you can now have access to your Telkom account.
Can I View My Telkom Account Online?
Telkom has made it possible for its subscribers to view their accounts with ease and one of the ways is to do so online via the Telkom portal. The steps to get you started on this process is as follows:
1. Go to the Telkom online portal.
2. Navigate to the end of the page where you will find the billing section.
3. You will the options:
 3.1. View your Home, Business & Personal accounts
   3.2. Manage accounts
   3.3. Pay your Home, Business & Personal bill
4. Click on the account option you wish to view and get details of your account.
Another way Telkom users can view their accounts is via Telkom mobile app. To get started on this method the steps to follow include:
1. Go to the Telkom app on your mobile device – if you don't have one simply download it via Google Play Store or Apple App Store and do the necessary registration.
2. When the app opens, navigate to the end on your phone's screen.
3. Click on the option to enable you to view your account.
Different Ways To Make Payments Of Your Telkom Bills
To pay our Telkom bills or offset your outstanding bills, Telkom has provided a range of options their subscribers can use. These ways are outlined below:
A. Pay Telkom Bills Online
1. Once you have a registered your Telkom account, go to the My Telkom portal and log in.
2. You will be shown the amount you ought to pay then select the 'Pay Bill' button.
3. Choose the mode of payment either by Card ( Visa or Mastercard Debit or Credit card) or EFT.
4. If you choose by Card, proceed to fill in your card's details but if it's EFT enter a reference number which should be your Telkom Account number, and choose the bank of your choice from the list provided.
5. Enter how much you would like to pay.
6. Click the 'Proceed with payment' button and the payment will be done.
B. Payment Via Bank
When using the bank to make Telkom payments you can use your banking app, ATM, or in-branch payment. For any of the above methods, the beneficiary should be Telkom and proceed to key in the amount you wish to pay.
C.  Telkom Bills Can Be Paid At Designated Retail Outlets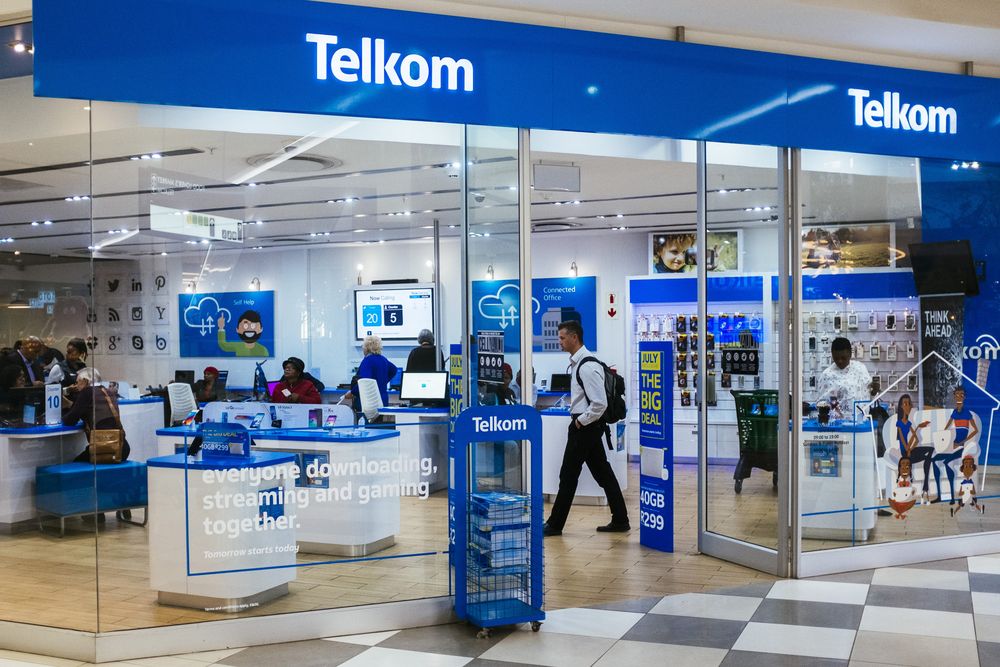 Current Telkom invoices or outstanding bills can be paid at selected retail outlets. To do so present your printed Telkom invoice slip and the amount you wish to pay to the cashier at any of the retail outlets. Once the payment has been keyed in, a receipt will be issued as evidence of payment.
The selected retail outlets to make the payments include, Pick n Pay, Checkers, Shoprite money market counter, Spar counter, and the Post office.
What Happens If I Don't Pay My Telkom Bills?
Telkom SA like many other wireline and wireless telecommunications service providers is a profit oriented entity albeit the South African government has 39% stake in it. When customers default in paying their bills, they stand a risk of being disconnected and also get charged an interest (non-taxable) on the debt accrued in the period of time. On your printed out
Therefore, in other to avoid the pain of being disconnected and having to pay extra to get reconnected, Telkom customers are advised to pay their bills on time and enjoy the mumerous services the telecom company offers.