Tailored to cater to low-income customers, StarTimes Nigeria has kept Nigerians informed through affordable bouquet packages and quality service. One of those elements of quality is the StarTimes Nigeria customer care service, designed to help you resolve any issue you might have with your decoder.
Notably, there are multiple ways to reach customer care operatives if you are a subscriber. There is the traditional walk-in to StarTimes offices spread around the country. There are also available telephone numbers, reachable at any hour. StarTimes Nigeria also has its digital channels, email, and social media account through which they connect to customers.
Best Ways To Contact StarTimes Nigeria Customer Care Operatives
Every StarTimes Nigeria customer care outlet is accessible. Thus, the best way to contact them depends on your preferred form of interaction and how urgent you want your issue resolved. There are four major ways to reach the cable TV service's customer care – phone, email, social media, and physical contact.
Phone
This has been by far, the fastest and most efficient way to reach StarTimes Nigeria customer care operatives if you want your issues resolved quickly. Within a few minutes of conversation, you can share your problems and get a satisfactory resolution. StarTimes Nigeria has two phone numbers in its national hotline service:
094618888 – available 24 hours everyday
014618888 – available between 7 am and 8 pm every day
Apart from its national service hotline, each of the branch halls spread around the country also has a dedicated customer care operative number. You can access the number relevant to your location via their website. It is a robust list that contains numbers for all six geopolitical zones with Lagos and Abuja.
If your issue requires an approved technician's physical presence or you need a localized solution, calling the relevant phone number might be your best option.
Email Address
If you prefer to reach StarTimes Nigeria customer care operatives via email, there are two email addresses you can use:
Please note that while you should get a reply, the response time depends on when you send the email. This medium I also not a quick way to get your issues resolved as it might take a while.
Social Media
A lot of us spend our time on social media. It has become a place, not just to hang out with online friends but also to interact with company brands and get news updates. StarTimes Nigeria is not exempt, and its customer care operatives have a presence on all major social media platforms.
Facebook – https://www.facebook.com/StarTimesNG/
Twitter – https://twitter.com/StarTimes_Ng
Instagram – https://www.instagram.com/StarTimesNG/
Like email, response time is solely dependent on when you send the inquiry. But you can rest assured that you will get a response.
Physical Contact
Sometimes, the complexities of your situation require a physical visit to a branch office, where you can have the problem, no matter the nature resolved. StarTimes Nigeria has several offices around the country, where you can walk in for any issue or inquiry you might have.
Like its phone database, you can access the list of its branches here, with a presence in practically every major city in Nigeria's six geopolitical zones.
Website Contact Option
The StarTimes Nigeria website is also equipped enough to receive complaints and have inquiries attended to by its customer care operatives. Instead of a phone call, email, or social media, you can simply message them via their website.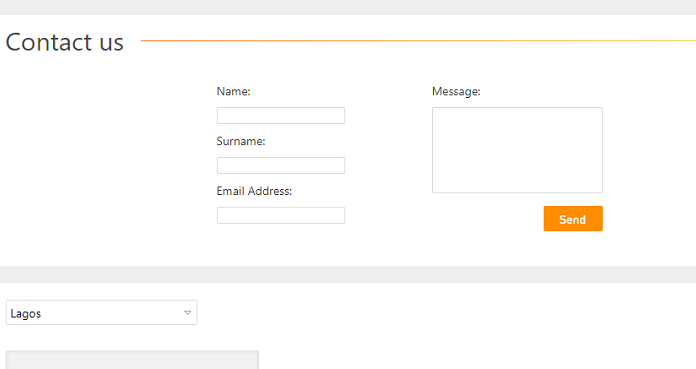 You can input details like your name, surname, and email address along with your complaint in the support tab. Rest assured that a customer representative will reach out to you. However, you should also note that, like most other options, the immediacy of response depends on the time you send the complaint.
How to Use StarTimes Nigeria Self-Service Codes
Unfortunately, unlike DStv and GOtv, who have shortcodes that you can use to solve common issues like activating your subscription and more, StarTimes Nigeria does not have any. However, that is not to say it doesn't offer its own style of self-service options.
Its most robust self-service option is on the website. There, you can perform all kinds of actions like:
Recharge your wallet
Change your Bouquet
Pay your bill
You should note that on the website, you will need to perform the following actions:
Visit the self-service tab and click the sign-up page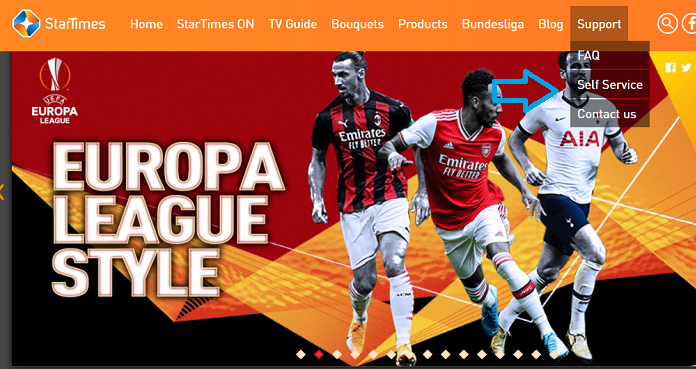 After, choose your preferred sign up option – via a phone number or email.
If you go with a phone number, select your country, input your phone number and click the Get Code box.
You will then receive a verification code that you will input in the verification code box and complete your sign-up process.
If you go with an email, it follows the same process, except for using your email address. The code will be sent to your email, and you can complete your sign up.
Once you have completed the sign-up, you will then revisit the self-service page, where you will see the option to attach your smartcard number.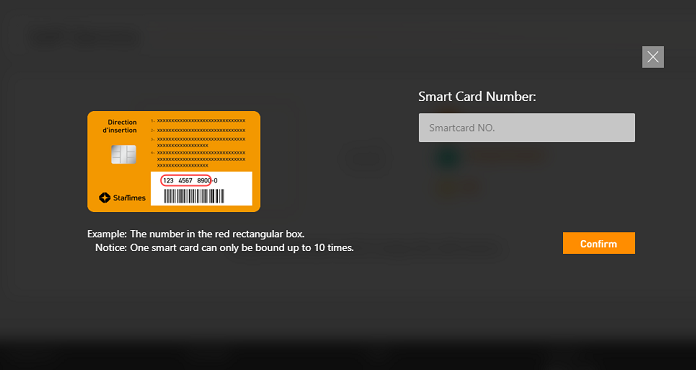 You need to input this number before you can perform any action on the StarTimes Nigeria self-service page.
Self-Service Via StarTimes Mobile App
In the absence of a code, aside from the website, you can also perform self-service actions on the StarTimes Nigeria mobile app. You can download the app from:
you can also download the APK (raw install file) from the company's website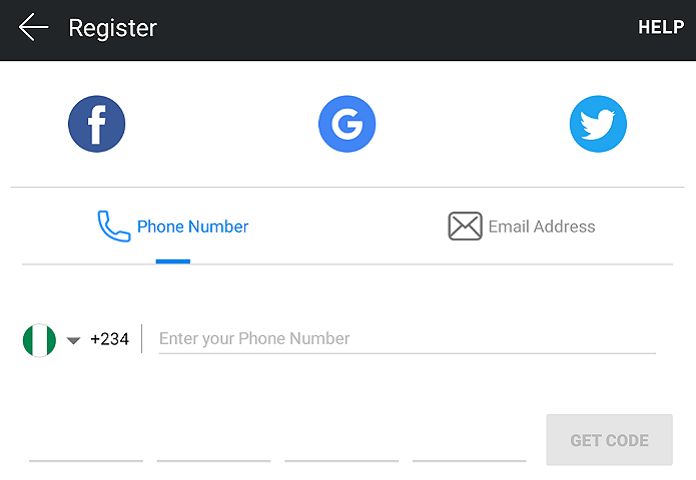 After installation, sign in to the app using a similar process on the website, with either your phone number or email address. You can also sign in via your social media channels, like Facebook and Twitter.
Once you have signed in, go to:
The Me tab, where you will find various options, including StarTimes Decoder Service
Click the Decoder Service, and you will find all sorts of actions you can do on your account and decoder.
Please note that, like the website, you will also have to attach your smartcard number to effect changes on your account.
How to Recharge Your StarTimes Decoder Via SMS
Chances are, most of what you will need the StarTimes Nigeria self-service codes for is recharging your decoder. And while the company does not have a dedicated shortcode with prompts like its South African counterpart, it still has an SMS service that does the job. To recharge via SMS.
Text: CC#Your Smart Card Number#PIN and send it to 32055.
If you want to change your bouquet to any of the three bouquet options on StarTimes:
Nova Bouquet: Text CC#Smart Card Number#PIN#N to 32055
Basic Bouquet: Text CC#Smart Card Number#PIN#B to 32055
Classic Bouquet: Text CC#Smart Card Number#PIN#C to 32055