Eddie Murphy started to melt our hearts as early as in the 80s and 90s. The showbiz guru has amassed a great following, achievements, and enviable net worth, in the course of his charismatic career. There is so much to learn from the career life of the actor who has been a source of inspiration to many of his counterparts as well as aspiring actors. Murphy who has tasted all genres in the world of entertainment possessed the remarkable talent of putting smiles on the faces of people at a very young age. He is all of an Actor, Singer, Musician, Television producer, Screenwriter, Voice Actor, Film Producer, Film director, and Comedian. But just like his career, Murphy has an interesting life off-camera. Here are lesser-known facts about the exceptional comedian and actor.
Early Life & Career
Eddie Regan Murphy who was born on April 3, 1961, in Brooklyn, New York, always had a passion for showbiz. Even though his parents Charles Murphy and Lilian Murphy divorced when he was just three, it in no way tilted the focus of the Black American. His father died five years later after the divorce, and Eddy and his older brother Charlie Murphy also a comedian, grew up with their mother who later remarried to Vernon Lynch.
Moving to Roosevelt, Long Island with his family after his mother's second marriage; Eddie attended Roosevelt Junior-Senior High School where he exerted great peculiarity through his unique skill of mimicking. Murphy who made television viewing a great part of his life cultivated the skill of creating impressions he saw on a daily basis on TV. Devoting more time to television and showbiz, his academics were affected but the actor who was more interested in his talking business forged ahead. His skills pushed him to the stand-up platform at the age of 15 when he hosted a show at the Roosevelt Youth Center and mesmerized the audience with rib-cracking impersonations of celebrities.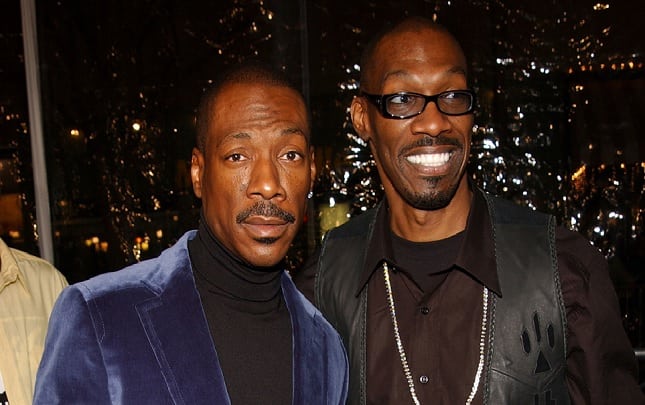 He took an official step into showbiz in the early 80s when he got a role in the 1980-81 season of the late-night comedy show, Saturday Night Live. It was just the beginning for the comedian whose impersonating skills became a model for producers of the show. He soon got his first feature film role in 48 Hrs which he shot alongside Nick Nolte. His role in the movie which exceeded expectations landed him another in Beverly Hills Cop (1984), which he played alongside John Landis. John Landis also collaborated with him in the popular movie Coming to America (1988). After Beverly Hills Cop, Eddie Murphy graduated to a Hollywood hot cake who rose to a greater pedestal among his counterparts. He developed a contagious aura that caused every movie he featured in to be a hit. After Coming to America (1988) he went on to feature in several movies like Harlem Nights (1989), Another 48 Hrs. (1990) Boomerang (1992) before taking Hollywood by storm with The Nutty Professor (1996). Dr. Dolittle followed in 1998 after he played the voice of Mushu the Lizard in the animation Mulan (1998).  The 2000s came with more promising roles for Eddie Murphy who never ceased to embrace them with total earnestness.
What Are His Net Worth and Earnings?
Eddie Murphy has a net worth well deserving and suiting for a man who has filled the world with smiles over the years. An estimated sum of $85 million may be too small in the eyes of die-hard fans of the comic actor who may feel he deserves more, but one thing is for sure, Murphy is surely living the life of a star. The actor who was paid $15 million for his role in Beverly Hills Cop, earned even more as time went on. Through his versatility, his unparalleled prowess and charisma, the actor has amassed great wealth in the course of his film and stand-up comedy career.
In 2016, Murphy whose movies grossed over $3 billion was ranked as the 5th highest-grossing actor. Simply put, he is that face that any movie needs to sell. Over $6 billion has been estimated as the gross for his movies. Murphy made a whopping $20 million in The Nutty Professor. The same also went for Dr Dolittle.
He also has a lot to show for his music business. Eddie in the 80s released singles Party All the Time (1985) and Put Your Mouth on Me (1989) which made the Billboard Hot 100 singles charts. He has made lots of donations to NGOs like AIDS Foundation as well as various cancer charities.
See Also: Is Morgan Freeman Dead? His Wife, Son, Height, Religion, Is He Gay?
Family: Facts About His Girlfriend, Wife and Children
Eddie Murphy's showbiz life drew lots of attention towards him and there's nowhere to hide from the curious and awe-inspired public. But even though his personal life is not as uncomplicated as his career life he is still loved and admired worldwide.
Murphy began a romantic relationship with Nicole Mitchell whom he met in 1988. This was after he had dated Paulette McNeely and Tamara Hood who bore him two sons. Murphy and Mitchell tied the knot after five years of dating in 1993. The actor had five children Bria, Myles, Shayne, Zola, and Bella with Mitchel. Marriage may not have been the bane of their relationship but the couple soon experienced lots of conflicts until they divorced in 2006 with Mitchell filing to opt-out.
Eddie Murphy soon moved on and got entangled with Melanie Brown of Spice girls with whom he had a baby girl. Although the actor had denied at first, he later accepted her after a DNA confirmation. His next relationship was with Tracey Edmonds, an ex-wife of Babyface whom he married in 2008. After they split, Eddie Murphy began a relationship with girlfriend Paige Butcher, a model. In all Eddie has six daughters and three sons.
Is Eddie Murphy Dead or Alive?
For a celebrity as famous and reputable as Murphy, there are bound to be countless rumours and speculations including death rumours.
Eddie Murphy was rumoured dead following the death of his comedian brother Charlie Murphy who died of Leukemia at 57 in 2017. Tons of tributes and condolences flooded various internet platform at the time. But owing to their striking resemblance, people had thought it was Eddie who lost his life to Leukemia.