Eden McCoy is a young American actress best known for playing the role of Josslyn Jacks on the ABC soap opera, General Hospital. She joined the long-running show in 2015 as the 6th actress to portray the character and dropped in 2018.
Her first professional movie credit came in 2011 with the role of Tiffany in Perfect Man and since then, she has featured in independent films, national advertisements and print media campaigns. She has also guest-starred on the Nickelodeon comedies, The Thundermans, Game Shakers, and Disney's Walk the Prank.
In 2016, the teen actress portrayed the character of Cassie in the adventure-fantasy film, The Kids from 62-F.
Eden McCoy Wiki (Age)
Eden McCoy was born on June 10, 2003, in Los Angeles and grew up in Manhattan Beach, California. Her family, however, recently relocated to a more urban neighbourhood and according to the actress, instead of looking outside and seeing the beach like she used to, she now looks outside and sees the city. She likes it though because now, her school, The Marlborough School, is close to her home and also just about six minutes away from the General Hospital soap opera studio.
Aside from acting, Eden is a volleyball player. She first started playing indoors when she was 11 years old and later started playing outdoors at the age of 13. As of September 2017, she ranked number 6 in her age group in the state of California. The young star also has a verbal commitment to play for the University of Southern California Women's Beach Volleyball Team class of 2025.
The only daughter of her parents, Eden McCoy discovered with the approval of her parents, her acting ability somewhat by accident. She explained that she was very shy as a child and even though her school was keen on public speaking, she was never really interested in performing or doing anything of such nature. However, her parents signed her up for a theatre camp and while there, she began to develop an interest in acting and made up her mind to continue with it.
At the camp, they staged a play which various agencies came to watch in a bid to scout for kid actors. An agent reached out to her and with the approval of her parents, she signed with the agency and started attending auditions. She was just 8 at the time.
Eden started her acting career with commercials. Her first professional job was a Wells Fargo commercial but her first big commercial was for Valpak coupons. Eventually, she started guest-starring on Nickelodeon and Disney shows and auditioned for a role in the daytime television medical drama, General Hospital. She nailed her tryout scene and the following read for producers, landing the role of Josslyn Jacks, Carly and Jax's headstrong daughter.
Speaking of her reaction when she got to know about her new role, the teenager said she remembers getting picked up from school and her mom telling her about it when she got into the car. She felt like screaming and crying at the same time. In case you don't know what the big deal is about getting a role on the show, this is it…General Hospital is listed in the World Guinness Book of Records as the longest-running American soap opera in production and the second longest-running American TV drama in history.
Eden Maccoy debuted on the soap opera on the occasion of Sonny and Carly's wedding in the hospital chapel.
Who are The Parents
The young actress is the daughter of Jim McCoy and Natasha McCoy. She shares a very close relationship with her parents and they never fail to do anything in their powers to ensure that she has a good life. She is often shuttled by either of her parents to auditions, acting gigs, and volleyball tournaments.
Eden once revealed that her father took her to the shoot of her first professional gig which was an advert for Wells Fargo. On 18 June 2017, the young lady shared a picture of herself and her father on Instagram with a caption that says she would follow her dad's path.
Is She Dating Anyone?
Eden McCoy is in a relationship with Brian Dennis. This became public knowledge on September 26, 2017, after the love-struck teenager posted a cosy picture of herself and Brian on Instagram. On the 16th of the following month, Eden revealed that they had gone on a date night and shared pictures of the outing on Instagram. She described the date on the caption as one to remember.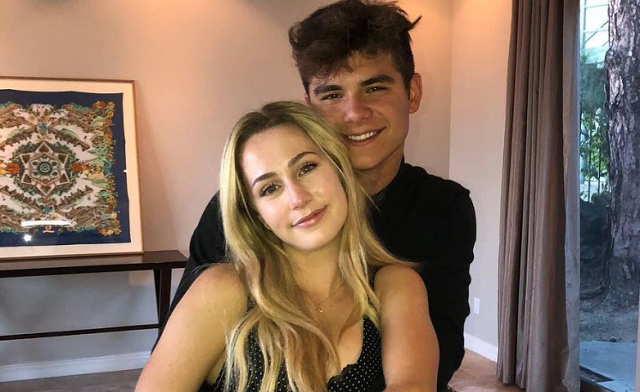 On December 31st, 2017, the young girl wished her boyfriend a happy birthday on Instagram, posting a picture of them kissing. The young couple also celebrated their Valentine's Day 2018 together.
Eden is definitely not the only one doing all the loving and picture-flaunting on social media. Her beau, Brian also shows her off on social media by often capturing and sharing photos of them together with his fans. In one of their pictures he uploaded on 16 April 2018, Brian, probably excited about having Eden as his girlfriend, spoke of himself as the happy boy.
While celebrating Eden's 15th birthday on 10 June 2018, Brian described her as perfect and their love keeps growing stronger as the days go by.