Eiza González is a Mexican actress and singer who has featured in a handful of movies and television series like From Dusk Till Dawn, an American horror series (2014 to 2016), and the crime film titled Baby Driver (2017). Her transition into the American entertainment industry has been successful as she has gone on to earn some acting roles.
González also boasts of two studio albums and has been nominated in several awards in various categories. She has had an interesting dating history with popular men within the entertainment circles. And all of this has in a way contributed to the relevance she has maintained over the years.
Eiza's Background Prepared Her for a Career in Showbiz
Eiza González Reyna was born in Sonora, Mexico on the 30th of January, 1990. She hails from Mexico and her mother is Glenda Reyna, a Mexican model and founder of the Glenda Modeling Training Agency. Models who have been signed to the agency include Heidi Balvanera, Celina del Villar, and Elsa Benítez, among others. Her father died when she was just 12 years old, which left her quite depressed. Eiza González also has a sibling named Yulen González Reyna.
The actress has since referred to her father's death as an inspiration. She attended two private bi-lingual schools which are Edron Academy and the American School Foundation both in Mexico City.
Likewise, she did two years of a three-year course at Televisa's acting school, Centro de Educación Artística. She wanted to learn more about acting, so she went to M&M Studio in the year 2003, to improve her acting skills.
She Began Acting when She was Young
Eiza González started taking the quest to build a career in the entertainment industry seriously at a young age when she was told after a school audition that she was born to sing.
She believed that with all her heart and ran with it. As fate would have it, she had her start when she was spotted by a producer named Pedro Damian while attending Centro de Educación Artística.
The producer took a liking to her talent and it inspired him to cast her as Lola for the remake of Argentina's famous children's Telenovela, Floricienta. Following that appearance, González was cast in an episode of the Mujeres Asesinas as a supporting character in the second season. This marked the beginning of good things to come.
The Genesis of Her English-Speaking Roles
In order to break into the Hollywood industry, she took English classes, motivated by her removal from the cast of a movie because of her inability to speak English fluently.
Having completed her classes, she moved on to Los Angeles to broaden her opportunities in the entertainment industry; this was in August 2013.
Soon enough, she got noticed and was cast in All Hail The Squash Blossom Queen and by November 2013, she got her big break in Hollywood with her feature in the American horror series From Dusk Till Dawn: The Series; it aired from 2014 to 2016.
How has She Fared in Hollywood?
She later appeared in Baby Driver in 2017 as Darling. Eiza is indeed talented and it has helped her book roles in popular projects like Alita: Battle Angel, Bloodshot, She's Missing, Hobbs & Shaw, and Cut Throat City.
Her works in the pipeline include Godzilla vs. Kong, I Care a Lot, and Love Spreads. These are all English-speaking roles; if anything, it goes to show that the Mexican actress has established herself in Hollywood and the future holds great reward for her, all things being equal. 
Exploring the Dating History of the Actress
Eiza González has had a long rich history of male admirers and has dated a good number of popular figures. This is not surprising as she is very good looking. The actress stands at about 5 feet 8 inches (1.73 m) and weighs about 56 kg (123½ lb). Her hair which is naturally brunette and dark brown eyes accentuates her looks.
It is believed that a romance is brewing between the actress and the American actor. This was after they were spotted sharing a kiss in Cabo San Lucas, Mexico in June 2020; two most after Chalamet parted ways with Lily-Rose Depp. Time would tell what's up between the two but below is a list of the men she has dated over the years.
Luke Bracey (2019)
Bracey is an Australian actor who has been active since 2009. Over the years, he has come to be known for his roles in projects like Hacksaw Ridge, G.I. Joe: Retaliation, Monte Carlo, Point Break, and much more.
It is believed that he dated Eiza González in 2019 but the relationship ended before it gained any significant attention.
Josh Duhamel (February – July 2018)
The American actor and model Josh David Duhamel is among the list of the Mexican actress' exes; they were involved from February to July 2018.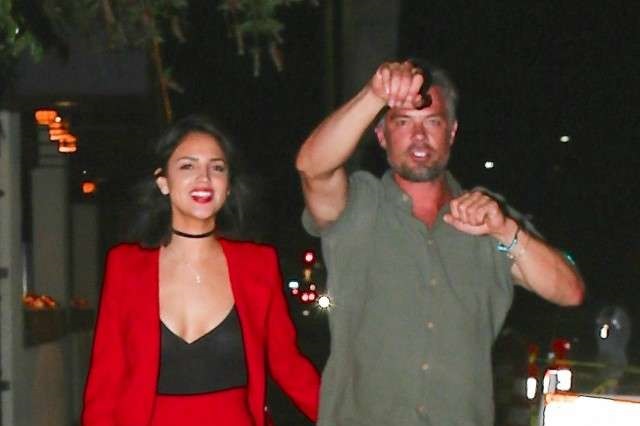 Joshua Duhamel is a film actor known for his role as Leo du Pres on ABC's All My Children. The actress once posted a picture on her Instagram page where she wore a bikini; the picture showed Josh unclad on the background. After they broke up without a known reason in July 2018, fans speculated that Josh was not happy with the fact that she posted the picture on social media and that it might have led to their break up.
Maluma (July 2017)
What Maluma and Eiza González had only lasted for a few months as their busy schedules made it difficult for them to pursue a proper relationship. Their entanglement reportedly started when they met in an LA nightclub after the actress asserted that she loves the music of the Colombian singer and would love to meet him.
Calvin Harris (September 2016)
The Scottish DJ, record producer, and singer-songwriter had a romantic moment with the actress in September 2016, just a few months after his break up with the American superstar, Taylor Swift. However, it later emerged that what they had wasn't a relationship.
Cristiano Ronaldo (July 2016)
It was in July 2016 that the actress was first linked to the soccer star after they were seen together in Ibiza. She was again spotted in Paris watching one of his games. Whatever happened between them, it ended as quickly as it started and they never let the public in on it.
D.J. Cotrona (September 2014 – June 2016)
It is no secret that Eiza González dated her co-actor on From Dusk till Dawn, Donald Joseph Cotrona, from September 2014 to June 2016. What led to their separation has remained a mystery but there are reasons to believe it was an amicable one as they are still friends.
Liam Hemsworth (2013)
Before D.J. Controna came into the picture, the actress dated Liam Hemsworth, an Australian actor who played the role of Josh Taylor in the soap opera Neighbours and was ranked 13th Hottest Men of 2018.
Liam claimed Eiza was too cocky for him when asked why he broke up with her. She was the woman the hunk moved in with the first time he and Miley Cyrus called off their engagement.
Pepe Diaz (July 2011 – June 2013)
She had also dated a Brazilian businessman named Pepe Diaz from July 2011 to June 2013. Sometime in August 2013, Eiza González confirmed that she and Pepe were no longer together. It was later claimed that they parted ways because she cheated on Pepe with his brother, Jorge; a claim that her representatives dismissed as false.
Alejandro Fernández (2010 – 2011)
Even though the actress has insisted that she never dated the popular Mexican singer; and that what they had was just friendship; people have upheld that it was more than that. To date, it is believed that the two had a romance that started sometime in 2010 and ended sometime in 2011.