She was forced into adulthood by her father at the tender age of 11, he molested her and made her life a living hell. The young child couldn't tell her story because no one would understand her plight. All through her pain, she wondered how she would tell the world that her father was a rapist. Elisabeth Fritzl decided to take her fate and live with it, her story is one of the most heartbreaking in the world. You may wonder how she lived with the pain. Anyways, Your curiosity would be satisfied as you go through this article.
Elisabeth Fritzl Biography
It was a thing of joy when Elisabeth Fritzl was born, no one knew her story would go sour in life. Born in Amstetten Austria on April 6, 1966, she had six siblings namely; Ulrike, Josef, Gabriele, Doris, Rosemarie and Harald Fritz. Elisabeth did a course in Vienna and hoped to be a waitress, however, her dreams were cut short. It all started when she was 11 and all through, the child didn't find it easy and made attempts to flee when she was 15, unfortunately, was found by policemen who never believed her tale. Who would blame them?
Her Sad Story
Elisabeth Fritzl's trauma could not only be limited to child abuse but also to rape and imprisonment. Her father's act took a very big toll on her, making her a shadow of herself. You may begin to wonder if she was the only lad who was molested and raped. Lizzie's story is more tragic because she was kidnapped by her father and was made to live as a fugitive for 24 years. Within those periods, she had seven children all for her dad. The poor lady never passed through the walls of the hospital for delivery procedures, rather she bore all babies in a "rat hole". A room that was measured to be just 18 square meters.
Her story all began on August 28, 1984, when her father; Joseph Fritzl called her to their basement. Unknowingly to her, she was about to be slain. On arrival to answer her dad's call, she was knocked down by the swing of the door and was made unconscious with the help of a towel soaked with ether.
As soon as her disappearance became serious, her worried mother went to the police station to make a report, you could imagine how profane her dad was watching his wife go through the whole process without spilling the beans.
The tragedy became so severe that the young girl was made to write a letter faking her safety. The police did their jobs also but had to quit when Joseph gave fake reports about her whereabouts to the police. Unknowingly to them that the missing child was 20 ft below where they stood.
After he had his plans checked out, he began exploring his sexual fantasies on her. Joseph raped his own daughter on daily basis and eventually got her pregnant for seven consecutive times. He further enlarged the space given to her and added a shower, oven, and fridge.
The man kept on with his acts until 2008 when Elisabeth Fritzl gained her freedom after spending 24 years as a fugitive in the hands of her father.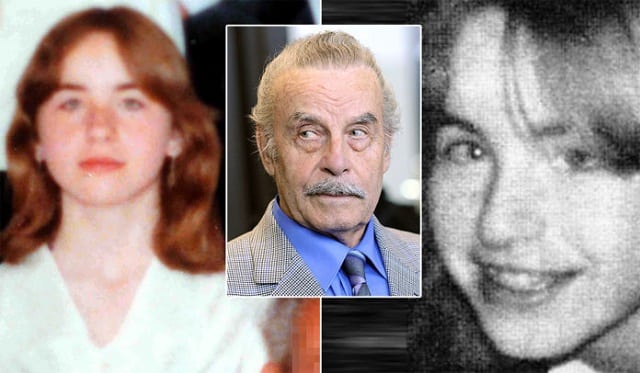 Elisabeth Fritzl's Children
Sex oftentimes result to conception, we guess probably Joseph Fritzl never thought in that order. Elisabeth's story became more tragic as she passed through the pain of motherhood alone. Her first birth was hell cos she was neither placed on any drugs nor had health care treatment. Everything practiced on her by Joseph was based on the knowledge he got from a pamphlet.
She had Kerstin on August 30, 1988, Stefan in 1990, Lisa in 1992, Monika in 1994, Micheal and Alexander in 1996 and Felix in 2002. All knowledge she acquired about motherhood was self-learned. One of the kids, Micheal became very ill and in the quest of hiding his sins, Joseph never took the lad to the hospital, unfortunately, he died.
Lisa's birth brought a breakthrough to the other kids because as she grew and domineered over others, with that, Joseph took Lisa, Monika, and Alexander out of the basement. Questions about the kids started crawling up, so Joseph brought up tactics on forcing Elisabeth to accept through writing that she couldn't afford to fend for them. He did this so he would be able to provide a legal note if social services came knocking.
Her Freedom
You may wonder if Elisabeth Fritzl ever attempted to escape. Yes, however, she couldn't because her father created a bobby-trap, in which gas was connected with a very high voltage. The trap was created such that if she made any attempt of escaping the whole basement would have blown to pieces. He also ensured that before anyone could get to her, one would have to pass through three doors to help her gain her freedom.
Kerstin; Elizabeth first, became very sick in April 2008. Probably age was on Joseph's side or rather we could say nemesis had her bits of doing things when he decided to take her to the hospital. Doctors began to question him about the mother's whereabouts, he then found it worthy of her coming out of her confinement to avoid suspicions.
Having passed through this kind of hell, she agreed to speak with the police if only she would never see her father again for which reason they obliged and his fathers evil deeds were no longer a secret.
We would like to introduce this psychopath to you, we guess curiosity would have gripped your heart in knowing the culprit; let's meet Joseph Fritzl:
Father – Joseph Fritzl
He was born in Amstetten, Austria on April 9, 1935. He was an illegitimate child and never knew his Father as he grew up with his mom Marie. He got married to a 15-year-old lady named Rosemarie and their union was blessed with seven children; Five girls and two boys. We wonder why he took major interest on Elisabeth and turned her life into a sour lemon.
See Also: Pablo Escobar Biography, Wife, Cause of Death, Net Worth, Son, and Daughter?
Allegations of him killing one of his children with Elizabeth is still under investigations however he denies it and also denies the allegations of slavery. Nevertheless, he admits charges of rape, incest, false imprisonment and coercion during his trial at St. Poelten, Austria.
Joseph blames his mom for making him a Psychopath and has made rhetorical statements about her. In order for a payback, he used Elizabeth as revenge.
Where is she now?
Elisabeth has not been able to live a normal life and has been a shadow of herself. She currently lives in a two-story building surrounded by CCTV surveillance. No one knows the building, however, it is rumored that it is situated in the lower part of Austrian town. Elisabeth has been given a new identity and there are no current pictures of her either. Her new identity has been kept on a very low profile.