Elizabeth Barry is one of the celebrity spouses who has been making headlines as a result of her impeccable support for her husband, Alex Smith, an American football quarterback that plays in the National Football League (NFL) for the Washington Redskins. Smith was named the Mountain West Conference Player of the Year in 2004 due to his striking performance during his collegiate playing career at the University of Utah as he was a member of Utah Utes.
Having previously been on the spotlight as a former National Football League cheerleader, Barry has successfully cheered her husband to outstanding career achievements including his team's 2005 Fiesta Bowl victory. Now let's take a glimpse at the life, family, and other amazing facts that you never knew about Alex Smith's Wife.
Elizabeth Barry's Bio
The former National Football League cheerleader was born on April 2, 1984. Not much is known about the star quarterback's wife as she has not shed light on her personal details, especially, the identities of her parents, siblings as well as her place of birth and academic history. Elizabeth Barry who has had a wonderful cheerleading career, having been associated with the National Football League team, Oakland Raiders, is quite active on social media platforms like Twitter and Instagram where she has amassed over 7,000 and 8,000 followers respectively.
Family Life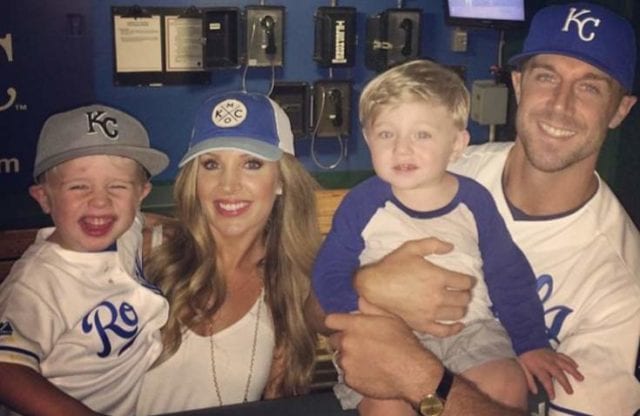 Elizabeth Barry came in contact with her now husband, Alex Smith while cheering for the Oakland Raiders as Smith was playing for the NFL team, Fransisco 49ers, during that time. The pair had their first outing as a couple in San Jose, California during St. Patrick's Day Festival. Alex Smith eventually popped the question in the year 2007 and then solemnized the union two years later at the Palace Hotel in San Francisco.
The family-oriented couple has since expanded their family as they welcomed their first child, a son named Hudson, who was born in 2011. Their second son, Hayes made his arrival into the family two years later. Elizabeth Barry then gave birth to her only daughter, Sloan in the year 2016. The couple is still waxing strong together as they love to spend quality time with their children. They also share their loved up family photos on their Twitter and Instagram accounts.
Facts About Elizabeth Barry – Alex Smith's Wife
1. Husband
Barry's husband is a famous NFL quarterback who is currently associated with the Washington Redskins. He has previously played for other NFL teams such as San Francisco 49ers (2005 to 2012) and Kansas City Chief (2013 to 2017). Having played college football at the University of Utah where he played for the Utah Utes, Alex Smith has achieved incredible career heights in the NFL as he was named to the First-Team All-American in 2004 as well as becoming Mountain West Conference, Offensive Player of the Year, NFL Passer Rating Leader and a three-time Pro Bowl Champion. Following his palmy playing career, Barry's husband has accumulated the massive sum of $60 million as his net worth.
2. Alex Smith Foundation
Elizabeth Barry has been of a helping hand to her husband in running the Alex Smith Foundation which he established in 2007. The Alex Smith Guardian Scholars Program helps send foster teens to college and the foundation has spent 91 percent of the funds which it raised between 2008 and 2010 on scholarships and grants. Alex Smith began the Guardian Scholars program with $500,000 and has continued to personally fund the majority of the charity. The Boston Globe has rated Smith's foundation as a model charity that properly allocates its funding.
3. She is a Supportive Wife
The elegant wife of the NFL quarterback has shown much support for her husband through tough and good times. This was evident when her husband lost his best friend, Andre Dabagghian in 2008 and also when she defended her husband, Alex Smith against the meteorologist, Gary Lask's undermining comments in 2016.
See Also: Sarah Williams – Bio, Everything To Know About Joel Mchale Wife
4. Her Charity Works
Elizabeth Barry has participated in many charitable works as she is a well-known supporter of Hope House, a charity organization that is dedicated to the prevention of domestic violence. They care for victims of domestic violence and abuse by impacting and empowering them through their supportive services.
5. Her Family's Extracurricular Activities
Barry and her family have often shared their fun-filled family moments on social media as they mostly hang out together, having visited former United States President, Barrack Obama, along with their Halloween outings and trips to Hawaii.