Though she is the wife of Dennis Kucinich – former 8-term United States Congressman and two-time Democratic presidential candidate, Elizabeth Kucinich has achieved fame in her own right. As a professor with the Coventry University Britain, she is a known advocate for organic food and vegan with a few award-winning documentaries under her belt. Elizabeth takes the credit for the production of the 2015 documentaries known as Hot Water which explored radioactive pollution of groundwater across the US and Circle of Poison, she also produced GMO OMG – winner of Environmental Media Award in the category of best documentary.
For more than 10 years now, the famed professor has been active as an advocate in Washington D.C. hard at work with both international and domestic organizations, she has also worked with several businesses as well as Congress members and their staff, to promote regenerative and sustainable, science and integrity-based approaches, focusing majorly on the ecological systems as the foundation of human security. Elizabeth Kucinich is one professor who completely understands the importance of documentaries as a veritable medium for education and serves with the biggest environmental film festival worldwide – DC EFF as an advisory council member.
Elizabeth Kucinich' Bio
Elizabeth Kucinich's place of birth is North Ockendon, Havering in London where she also grew up, the wife of the former US Congressman was born on the 22nd of October, 1977 as Elizabeth Jane Harper. Though her parents are divorced, they have been identified as Julia Massey (mother) and Graham Harper (father).
In 1989, she joined Coopers' Company and Coborn School located in Upminister and stayed till 1996. According to her mum, the young Elizabeth had always shown genuine interest in the environment and human rights, she went as far as circulating some petitions centered on animal rights during her years in school and also lobbied Parliament from age 14. After she left school, the human rights activist embarked on a journey to India where she spent six months in Agra doing voluntary work for the poorest children in India at one of Mother Teresa's homes.
Upon the completion of her university degree in 2002, she spent another 16 months in Tanzania, working with overseas voluntary services with a focus on HIV prevention as well as educational programs. Her academic achievements include a bachelor's degree in Religious Studies which she later capped with a master's in International Conflict Analysis, all from the University of Kent. At Coventry University, she earned a certificate in Peace and Reconciliation Studies.
After her time in both India and Tanzania, Elizabeth Kucinich traveled to the United States precisely to the American Monetary Institute to take charge of organizing the debut international conference centered on monetary reform. She was with Center for Food Safety as the Director of Policy as well as (PCRM) Physicians Committee for Responsible Medicine where she functioned as the government affairs director.
Her finger seemed to be in every pie as December 2012 saw her launching a career in real estate.
Height and Other Facts About Dennis Kucinich's Wife
Height
Elizabeth Kucinich is an exceptionally tall woman, at 6 feet 0 inch she stands taller than her spouse. Her height even earned her the nickname of "the Jolly Green Giant" during her days in school.
Relationship with Dennis Kucinich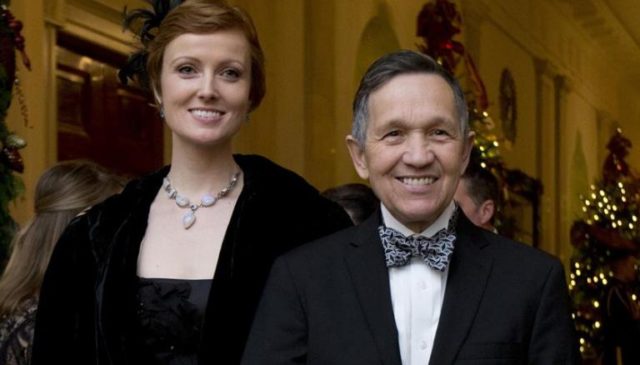 Her relationship with Dennis Kucinich commenced in 2005 after a chanced meeting in Washington D.C, it was a case of love at first sight as the duo became an officially engaged couple on their second date. However, Denise later put on the full works by going down on bended knee to formally pop the big question complete with a citrine stone ring in blue color. His official proposal took place at downtown Cleveland right in front of the peace fountain.
Upon receiving an answer in the affirmative, Dennis wasted no time in making Elizabeth Kucinich his wife, their nuptials took place on the 21st of April 2005 – a couple of days after the proposal and three months from their first meeting. The wedding reception was a vegan one and also alcohol-free held in an outdoor setting at Mall B located in Cleveland. The occasion was huge, graced by 350 guests, notable among them were Sean Penn and Shirley MacLaine. Important to note is the fact that it was Elizabeth's first marriage but her spouse Dennis already had two failed marriages behind him.
Read Also: Deborah Ajakaiye: Meet The First Female Physics Professor In Africa
Her professional interests
Apart from her job with Coventry University where she works as a professor, Elizabeth Kucinich has served on the board of directors of many big international organizations like the Rodale Institute in the US, UNRWA USA and J/P HRO – Sean Penn's Haitian relief organization.
Her Dress Sense is Top Notch
It would appear that the third wife of Dennis Kucinich is equally a good dresser as she was named as one of the "best dressed" political wives by Vanity Magazine. She was dubbed Cleveland's most interesting by Cleveland Magazine.