Ellison Barber is an American journalist who works as a D.C-based correspondent for one of America's largest pay-TV channels, Fox News Channel. She is best known for her coverage of the May Day protest against President Trump's executive orders on immigration. Barber's fledging career dates back to her time as general assignment reporter and Prince George's Country Deputy Bureau Chief for Washington's CBS affiliate, WUSA. Before that time, she's also worked at WUSA-TV. This post sheds more light on Elison Barber's biography, personal life and her career at Fox News. Voila!
Ellison Barber's Biography
Ellison Barber was born (as Ellison Litton Barber) in Washington DC, the United States on October 20, 1988. As far as specifics go, there's not so much information about her family, early education, parents or siblings. However, we know that she spent much of her formative years in Atlanta, Georgia. Ellison attended Wofford College, where she graduated with a Bachelor of Arts degree in English, in 2012.
Ellison Barber's Career, Fox News
Upon graduation from college, Ellison Barber kicked off her professional career in 2012 as a staff writer for the independent website, Washington Free Beacon. She mainly covered issues relating to the United States Congress. She then worked as a general assignment reporter and the Prince George's County Deputy Bureau Chief for at the WUSTA-TV in Washington DC. While there, Barber was a reporter on a variety of emerging stories, including the 2015 mass killing of the Savopoulos family and their housekeeper Veronica Figueroa in Washington, D.C., the March 2016 U.S. Capitol lock-down, and the waves of protests that trailed the fatal shooting of an unarmed motorcyclist, Terrence Sterling.
One of the highlights of her career at WUSA was Barber's unintentional encounter/interview with Washington Capitals' star Alexander Ovechkin during a snow blizzard, the footage went viral. She had always been a devoted fan of the ice-hockey champion. In 2016, She was also involved in a five-part documentary series about the missing savings bonds that made headlines around that period.
Her big move came in April of 2017 when Barber accepted an offer to come work for Fox News as a general assignment correspondent based in their DC office. As of this writing, she still works with the News channel.
Salary and Net Worth
There have been no published figures of Ellison Barber's salary and net worth at the time of this writing. However, we know that Fox News remains one of the highest paying news channels in the US; although pay varies with employee roles, and level in the news organization.
Ellison Barber's Personal Life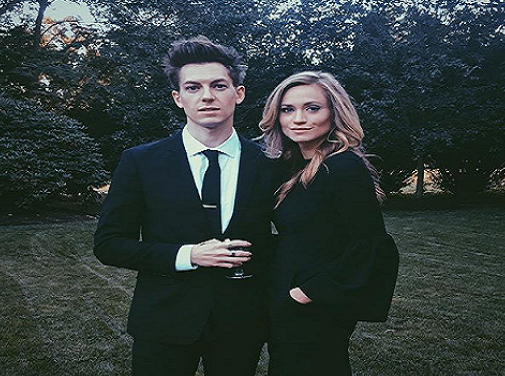 The DC-born journalist is not married as at when we last updated this article. However, we know a couple of things about her relationship life. Ellison Barber enjoys a romantic relationship with a popular singer named Andy Tongren.
The musician was born in New Jersey, on April 5, 1987. He is the lead vocalist for the four-piece alternative rock band Young Rising Sons. Tongen was the last to join the band when the rest three members spotted him performing an acoustic set at a New York City bar. His debut single titled, "High," was named a "Next Hype" track by the renowned BBC Radio 1 DJ, Zane Lowe.
Before meeting Ellison Barber, Tongren dated American actress, model, and musician, Evan Rachel Wood. The details of their relationship and the circumstances leading to their break up are still at large.
Barber and Tongren's Instagram and Facebook timelines are awash with hearty photos chronicling their love life. In an Instagram post dated Sunday, September 10, 2017, Barber shared a wedding-like picture of her and Tongren all looking dapper and teased fans by adding that they only attended a mutual friend's wedding. They haven't made their wedding date or plans public yet. Plus, so far we're yet to see Tongren asking her to marry him.
See also: Carley Shimkus- Biography, Net Worth, Fox News, Career Achievements
Facebook, Twitter And Instagram
Barber has been quite active on various social media platforms like Facebook, Twitter, and Instagram. She has about 6K followers on her Facebook account, about 20K followers on her Twitter account and about 12K followers on Instagram.
Height And Body Measurements
Ellison Barber has a slim build. She stands tall at 5 feet 7 inches (1.70 meters); has dark brown hair and has beautiful brown eyes. As of this writing details about her weight, bra, shoe, dress size, and body measurement: bust, waist, and hips are not known.