Elon Musk is the man behind the ambitious plan of colonizing Mars. He intends to make space transportation affordable for the common man and then make Mars habitable and self-sufficient for the first set of human beings that will live there in the near future.
The self taught computer programmer, who is also an engineer, innovator, and investor that has played a key role in the development of products that help companies on a daily basis, such as PayPal, is also the CEO of Tesla Inc., a renewable energy company that specializes in the manufacturing of electric vehicles and solar panels.
In 2016, Forbes ranked Musk number 21 on the World's Most Powerful People list and he is currently ranked as the 53rd richest person in the world.
Biography
Musk was born Elon Reeve Musk on June 28, 1971, in Pretoria, South Africa, to a Canadian mother and a South African father. At around the age of 10, he developed an interest in computers and computing. He was later able to teach himself how to programme, and then wrote the code for a video game which can be seen online up to this day.
During this time, Musk's parents divorced and his mother moved back to Canada. He chose to remain in South Africa with his father where he attended high school. He first attended Waterkloof House Preparatory School before joining Bryanston High School. He was at this time described as an avid reader, a geek, which brought along with it severe bullying. Following a case whereby he was hospitalized after being beaten in school, he transferred and went on to graduate from Pretoria Boys High School.
In 1989, upon the completion of his high school education, Elon Musk moved to Canada to avoid his mandatory South African military service and to attend Queen's University in Kingston, Ontario. Two years later, he transferred to the University of Pennsylvania to study business and physics. He first graduated with a Bachelor of Science degree in economics before receiving a second bachelor's degree in physics.
After leaving Pennsylvania, Musk enrolled for a Ph.D. in energy physics at Stanford University, California. Noted for being one who does the unthinkable, Musk dropped out after just two days, to pursue some entrepreneurial ambitions that coincided with the internet boom of that decade. He soon after launched his first company called Zip2 Corporation, an online city guide software for newspapers, with help from some investors. Four years after its launch, the company was acquired by Compaq for $307 million in cash and $34 million in stock options. He received $22 million as his share from the sale.
With enough capital at hand, Musk immediately co-founded another company called X.com which provided online financial services and payments. One year into full functionality, the company merged with another software company called Confinity which had a money transfer service called PayPal. With the money-transfer service in focus, the merged company changed its name to PayPal in 2001 and a year later in 2002, was acquired by eBay for $1.5 billion in stock, of which Musk was the highest shareholder with 11 percent to his name.
His third company called SpaceX was founded after PayPal's sale. Musk planned to build a spacecraft for commercial space travel but in the meantime, was awarded a contract by NASA to handle the transportation of cargo to the international space station. He has so far been able to launch a number of rockets into space with an unmanned capsule to deliver supplies to astronauts and to carry satellites into the orbit.
In between Musk's time with SpaceX, Tesla Inc. was built and with him at the helm, the company has been able to build an electric sports car capable of accelerating from 0 to 60 mph in 3.7 seconds and can travel nearly 250 miles between charges. Tesla has currently surpassed General Motors to become the most valuable carmaker in the United States.
Other companies in which Elon Musk has or is playing an active role in are SolarCity, Hyperloop, OpenAI, Neuralink, The Boring Company, and Thud.
Family – Mother, Brother 
Elon Musk's mother, Maye Musk (née Haldeman), is a model and dietician from Regina, Saskatchewan, Canada. She is a star in her own right and has covered a couple of magazines, including New York and Time Magazine where she appeared nude on the covers. His brother, Kimbal Musk, is a restauranteur and entrepreneur who owns The Kitchen Cafe, LLC, and sits on the boards of Tesla, SpaceX, and Chipotle Mexican Grill. He and Elon co-founded Zip2 together in 1995 before he moved to New York to enroll in the French Culinary Institue.
Is Elon Musk Married? Girlfriend, Wife, Kids
Musk has been married twice, first in 2000 to Canadian author, Justine Wilson whom he attended Queen's University with. The couple had five children together – twins and triplets – before they separated in 2008. Musk began dating actress Talulah Riley that same year after a contentious divorce from his first wife. The couple married in 2010 but split up in 2012. They, however, remarried a year later only to finally call quits in 2016.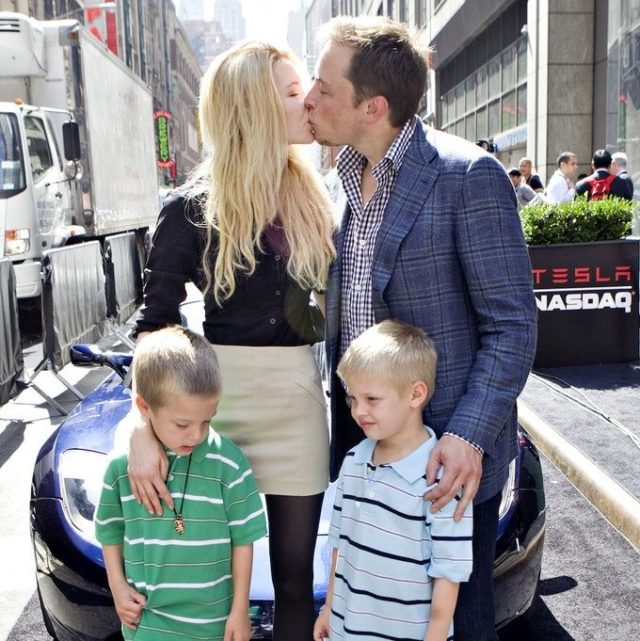 Elon Musk has currently been in an on-again, off-again relationship with actress Amber Heard.
Read Also: 90+ College Dropout Billionaires that did not Complete their Studies
Quick Facts About Elon Musk – Height, Net Worth
Birth Name: Elon Reeve Musk
Birth Place: Pretoria, South Africa
Date of Birth: June 28, 1971
Occupation(s): Entrepreneur, Engineer, and Investor
Education: Queen's University, University of Pennsylvania
Height: 1.88 m
Weight: 82 kg
Net Worth: $19.4 billion