Elon Musk is widely regarded as one of the most prominent and powerful business magnates in the world. He has set his brilliant and innovative mind into providing solutions to problems bothering majorly around transportation, artificial intelligence, infrastructure, space technology, and finance. The technology entrepreneur has founded several world-class projects and companies including SpaceX, Tesla Inc., The Boring Company, PayPal, Neuralink, and OpenAI.
The engineering genius who is popularly referred to as a 'Jack of all trade, master of all' has recorded tremendous successes over the years in all his endeavors and currently ranks as one of the notable self-made billionaires in the world. Interestingly, apart from talks about his thriving enterprises, the business magnate also makes the headlines with his many controversies and relationship history which dates back to his growing years.
Elon Musk Was Raised In A Broken Home
Elon Musk was born in Pretoria, Transvaal, South Africa, on June 28, 1971, to Maye and Errol Musk. Despite being born in South Africa, Elon also has Canadian and British roots. His mother, Maye Musk, hails from Saskatchewan in Canada but was raised in the South African country; she is a widely acclaimed model, dietitian as well as an accomplished author. During her career days, she had appeared in several music videos and promotional adverts. More so, Maye's modeling career which spans over 5 decades has earned her spots on the covers of notable prints which include the New York Times magazine, Virgin America advertisement campaign, and Target advertisement campaign. As a writer, she wrote and published her memoir sometime in 2019.
On the other hand, Elon's father, Errol Musk, was born and raised in South Africa. Errol was an electromechanical engineer, sailor, and pilot which explains where Elon picked his interest in engineering. However, in 1980, the union between Maye and Errol was annulled after divorce proceedings were finalized. Maye in later years described Errol as aggressive and recanted her marriage to be very abusive.
Two years after the divorce, Elon who was age 10 at the time, decided to live with his father in Pretoria, although Musk is reported to have regretted making that decision. The business magnate is at the moment estranged from his father, whom he described as a "terrible human being."
His Siblings Are Quite Popular Too
The industrial designer is the oldest of three children born to his parents. His immediate younger brother, Kimbal Reeve Musk, was born in Pretoria, South Africa, on 20th September 1972. Kimbal, a globally acclaimed restauranteur, and chef is the founder and owner of The Kitchen Restaurant Group. The popular restauranteur is also the chairman of the Big Green organization and Square Roots farming company.
It is gathered that Elon and Kimbal share both a cordial personal and business relationship. This is evident in the fact that Kimbal sits on the boards of SpaceX and Tesla Inc. The brothers also co-founded Zip2 software company in 1995 which was subsequently acquired by Compaq in 1999 for $307 million.
Elon's younger sister, Tosca Musk, is also not doing so bad as a South African filmmaker, director, and web content producer. Tosca is also an executive producer and producer of feature films and television programs. She received international acclaim and recognition for her work on Holiday Engagement and Simple Things. The award-winning producer is the founder of Musk Entertainment and co-founder of the popular streaming service, Passionflix.
Elon Musk Has 5 Boys From His Marriage To Canadian Author & Gamer, Justine Wilson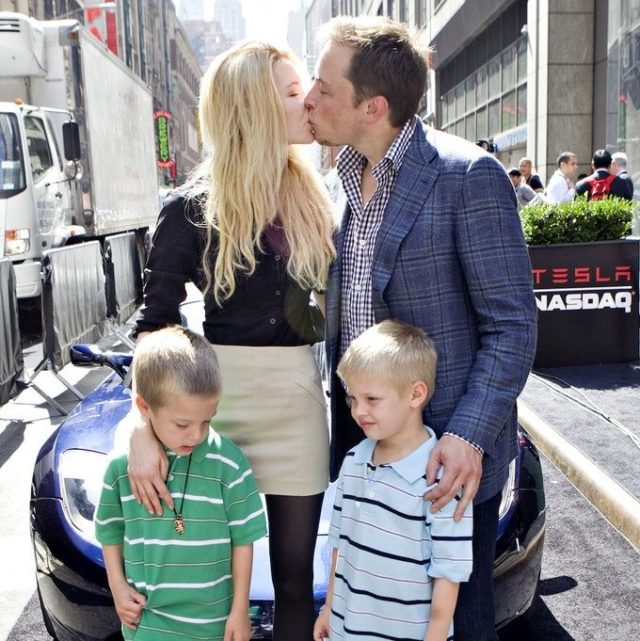 The SpaceX CEO has been married three times to two women. Elon's first wife, Justine Wilson, is a Canadian author and gamer. She is the author of 'BloodAngel', 'Uninvited', and 'Lord of Bones'. The couple met at Queen's University in Ontario where they were both enrolled as students. The pair exchanged marital vows in 2000 at an elaborate ceremony and about two years later, Elon and Justine welcomed their first child, Nevada Alexander Musk, in 2002. Unfortunately, Nevada died at a tender age of 10 weeks from sudden infant death syndrome (SIDS).
The union was later blessed with an additional five children – all of whom were conceived through in vitro fertilization. They first had a set of twins – Griffin and Xavier born in 2004 which was followed by triplets in Damian, Kai, and Saxon in 2006. However, Elon and Justin got divorced in 2008 after a series of irreconcilable differences. They continued to share joint custody of all their children.
Twice, Musk Married English Actress, Talulah Riley
After his divorce with Justine was finalized in 2008, Musk began dating Talulah Riley. His relationship with the English actress waxed strong, and by 2010, they got married and maintained a blissful union until January 2012 when the business magnate announced that they had separated.
In a turn of events, the love-struck couple got back together and remarried in 2013. They were visibly ready to make things work this time around. Unfortunately, that didn't happen because Musk went ahead and filed for a second divorce in December 2014 but this was later withdrawn and they remained married for a couple of years. However, Riley filed for divorce from Musk yet again in March 2016 and this time around, the divorce was finalized leading to the ultimate separation of the couple towards the end of 2016.
Read Also: 90+ College Dropout Billionaires that did not Complete their Studies
The Billionaire's Love Life Has Remained Active After His Failed Marriages
Shortly after his divorce Riley, Elon began a romantic relationship with popular American actress, Amber Heard. The relationship between Elon and Amber was short-lived and lasted for only one year. The reason given for their breakup was that they couldn't cope with their conflicting schedules.
Thereafter, on May 7th, 2018, the business magnate revealed that he had started dating Claire Boucher. Claire Boucher is the birth name of popular Canadian Musician – Grimes with whom he welcomed a son on May 4th, 2020.
When their son was born, the couple named him X Æ A-12. Californian authorities deemed the name illegal citing that some of the characters were not part of the modern English alphabet. They later decided to change it to X Æ A-Xii which caused more confusion for the couple. This second name could not also be accepted under the California law, due to the presence of Æ in it. Musk's son was eventually named X AE A-XII, with 'X' serving as his first name and AE A-XII as his middle name.