Elton John is arguably one of the biggest icons in music that the 20th century offered. His rich sound and voice along with his great songwriting ability have given the world some enduring songs that will ensure he is remembered long after he is gone. In collaboration with lyricist Bernie Taupin, Elton has produced more than 30 albums since 1967 and has sold over 300 million records. With this, he became one of the best-selling artists in America.
Apart from being popular as a result of his highly successful music career, Elton John was also known for his several highly publicized relationships with both men and women before he eventually found 'the one'. Now, alongside his successful career, Elton has also built a very strong marriage with his partner David Furnish, which has produced two children. Who was Elton John before his fame and who is he outside the world of music? You will find out that and more as you read further.
Elton John's Journey to Fame: The Beginning
The British singer was born on the 25th of March 1974 in Pinner, Middlesex, England as Reginald Kenneth Dwight. The love of music came to him early which made him teach himself how to play the piano at the age of four. It proved to be a great asset for him and he soon won a scholarship to a program at the Royal Academy of Music in London. He attended the classes on weekends.
The young Elton John saw his parents go through a divorce when he was a teenager and his father Stanley Dwight clashed with him over his decision to pursue music. Despite his father's anger, Elton John dropped out of school at the age of 17 to pursue a career in music.
John's musical journey started when he began playing with a group called Bluesology. It was in that group that he met two members whose names he added together to make his new stage name which he is now famous by. By the year 1967, Elton John would focus on his songwriting skills after he responded to an ad for a songwriter placed by Liberty Records. After getting the job, he got together with lyricist Bernie Taupin with whom he switched to the DJM label in 1968.
His Big Break
They initially wrote songs for other artists but in 1960, Elton John got his big break as a singer with his album "Empty Sky" which featured their writing efforts. The album did not go far but Elton John did not relent. In 1970, he released a self-titled project which then contained his first hit, the song titled "Your Song." It opened the door to more hits for the singer and Elton John enjoyed a string of top-selling albums.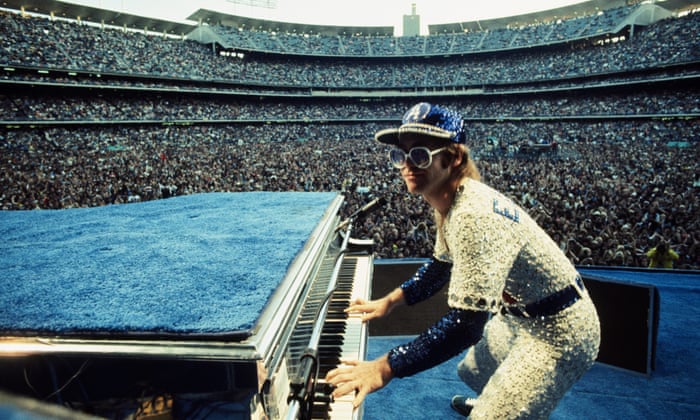 Elton John also became pretty famous for his live shows which saw him dressed in over-the-top costumes and glasses. His concerts have been described as elaborate. In 1994, he teamed up with lyricist, Tim Rice, who he had teamed up with on several occasions, and the two came up with the soundtrack for The Lion King. The song "Can You Feel the Love Tonight" which was part of that soundtrack helped Elton John win his first Academy Award in the category of Best Original Song.
It was also around that period that Elton John got inducted into the Rock and Roll Hall of Fame and in 1995 he was made the Commander of the Order of the British Empire by Queen Elizabeth II. The queen made him a knight some years later which is why he is referred to sometimes as "Sir Elton John". Elton John has maintained his love for music, continuing to record and release more even as he officially retired from touring in 2018.
Elton's Relationship Timeline: Who has He Dated?
Sir Elton John has tied the marital knot two times and had been involved in a number of other highly publicized relationships with both the opposite sex and same-sex before he came out of the closet.
His First Public Relationship
Towards the end of the 1960s, before Elton became one of the big shots in the music industry, he was engaged to secretary Linda Woodrow, his first lover, who he briefly referred to in the song "Someone Saved My Life Tonight". As a result of their relationship, Linda assisted John and Taupin financially at the time. However, just when plans for their wedding was already in motion, the singer decided to call it off.
Speaking to the Daily Mirror about their break-up, which happened about a month or less before Elton John's first big hit "Your Song", Linda Woodrow said it left her devastated. According to her, they were one month away from their wedding when John drunkenly woke her up and told her that it was off. After that, he called his step-father to come and pick him up. "He walked out and that was it", she added. Speaking further, Linda revealed that the incident left her in shock because she loved John very much and thought he also felt the same way about her.
Linda went on to allege that Bernie Taupin and John Baldry were the brains behind their failed relationship as they had reportedly told John that going on with the wedding would mean ruining two lives, his own and Linda's. A number of people have had cause to think that Linda was part of the lyrics for the music legend's song titled "Someone Save My Life Tonight", which she said brings her pain each time she hears the words of the song. The song talks about someone who is roped and tied, headed for the alter in a state of hypnosis.
Following their break-up, Elton John and Linda Woodrow cut off all communications but that notwithstanding, John came through for his first love in 2020 when she reached out to him, requesting for help with her medical fees.
Finding Love In A Man
Soon after his first shows in the US, Los Angeles precisely, which took place in 1970, Elton John had his very first sexual relation with John Reid and eventually began dating him. Reid was the UK label manager for Tamla Motown records, who subsequently became John's manager. The duo's relationship came to an end after five years but Reid remained John's manager until 1988. Some aspects of their life together are detailed in the movie Rocketman, where Richard Madden, the character of John Reid, was depicted as a fairly manipulative person.
Although the two men ended their romantic relationship with no hard feelings, the same was not the case with their professional relationship. In the year 2000, Sir Elton John instituted legal proceedings against Andrew Haydon, the former managing director of John Reid Enterprises (JREL), and also against the accounting firm known as PricewaterhouseCoopers, as a result of a private letter that was published in 1998 in The Mirror.
During his appearance in court, Reid expressed how angry he was bout the occurrence, adding that he believed that the publication must have been sold to the newspapers by someone from John Reid Enterprises. According to him, the incident caused very serious tension between him and Elton for some weeks and also led to tension within his office environment as every staff was suspected to have somehow sold the leaked letter to the press.
It was later discovered that the letter had been found in a bin by Benjamin Pell, an infamous man who dug up compromising documents of popular people by looking through bins of law firms. Following this discovery, Reid and Elton settled out of court.
The Singer has Been Married Twice
After Sir Elton's split from John Reid, he came out as bisexual during an interview with Rolling Stone in 1976. On Valentine's Day of 1984, he got married to a German recording engineer named Renate Blauel. Their wedding ceremony, which was an extravagant one, took place at Darling Point, New South Wales, Australia, and according to The Daily Australian, it was Elton John's final attempt at being heterosexual.
Sadly, this attempt failed some years after as their marriage ended in divorce in 1988. However, it failed for no fault of Renate's as Elton John described her in an interview as the classiest woman he ever met, adding that their marriage was not meant to be because he was living a lie.
Elton also spoke of his marriage to Renate during an interview with The Australia in 2008, explaining that sometimes after people have been in different relationships and yet are not happy, they decide to get married thinking that having a wife will change everything. He went on to say that Renate was a great girl and that he really loved her, adding that hurting her is one of his biggest regrets in life.
Finding His True Love
In 1992 Sir Elton came out as gay by telling Rolling Stone in an interview that he was "quite comfortable about being gay". The following year, he began a relationship with a man from Toronto named David Furnish, who he first at a dinner party at Elton's home in that year. David was an advertising executive but now is a filmmaker.
The Civil Partnership Act of England came into force on the 21st of December 2005 and Elton John and John Furnish were one of the first to take advantage of it, standing together at Windsor Guildhall to form a civil partnership. In 2014, gay marriage was legalized in England, and on the ninth anniversary of their civil partnership, the 21st of December 2014, Elton John got married to David Furnish.
Having been together for more than two decades since they started dating in 1993, there is no doubt that the couple has found their 'happily ever after' as they both appear to be very happy and in love.
Who are Elton John's Children?
Elton and David have since expanded their family to include two sons: Zachary Jackson Levon Furnish John who was given birth to by a surrogate mother on the 25th of December 2010 in California and Elijah Joseph Daniel Furnish-John who was born through surrogacy on the 11th of January 2013.
After the birth of Zachary Elton and David released a statement expressing their joy and pride at becoming parents. They also seized the opportunity to confirm that the little man was healthy and doing really well. At the arrival of Elijah Elton told Hello! magazine that he made their family complete "in a most precious and perfect way". To avoid confusion, the children call Elton "Daddy" while they all David "Papa."
See Also: Was Freddie Mercury Gay, What Happened To His Teeth, How Did He Die?
The Crocodile Rock corona speaking in 2016 on The Ellen DeGeneres Show told Ellen that having children was never in his plans. Chatting with the TV host, he said if she had told him ten years ago that he would be sitting on her show one day, married to the man he loves with two children, that he would have asked her to put acid in his drink. But life happened and children came along at the most unexpected time of his life. "They are the greatest thing in our lives. There are no words to describe how much we love these boys. They're just amazing."
In 2018, Elton John also told The Mirror that he has learned that the simplest things in life, like spending time with the kids, are of more value than any painting, hit record, or anything else. Before the children came, he went on to say, he and his partner had only their lives and would spend money because they had nothing else to concentrate on but the arrival of their sons have changed their focus.
According to The Telegraph Elton's two sons were birthed by the same surrogate mother. However, the singer and his partner have intensely protected the identity of the lady whom Elton has described as a "wonderful, kind and loving woman". According to him, they have a very close relationship with her and were communicating with her continuously while she was pregnant, seeing scans, getting updates, and all.