Unlike the wives of some other celebrities, Canadian rhythmic gymnastics champion Emilie Livingston was blossoming in her own little fame before meeting and marrying, Jeff Goldblum. However, Goldblum's fame added up to hers to earn her a much more widespread public attention. Apart from being a retired professional rhythmic gymnast, Emilie Livingston is also a dancer, aerialist, contortionist, and performance coach. During her active days as a gymnast, Emilie performed for the Kalev RSG Club.
Livingstone went through extremely rigorous gymnastic training in Russia at a very young age with no loved one around to cheer or encourage her. Till date, she still wonders how she managed to survive. But that's just a tip of the iceberg of the numerous facts about Jeff Goldblum's wife. Read on to find out much more about her.
Emilie Livingston's Age and Early Life
Emilie Livingston was born on 4th January 1983 in Etobicoke in Toronto, Ontario, Canada. Livingston started dancing at the very tender age of two. Back then, she would always follow her mum and older sister to their dance classes. However, after attending a rhythmic gymnastics concert in Toronto at six, she started training in ballet and artistic gymnastics, performing at local gymnastics shows in her hometown.
Emilie later left her birthplace for Russia at the age of ten to professionally train in rhythmic gymnastics. There, she enrolled at the Novogorsk camp in Moscow where she received training in ballet from the Bolshoi coaches. She also came under the training of highly skilled Russian gymnastics coaches, Lusi Dimitrova, and Irina Viner.
In 1998, Emilie Livingston participated in the Commonwealth Games in Kuala Lumpur, Malaysia, placing 2nd and 3rd in the team and club competitions respectively. At the age of 16, Emilie represented her country at the 1999 Pan American Games which came off in Winnipeg, Manitoba, Canada. During the tournament, she emerged the champion at the Individual All-Round stage of the Women's Rhythmic Gymnastics Championship, taking home the gold medal. The next year, she also competed for Canada at the 2000 Summer Olympic Games held in Sydney, Australia. There, she finished 18th in the Individual All-Round tournament.
Performing Arts
In addition to sports, Emilie Livingston studied drama at the American Academy of Dramatic Arts in Los Angeles. So far, she has appeared in a number of films. She featured as Emma Stone's body double in the 2016 musical film, La La Land where she performed aerial dancing on her behalf. She also acted on behalf of Rihanna in a pole dance scene of the 2017 3D space opera, Valerian and the City of a Thousand Planets.
Emilie has as well starred in performance episodes of some television series including The LXD, Glee and The Voice. She has also performed at various awards galas alongside famous artists such as Jennifer Lopez, and Taylor Swift. She also appeared in Justin Bieber's "Beauty and the Beat" music video in 2012.
How She Met and Married Goldblum
Emilie Livingston married Jeffery Lynn Goldblum in 2014. Jeff Goldblum is a famous American actor and Jazz musician most popular for starring in hit films and television series such as Jurassic Park and Independence Day. On the side of music, he is known for being a member of the Jazz band, Jeff Goldblum & The Mildred Snitzer Orchestra.
Emilie met Jeffery in 2011 at the popular Equinox gymnasium on the famous LA Sunset Boulevard. Jeff had walked up to her in the midst of the crowd and struck up a conversation. He subsequently invited her to his live concert at the Rockwell Club in Los Angeles where she held everyone spellbound with Michelle Pfeiffer's "The Fabulous Baker Boys" dance steps which she displayed on top of Jeff's grand piano while he performed.
Following the encounter, the two became friends and started off a relationship. After about two years of dating, they engaged in July 2014 and subsequently married on November 8 of the same year. The wedding came off at the Chateau Marmont Hotel in Los Angeles, California.
Emilie has two children with Jeff. The first, a boy named Charlie Ocean was born on 4th July 2015. Five months ahead of Charlie's arrival, precisely on 9th January 2015, Jeff Goldblum happily shared the news of his coming on the Late Show with David Letterman. The second also a boy, River Joe arrived on 7th April 2017. Jeff also did same for River, announcing on Conan's January 11, 2017, episode that they were expecting him.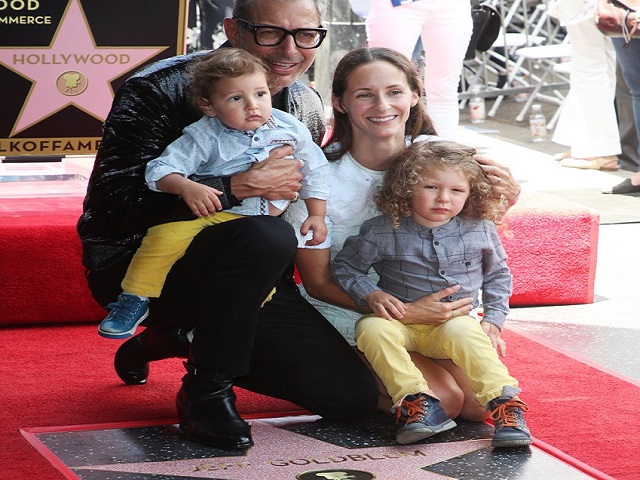 The family of four lives together with their pet dog in Los Angeles, California.
Facts About Jeff Goldblum's Wife
1. Emilie Livingstone weighed as little as 38 kg when she competed at the 2000 Olympics.
2. Emilie placed 26th in the Individual All-Round stage of the 1999 World Rhythmic Gymnastics Championship.
3. She is Jeff Goldblum's third wife. Jeff had previously married co-stars, Patricia Gaul (1980-1986), and Geena Davis (1987-1990).
4. Emilie and her husband count among the numerous celebrity couples that have wide age gaps. While she was born in 1983, her husband was born in 1952. That's a 31-year difference!
5. As a special wedding gift, Livingston revealed to Goldblum that she was expecting on the night before their marriage.
6. The beautiful but petite contortionist once described Jeff's love for her as "innocent, passionate, tender, and honest" in an Instagram post.
7. Livingston has modeled in brand commercials including for Samsung, Levis, Neutrogena, Mercedes, and Fruit of the Loom.