With parents who gave her the support and motivation to pursue her career, Emily Ratajkowski, at age four, began her journey as a model. She has since walked through the road of fame via a modelling career and also as a film and TV actress.
She is equally a staunch feminist and widely considered one of the most prominent sex symbols of her generation. She flaunts her beautiful body at will, proud of her body assets. Emily blew her trumpet when she appeared in the song, Blurred Lines by Thicke Robin. Since then, her career has risen to a tremendous height, and along with it, her relationship with Sebastian Bear-McClard.
Meet Model/Actress, Emily Ratajkowski
She was born as an only child to an English lecturer; Balgley and a painter/art teacher; John David. The model was named Emily O'Hara Ratajkowski as she joined the family on June 7, 1991. Both of her parents are lovers of art. Her mom graduated with a PhD from the University of California San Diego, and her dad spent his early years teaching American Literature in Poland after he had taught English at the University of California, Los Angeles.
Although primarily known as a model, Emily started her entertainment career as an actress at the age of five. She acted in different stage plays, including Harriet Potter and The Little Match Girl. As an adult, after her modelling career brought her onto the spotlight, she has accrued more than 18 onscreen projets to her name.
Some of her most notable credits include Welcome Home, Cruise, Easy, The Spoils Before Dying, and Gone Girl. She also appeared in the movie version of the HBO show, Entourage.
Her Modeling career took off after she appeared in and on the cover of the artistic erotica magazine, treats!. Emily Ratajkowski's appearance in the magazine led to her first high-profile onscreen modelling work in Robin Thicke's Blurred Lines video. She also appeared in Maroon 5's Love Somebody in the same year.
Since hitting stardom with both music videos, she has gone on to appear on the cover of CR Fashion Book, GQ, Cosmopolitan, FHM, and several others. Emily has also walked the runway for Marc Jacobs, Versace, and Dolce & Gabbana.
All of Emily Ratajkowski's professional endeavours have come with their share of controversies, and her continued ability to provoke debate is one of the defining themes of her career. However, she has a surprisingly regular life away from it, with marriage to Sebastian Bear-McClard.
How Emily Met And Married Sebastian Bear-McClard
Emily Ratajkowski has had a few boyfriends in the past. She dated Jeff Magid, a musician, between 2014 and 2018. But while the world was still picking the pieces of their broken relationship, news broke about Emily's marriage to Sebastian Bear-McClard.
The announcement of their marriage sent gossip sites into shock, wondering who the mystery man is and how they got married within a year. It turns out; they did not meet and marry in a couple of weeks. Sebastian and Emily Ratajkowski had been friends for years before she became famous.
So, when she ended her relationship with Jeff Magid in 2018 and got married a couple of months after, it was two friends realizing they belong together and wasted no time in living the belief. Emily and Sebastian's relationship made landfall on Valentine's Day 2018 when paparazzi found them engaging in PDA at a Los Angeles eatery, La Poubelle.
A couple of weeks afterwards, on February 23, 2018, Emily announced via Instagram that she had gotten married to him in a New York City courthouse wedding. After the announcement, details trickled in about their courtship and marriage, including the fact that he proposed at Minetta Tavern in New York City.
Like their entire relationship, the couple went for an unconventional wedding, down to their attire. Instead of a traditional white, Emily wore an orange Zara suit while Sebastian wore a grey suit. At the wedding was a collection of a few close friends, including internet sensation, The Fat Jew.
Sebastian Is Also In The Entertainment Industry
Undoubtedly, several things contributed to their long-lasting friendship, especially after Emily became a national and international figure. But their friendship and eventual marriage have been able to last due to Sebastian's equal presence in the entertainment industry.
Emily Ratajkowski's husband is an actor and a producer, emphasis on producer. He has worked on the production of films like Good Time, Heaven Knows What, and Still Life. Along with the Safdie brothers and Oscar Boyson, he owns Elara Pictures, a production company.
As a producer, he also worked on the critically acclaimed film, Uncut Gems, starring Adam Sandler. Other works in his producer credits include the short film, Goldman v Silverman and the music video for Oneohtrix Point Never's The Pure and the Damned.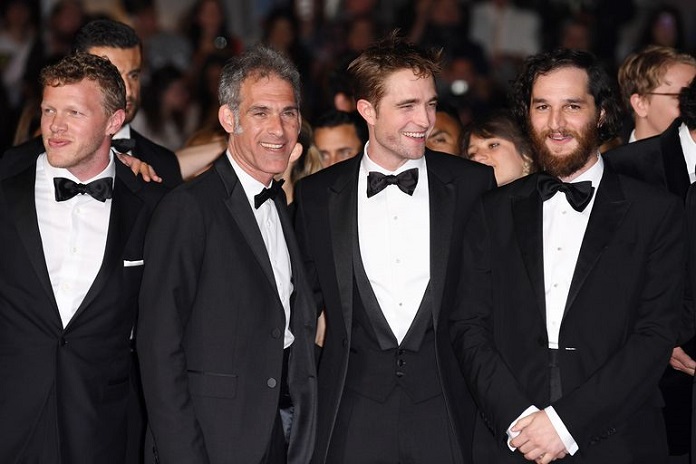 Sebastian Bear McClard's film career doesn't end behind the camera. He has also appeared in minor roles in some of his company's projects, like playing an orderly in Heaven Knows What and an arresting police office in Good Time. Other acting credits to his name include Buffalo Wings, Force of Circumstance, and The Minority.
His work has not only made him rich, with an estimated net worth of $12 million, he has also received critical recognition. Sebastian Bear has eight award nominations from the Independent Spirit Awards and Gotham Awards for Uncut Gems, Heaven Knows What, and Good Time.
See Also: Gina Rodriguez Boyfriend, Sister, Husband, Net Worth, Weight, Ethnicity
Emily Ratajkowski and Sebastian Bear are Huge Supporters of Each Other
Yes, it is expected that couples should support each other but not many couples do so overtly. When it comes to being each other's fans, Emily and Sebastian do not shy away from blowing the other's trumpet. Sebastian supports Emily's feminist and unconventional views, which often triggers controversy for the rest of the public.
She has also been present at his movie premieres and shouted out his works on her Instagram profile with over 26.7 million followers. He also promotes her clothing line, Inamorata.
https://www.instagram.com/p/CAYIkupheih/?utm_source=ig_web_copy_link
Years after their wedding, a look at their respective social media pages show Emily and Sebastian are still going strong. The producer regularly appears in her Instagram feeds, with effusive captions that show her affections for him, and vice versa.