Even as a child, Emma Coronel Aispuro was exposed to the activities of the Sinaloa cartel – an international drug trafficking, money laundering, and organized crime syndicate created in the 1980s. Her father was well involved with the cartel and by the time she was a teen, she became the third wife of the cartel group leader; Joaquin Archivaldo Gurman Loera, better known to the world as El Chapo.
Until the recent arrest of her husband, Emma has been in the dark. She subsequently came out to the limelight with an interview with US Spanish-language TV channel Telemundo broadcast in 2016. She is a mother of two and of course, a fighter.
Emma Coronel Aispuro, El Chapo's Wife – Bio, Age
The drug lord's wife was born on the 3rd of July 1989 in Los Angeles, California, United States. She spent her formative years around drug cabals and was raised in Canelas, Durango, a small rural town in Northwestern Mexico. Her father, Inés Coronel Barreras, is a convicted Mexican drug lord and a dedicated member of the Sinaloa cartel, a criminal group located in Sinaloa. He is quite notorious with his dealings and was presumably said to have ordered the death of his own cousin. He also cultivates bhang and Papaver somniferum.
Her father, Inés Coronel Barreras, was arrested by the United States Department of the Treasury under the Foreign Narcotics Kingpin Designation for coordinating drug trafficking operations for the drug king, Guzman. More so, Emma Coronel Aispuro's brother, Inés Omar Coronel Aispuro, was also arrested alongside her father.
Her mother, Blanca Estela Aispuro Aispuro is a homemaker and a supporter of her husband deals; while her uncle is the slain drug kingpin Ignacio "Nacho" Coronel. Prior to his death, he played an important role for the Sinaloa Cartel and was one of El Chapo's trusted goons.
As regarding the details of her formal education, Emma Coronel Aispuro has never specifically spoken about the details of her education. Moving on to the details of her career, Emma's name was put up for contention for the local coffee and guava festival in 2006. Then in 2007, she emerged as the queen of the competition.
Personal Life and Family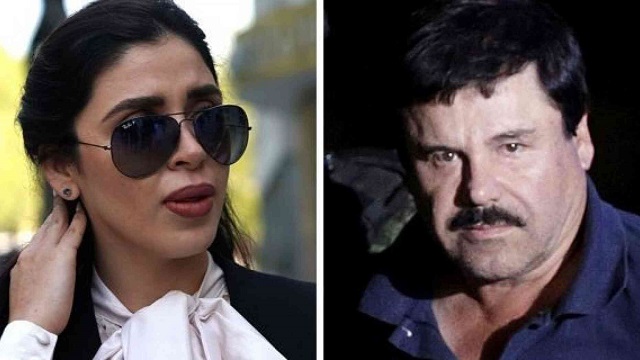 Emma Coronel Aispuro was introduced to marriage at an early age, she got married to El Chapo when she was just eighteen. The two were said to have met at a party organized by her father in 2006. They kicked off a platonic relationship and subsequently tied the knot on the 2nd day in the month of July 2007. At first, news had it that they had an elaborate wedding ceremony, however, after gracing an interview, Emma publicly stated that their wedding was private and filled with lots of armed men. Also, she never experienced honeymoon due to the international arrest warrant placed on her husband that period.
Joaquin Archivaldo Gurman Loera, popularly known as El Chapo Guzman is the leader of the criminal organization – Sinaloa Cartel. He made history as one of the most recognized drug lords of all time, much like Columbia's Pablo Escobar.
Joaquin was first captured in 1993 and was reportedly given a 20-year jail term after being found guilty for drug trafficking and murder. However, he bribed the prison guards, escaping from federal maximum security in 2001. He was later declared wanted by the United States authorities and was placed on a 60 million Pesos bounty by the Mexican government. So likewise, the United States government offered a $5 million reward for information leading to his capture.
On 22 February 2014, Emma Coronel Aispuro's husband was captured in Sinaloa, Mexico, he escaped again but was rearrested by the Mexican marines and Federal Police. Then on the 19th day of January 2017, he was deported to the United States on charges of his involvement with the Sinaloa Cartel. He was found guilty on the 12th of February 2019 and was sentenced to life imprisonment without parole.
Children
Emma had her twin girls at Lancaster (North of Los Angeles), Antelope Valley Hospital in the summer of the year 2012. The girls, Jus Sanguinis and Jus Soli automatically gained citizenship of the United States by birth. Also, as at the time of their birth, their father's name was left blank on their birth certificate as there was a $5 million bounty for him at the time.
Emma Coronel Aispuro's Height & Body Stats
Emma Coronel Aispuro has a notable fashion sense. She stands out with most of her clothing and often dazzles in her wears. As a beauty queen, it is undeniable that she looks drop dead gorgeous. She stands at 5 feet 7 inches with unrevealed body weight. Also, it is believed that she measures 33-25-34 inches for her bust, waist and hips sizes respectively.
See Also: Virginia Vallejo – Biography, Relationship With Pablo Escobar And Other Facts
Net Worth
Having been groomed and married to one of the most powerful cartels in the world. Emma Coronel Aispuro's money bag is well filled with gold coins. Her husband, El Capo is said to have his total financial worth running into billions and has been constantly made a spot on the Forbes list of most powerful people in the world. On Emma Coronal Aispuro part, she is said to have gathered a net worth of $4 billion.