Even as a child, Emma Coronel Aispuro was exposed to the activities of the Sinaloa cartel, an international drug trafficking, money laundering, and organized crime syndicate created in the 1980s. Her father was well involved with the cartel and by the time she was a teen, she became the fourth wife of the cartel group leader, Joaquin Archivaldo Gurman Loera, better known to the world as El Chapo.
Until the arrest of her husband, Emma had been in the dark. She came to the limelight following an interview with the US Spanish-language TV channel, Telemundo, in 2016. She is a mother of two and how she became the wife of a man regarded to have been the most powerful drug trafficker in the world continues to pique the interest of many.
Emma Coronel Aispuro's Father Introduced Her To The Notorious Drug Lord
Even though the drug lord had been married thrice, it didn't deter Emma Coronel Aispuro from pursuing a romantic relationship with him. As the story goes, Emma's father introduced her to El Chapo in 2006 when she was only 17 years old.
According to Emma, her first encounter with the drug trafficker was while she was dancing with a former lover. Their paths crossed at the centre of the dance floor and he smiled at her flirtatiously. El Chapo would later ask her for a dance, she accepted and it marked the beginning of their relationship.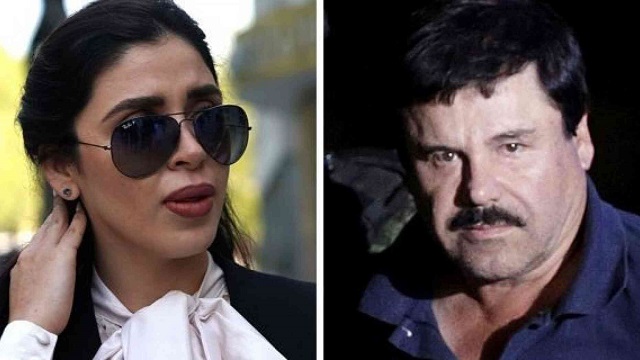 They kicked off a platonic relationship and subsequently began a quiet romantic relationship. Things happened pretty quickly for the lovers as they were ready for marriage the following year. Emma and El Chapo became life partners on the 2nd of July 2007.
At first, news had it that they had an elaborate wedding ceremony, however, after gracing an interview, Emma publicly stated that their wedding was private and filled with lots of armed men. Also, she never had a honeymoon due to the international arrest warrant placed on her husband during that period.
Their Union Was Troubled By Legal Woes
Joaquin Archivaldo Gurman Loera, popularly known as El Chapo Guzman was the leader of the criminal organization, Sinaloa Cartel. This affected his marriage to Emma Coronel Aispuro in no small manner as he spent a great deal of time trying to evade the law.
For his crimes, Joaquin was first captured in 1993 and given a 20-year jail term after being found guilty for drug trafficking and murder. However, he bribed the prison guards and escaped from federal maximum security in 2001. He was declared wanted by the United States authorities and placed on a 60 million Pesos bounty by the Mexican government. Likewise, the United States government offered a $5 million reward for information that would lead to his capture.
On 22 February 2014, Emma Coronel Aispuro's husband was captured in Sinaloa, Mexico. He escaped again but was rearrested by the Mexican marines and Federal Police. On the 19th day of January 2017, he was extradited to the U.S. and subsequently sentenced to life imprisonment without parole.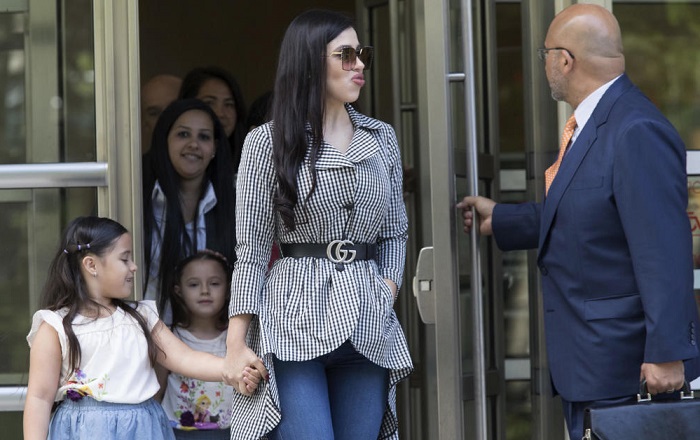 The Couple Has Twin Daughters And El Chapo Is Very Fond Of Them
Facing his troubles with the law hasn't stopped El Chapo from sustaining his bond with his twin daughters. It was in 2012 that Emma gave birth to the girls named Emali and Maria Joaquina. They were born in Lancaster, Los Angeles. Because there was a $5 million bounty for their father when they were birthed, his name was left out of their birth certificate.
After he was extradited and faced trial, the twins were the only visitors approved to visit him in an undisclosed location where he was held. Even Emma was not allowed to visit or speak to El Chapo on phone.
Emma Coronel Aispuro Thinks Highly Of The Imprisoned Drug Trafficker
During the trial of her husband which lasted from November 2018 to February 2019, prosecutors brought in many witnesses that helped them build their case around having El Chapo incarcerated for life.
The witnesses portrayed El Chapo as a bloodthirsty murderer and vengeful drug trafficker among other things. But Emma wouldn't agree with any of that. For her, the man she got married to wasn't the person they portrayed.
Emma has always spoken highly of El Chapo. She admires him for who he is and what they have. According to her, he is a good husband as much as he is a loving father who is very attentive to their kids. It is said that he encouraged Emma to deliver the girls in Los Angeles so they can be citizens of the United States.
Emma's Father Is Also a Convicted Mexican Drug Lord
El Chapo's wife was born on the 3rd of July 1989 in Los Angeles, California, United States. She spent her formative years around drug cabals and was raised in Canelas, Durango, a small rural town in Northwestern Mexico. Her father, Inés Coronel Barreras, is a convicted Mexican drug lord and a dedicated member of the Sinaloa cartel. He is quite notorious with his dealings and was said to have ordered the death of his own cousin. He also cultivates bhang and Papaver somniferum.
Inés Coronel Barreras was arrested by the United States Department of the Treasury under the Foreign Narcotics Kingpin Designation for coordinating drug trafficking operations for the drug king, Guzman. Emma Coronel Aispuro's brother, Inés Omar Coronel Aispuro, was arrested alongside her father.
Her mother, Blanca Estela Aispuro Aispuro, is a homemaker who is very supportive of her husband. The slain drug kingpin, Ignacio "Nacho" Coronel, was Emma's uncle. Before his death, he played an important role in the Sinaloa Cartel and was one of El Chapo's trusted goons.
The Drug Lord's Wife Is a Former Teenage Beauty Queen
It is hard to tell what Emma Coronel Aispuro does for a living at the moment, it seems she has devoted all her time to care and raise her twin daughters, considering their father is not likely to be home anytime soon.
Nonetheless, it is no secret that she used to be a beauty pageant contestant. This is hardly a surprise given her fine fashion sense and looks. Emma stands at 5 feet 7 inches and it is undeniable that she is gorgeous.