Emma Roberts is an American actress and singer who is mostly famous for her lead role as Addie Singer on the Nickelodeon TV series Unfabulous which ran from 2004 – 2007 and the FX anthology horror series American Horror Story which premiered in 2013 and still airs till date. After her big break with Unfabulous, Roberts went on to release her debut studio album Unfabulous and More in 2005; after which she switched back to films and appeared in several films including Aquamarine (2006), Nancy Drew (2007), Wild Child (2008), Hotel for Dogs (2009), Valentine's Day (2010), It's Kind of a Funny Story (2010), and The Art of Getting By (2011). This piece zooms the lenses on her. especially some parts of her morphology such as her height and of course, the burning question; how old is she? 
Who is Emma Roberts and How Old is She? 
Emma Roberts was born—Emma Rose Roberts— in Rhinebeck, New York, the USA on February 10, 1991, to parents to Eric Roberts and Kelly Cunningham. Her father was an actor. When she was only months old, her parents got divorced, leaving her at the mercy of whoever won the rights to keep her. As per her father's later marriage, Emma Roberts is the stepdaughter of Eliza Roberts and step-granddaughter of David Rayfiel and Lila Garrett. As per he mother's remarriage, Roberts is a stepdaughter to the famous musician Kelly Nickels. She also has a half-sister, Grace and is niece to the actresses, Julia Roberts and Lisa Roberts Gillan. All of these relations renders Emma Roberts' ancestry English, Scottish, Irish, Welsh, German, and Swedish.
As she later recounts, her long stay with her aunts at the filming studio shaped her decision to go into acting. Growing up, Emma Roberts attended Archer School for Girls in Los Angeles, California, and in September 2011, she moved to Sarah Lawrence College. For most college students of her time, this was the high way to a promising future. Not Emma. Only a few months into her program, she left school to give more focus to her film projects.
Career
Though her first post-college film appearance was as Sally Howe in the film The Art of Getting By (2011), Emma Roberts' film history dates way earlier than 2011. According to sources, Roberts made her acting debut the 2001 drama film Blow; the first film she auditioned for. She was only nine at the time. She appeared as Kristina Jung, daughter of the cocaine smuggler George Jung (portrayed by Johnny Depp). That same year, Roberts landed another role in the 10-minute short film, bigLove. She also appeared in lesser roles in two other films Grand Champion (2002) and Spymate (2006). 
2004 marked her big break when she appeared in the lead role, Addie Singer, in the Nickelodeon Tv series Unfabulous. The show premiered in September of 2004 and aired until 2007. It got so many positive reviews; earning Emma Roberts several Teen Choice Award and Young Artist Award nominations. In 2006, Roberts appeared alongside Sara Paxton and singer JoJo in the film Aquamarine. However, acting wasn't all she did on Aquamarine. She also put her music prowess to the test; singing a cover version of Weezer's single Island in the Sun. 
A year later, Emma Roberts appeared in the movie Nancy Drew; playing the titular character. Althugh it didn't go down well with industry insiders, the film did pretty well in the box office. In 2008, Emma Roberts did a voice-over for the character Wilma in the animated film The Flight Before Christmas. It was her first. Rolling into 2010, Roberts appeared in no less than seven films and TV shows including Twelve, Valentine's Day, Memoirs of a Teenage Amnesiac, 4.3.2.1, It's Kind of a Funny Story, Virginia, and Jonas L.A.
American Horror Story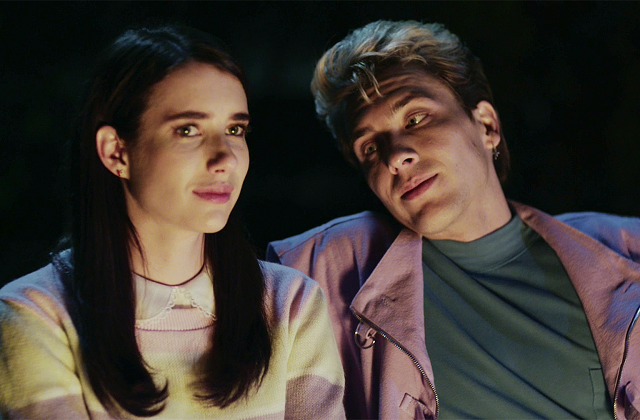 After her big break in 2004, 2013 was another epoch-making year for the California-born actress. That year, she appeared with Evan Peters in Adult World and Jennifer Aniston in the comedy film We're the Millers. That same year, she received immensely positive reviews from film critics for her performance in the movie Palo Alto. More recently, Emma Roberts appears in several 2019 films and TV shows including, Paradise Hills, UglyDolls and American Horror Story: 1984 in which she stars as Brooke Thompson. She will also Starr in the soon-to-be-released movie, The Hunt (2019).
See also: Who Is Eli Roth, The Horror Movie Director And What Is His Net Worth?
Height – How Tall Is

Emma Roberts?

Now to her body measurements. Emma Roberts has always had a graceful slim build which she continues to maintain. She stands 5 feet 2 inches (1.57 meters) tall and weighs 51 kg. She has light brown hair and green eyes. As of this writing, she wears shoes of size 8 (US), bras of size 32A and dresses of size is 2 (US). She measures 32-23-30 inches for her bust waist and hips respectively.