Emma Sugiyama is the former spouse of the Grammy Award-winning actor, writer, and producer, Trey Parker who has also carried out some works as an animator and composer. Emma's ex-husband who was born Randolph Severn Parker III has attained fame and fortune from his works as a co-creator of the adult animated sitcom, South Park and the musical comedy, The Book of Mormon. As a result of her marriage to one of the most popular actors in the United States, Emma Sugiyama acquired a celebrity status which unfortunately didn't last long as she got separated from her ex-husband after two years of marriage.
Emma Sugiyama is undoubtedly a private person as there is little to no information about her life on the media. That said, the gorgeous damsel's birthdate is recorded as 9th October 1970 and her place of birth is Yokohama, Japan. She is Asian-Japanese with dual citizenship in Japan and the United States. Information regarding her family has not been made public as well as her educational achievements.
Facts About Trey Parker's Ex-Wife
1. Emma Sugiyama's Marriage To Trey Parker
Although the details of when Emma and Parker began dating is still under wraps, they were seen together at many events as a couple including the White House Correspondents' Dinner at the Washington Hotel on 30th April 2005 in Washington DC and also at Jimmy Fallon's birthday party in September 2005. Emma Sugiyama got engaged by the Primetime Emmy Award-winning actor, Trey Parker in 2005 at George Clooney's incredible Lake Como mansion popularly known as Clooney's Italian Villa located in Laglio, Italy.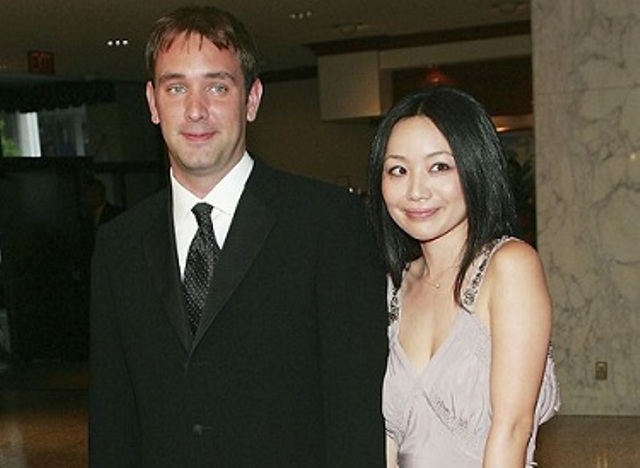 They moved on to exchange marital vows in the next year in Hawaii. The wedding ceremony was officiated by the eminent television writer and producer, Norman Milton Lear. Trey Parker who became interested in music right from the age of 17, serenaded his guests with a set of Neil Diamond songs, having been a member of the DVDA band alongside Matt Stone.
After the wedding, the couple graced several red carpet events including the Comedy Central Celebration of South Park's 10th Year Anniversary at The Lot on September 21, 2006, in Los Angeles, California. However, their married relationship which seemed like a never-ending love story met a dead-end in 2008, when Emma Sugiyama and Parker signed the divorce papers.
2. Emma Lives a very private life
As mentioned earlier, Emma Sugiyama has always loved to maintain a low profile even while married to the famous actor. As such, she has kept details of her love life discrete which makes it difficult to know whether she has remarried or currently in a relationship. However, she has been speculated to be single at the moment on many media sites. Her ex-husband, on the other hand, has constantly been all over the news as a result of his blossomy personal life.
Following his divorce from Emma, which was reportedly caused by his affair with the exotic dancer, Boogie Tillmon, Parker entered his second marriage with Boogie in 2014, after welcoming a daughter named Betty Boogie together with her in 2013. Parker then filed for divorce on 8th March 2019, having separated from his second wife since 2nd February 2019. He is currently going through the process of finalizing the divorce. Meanwhile, Parker's daughter who is following in the footsteps of her father has voiced several characters on the TV series, South Park and in video games; South Park: The Fractural but Whole and South Park: Phone Destroyer.
3. Emma Sugiyama's Net Worth
Although Emma's financial value has not been made public, she must have pocketed a huge sum of money as her alimony in 2008, owning to the fact that her ex-husband is a mega-millionaire. Trey Parker currently sits on a net worth that is estimated at $500 million as the musical comedy, The Book of Mormon which he co-created with Matt Stone has grossed more than $500 million worldwide from ticket sales, merchandise and more.
See Also: Carryn Owens – All About Ryan Owens Wife & Widow Of The Fallen SEAL
As of 2008, the TV series, South Park was already pulling in $34 million a season in advertising, with its syndication rights going for $100 million in 2004. Emma Sugiyama's ex-husband has certainly amassed incredible wealth through his works as a film and TV producer, director, animator, screenwriter, lyricist, and actor.
4. Her Body Measurements
Emma Sugiyama who has a petite body build is standing at a height of 5 feet 6 inches (1.67 m). She has a beautiful set of black eyes and black hair color.