Emmanuel Macron needs no introduction. He won the admiration and respect of the whole world when he became the president of France at the young age of 39. This was in 2017 and the feat made him one of the youngest world leaders ever. What made his achievement even more remarkable was the fact that he did not run on the platform of the two major political parties in his country. Rather, he founded his own political movement, En Marche!, on which he rode to power. This incredible achievement, coupled with his young age, won him praises from far and wide. Many publications in France dubbed him 'Le Kid'. Get to know more about him here…
Age, Early Life, and Background Details
Emmanuel Jean-Michel Frederick Macron was born on the 21st of December 1977 in Amiens, a city in the northern part of France. He hails from an illustrious family. His mother, Francoise, is a physician while his father, Jean-Michel is a university professor. He has two younger siblings named Laurent and Estelle.
Emmanuel Macron started his secondary school education at a private Jesuit school in Amiens. He completed it at the renowned Lycee Henri-IV in Paris. For his university education, Macron studied at some of the most distinguished institutions in his native country. He studied International Policy and Public Service at Science Po, a prestigious university in France. He also obtained a masters degree in Public Policy from the same institution in 2001. The future president then obtained another masters degree in Philosophy from Paris Nanterre University.
Emmanuel Macron then proceeded to the elite Ecole Nationale d' Administration (ENA). ENA is the breeding ground for most French leaders. Macron graduated in 2004 and subsequently went to work in the Ministry of Economy and Finance. He left public service four years later and joined Rothschild and Cie Banque in 2008. While there, he distinguished himself and quickly rose to the rank of managing director. Macron left the institution in 2012, after a four-year stint.
He was then made a senior official in President Francoise Hollande's administration that same year. Macron was made the Minister of Economy and Finance in 2014. 2016 was an eventful year for the young politician. He founded his political movement, En Marche, in his hometown of Amiens in April 2016. He resigned from the government in August of that same year and officially declared his candidacy in November. He would go on to win the presidential election on the 7th of May 2017. He was sworn into office seven days later, becoming the youngest president in French history.
His Net Worth
Emmanuel Macron has a net worth estimated at $31.5 million. He made the bulk of his fortune from a lucrative career as an investment banker. For instance, he reportedly earned $3.8 million from brokering Nestlé's acquisition of the baby food division of pharmaceutical giant, Pfizer. The deal took place in 2012 and was worth a whopping $12 billion. As the president of France, Macron earns a little above $200,000 per annum.
Emmanuel Macron's Wife and Kids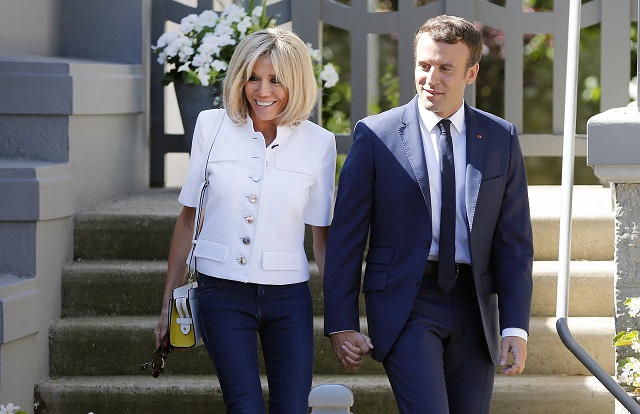 Emmanuel Macron is married to Brigitte Trogneux. Their marriage has been a subject of much interest. This is due to the fact that Macron is 24 years younger than his wife. Their love story reads like a Hollywood plot. They first met when Macron was 15 years old. Brigitte was 39 years old at the time and was a drama and theatre teacher in his secondary school. In fact, Macron and Brigitte's daughter were in the same grade.
They slowly became attracted to each other and commenced a relationship when Macron was 18. His parents did not approve and sent him away to Paris to conclude his secondary education. This was a futile move as it could not separate the lovebirds. Brigitte later got a divorce from her husband and joined Macron in Paris. They tied the knot in 2007. Their love is still waxing strong and the president credits his wife with making him what he is today. The couple does not have any children together. Nonetheless, Brigitte has three children from her first marriage. She also has seven grandchildren.
Is He Gay?
In the run-up to the elections, they were rumors that Macron had an extra-marital gay affair with a Radio-France executive. This fuelled speculations that he was gay. Some even went as far as saying that his wife is just a beard – a woman who agrees to pretend to be dating a gay man so that people won't know that he is gay. Macron, however, remained unfazed by such allegations and dismissed them as false.
See Also: 10 Amazing Photos Of World Leaders Kissing Or Goofing Around With Their Wives
How Tall Is He?
Physically, Emmanuel Macron is of average height. But when it comes to his achievements, he is indeed a giant. He is 5 feet 9 inches tall (1.75m) and weighs 73 kg (161 lb). Rounding off his comely looks is a set of blue eyes and brown hair. There is certainly no doubt that his telegenic and charismatic looks have helped his political career.