The world changed for Michael Owusu Addo, popularly known as Sarkodie in 2009 when his debut album "Makye" was released, the beginning of what has been one of the most flourishing careers in the Ghanaian music industry. In the past fifteen years, the Ghanaian star who became the first winner of BET's Best International Flow act at the 2019 BET Hip Hop Awards has gone from rapping to becoming a successful businessman and worthy brand ambassador for big brands. And through all these, he has reached a level of wealth some musicians could only dream of.
In 2020, his net worth was estimated at $7 million, placing him at number one on the list of wealthiest hip hop artists in Ghana and one of the richest in the continent. His wealth has afforded him an incredible lifestyle, the rapper splashes out money for cars he loves. He flaunts his wealth by buying the expensive things he cherishes and is frequently pictured living the luxe life.
Sarkodie Has Two Lavish Homes Located In Big Cities
As stated earlier, the Ghanaian star knows how to take things to the next level, this is evident in the type of investment he makes. He owns two fine lavish houses in his hometown and abroad.
Despite keeping a low profile when it comes to his wealth and personal life, there are indications that his house in Ghana is located in Ashaley Botwe, a suburban in Accra. However, at the time of writing this article, the rapper hasn't really released much information about his houses.
However, it is known that inside his mansion are expensive furniture and finishings that would get any to marvel. It has a brick finishing in front, with a large pool at the back. He shares this mansion with his wife Tracy whom he married in a private wedding ceremony held in Tema, Ghana on 17 July 2018, and two kids; a daughter, Adalyn Owusu Addo, and a son; Micheal Nana Yaw Owusu Addo Jnr. (who is named after the famous rapper)
No exact figure was stated as regards the value of the mansion as it wasn't bought but built. But on the other hand, his house in the UK is valued at about $250, 000 and is speculated to be better looking than the one in Ghana.
None of The Houses Is a Beach House?
Sarkodie back in 2019 declared an interest in procuring a beach house in a tweet, but the doubts as to whether he has done something about the fantasy is still much. As a result, there have been speculations flying around that he owns a beach house. Well, not his house in Ghana and, we know this for a fact. But due to the lack of information about the house in the UK, no concrete statement can be made.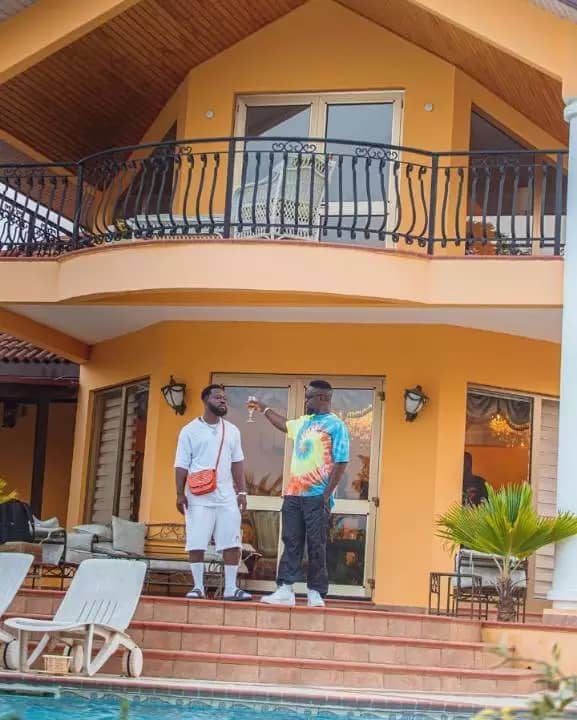 Inside His Million-dollar Garage Laden With Fancy Wheels
It's safe to say that Sarkodie loves cars, and what's more thrilling is that he has the money to buy them. Although he hardly shows off his wealth, he has been spotted with different luxury cars. His fleet cuts across various brands and spec., ranging from vintage to more recent automobiles. So what supercars are this superstar driving? Below a number of cars known to belong to him.
N.B- the price tags on the cars are all in Nigerian Naira/ Ghana Cedi
2016 Range Rover Vogue (24 million Naira)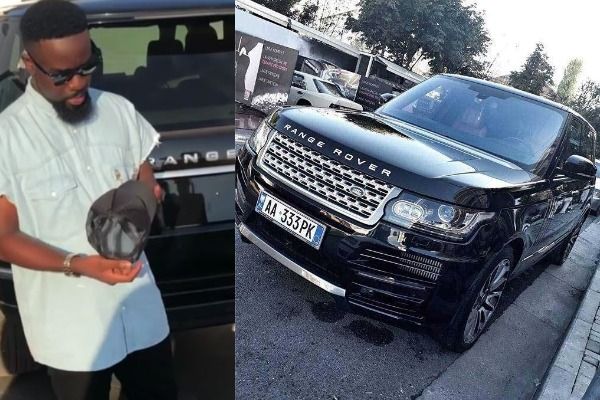 This car has powerful engines and is a standard four-wheel drive with high maintenance costs. Its other key features include;
0L V-6 Engine producing [email protected] 3500 rpm Torque and 340 hp.
Has black exterior with a 4-door, 5-seat 4WD SUV design
It's a 4-wheel car with 8-speed automatic transmission with paddle shifters that deliver smooth, quick shifts to accelerate @ 0 to 60 mph in 74 seconds
Rear air conditioning, with separate controls
Front air conditioning, dual-zone automatic
2016 Mercedes Benz E Class Coupe (24 million Naira)
There's a common pattern in Sarkodie's selection of cars. He likes sports cars that can perform. Although the Mercedes might not be the most expensive vehicle in his garage, it may be among the most powerful. The German vehicle delivers;
0L twin-turbo V-6 engine producing 329 hp @ 5250 rpm and Torque of 354Ibs @ 1600 rpm
It's a Mars red, 2-door 4 seat AWD coupe
It's a 4-aluminum wheel car with 7speed automatic transmission accelerating @ a speed of 0-60 mph in about 5.4 seconds
It's made of fine leather seats with dual-zone A/C and a rear A/C
The current price is about 24 million
Lamborghini Aventador (143 million Naira/ C25 Million)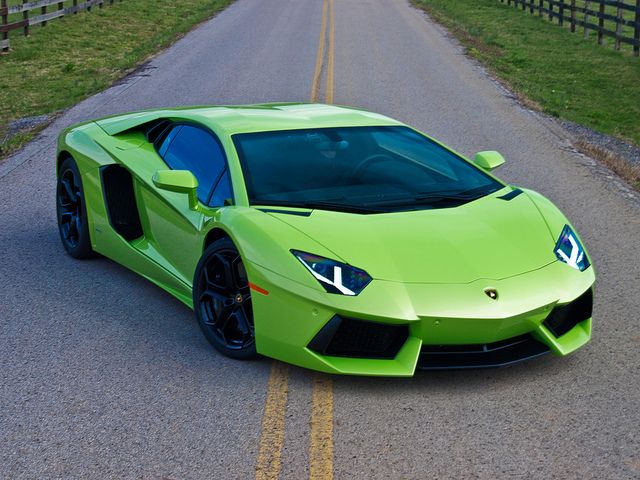 A mid-engine sports car produced by the Italian automotive manufacturer Lamborghini, this car features;
5L V12 engine producing 691 hp @ 8250 rpm and Torque of 508Ibs @ 5500 rpm
It's a lemon green,2- seat with a set of scissors door and a coupe body type car
It's a 4-wheel car with a 7-speed automatic transmission system accelerating @ 0-60 mph in 3 seconds
2016 Porsche Carrera (46 million Naira/ C. 6.4 Million)
Porsche Carrera is a brilliant sports car, offering;
4L 6 flat cylinder engine producing 500hp @7400 rpm and Torque of 338Ibs
It's a white 2-door, 4-seat car
A 4-wheel car with 7-speed PDK dual-clutch transmission accelerating @0-60 mph in3 seconds
2016 Range Rover Sports (24 million Naira/ C340, 335 Ghana cedi)
This is another luxury sports utility vehicle in Sardokie's garage. The care is a  5L V8 engine producing 510 hp @ 6000 rpm and a Torque of 502Ibs. It's a white, 4-door 5 seat and a 4-wheel car with 8-speed automatic transmission accelerating @0-60 mph in 4,5 seconds.
2017 Mercedes Benz G63 (52 million Naira/ C710,562 Ghana Cedi)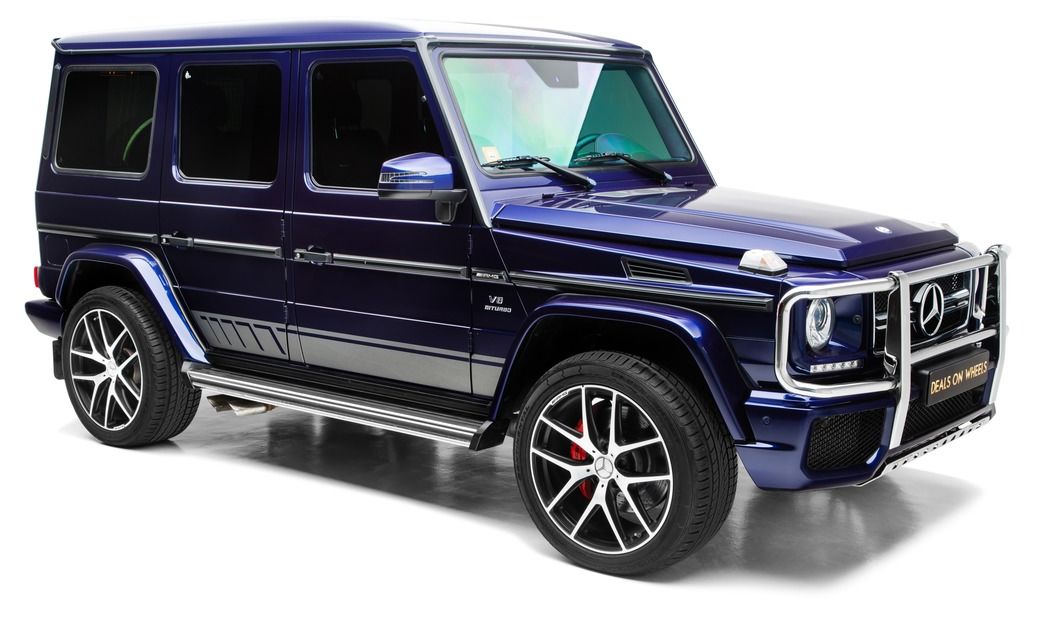 This is one of the many 4×4 vehicles in Sardokie's car collection. The car is simply a sight to marvel at, and it's easy to understand why he chose to buy it. The car is a 4 door, 5 seat SUV with a 4-wheel car reaching speeds of up to 155mph. It has 5L V8 Biturbo engine producing 560 hp @ 5500rmp and torque of 561lbs.
2016 Rolls Royce Phantom (163 million Naira/ C.2.3 Million Ghana Cedi)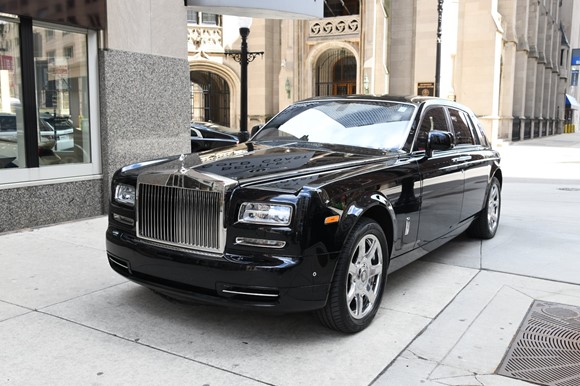 This is one of the most expensive of Sardokie's car collection. The car like other cars on the list delivers its own unique features that scream class and luxury. It comes with;
7L v12 engine producing [email protected] 5350rpm and torque of 531lbs
4 doors and can take 5 passengers at a time including the driver
Top speed 155mph
2017 Toyota Land Cruiser (30 million Naira)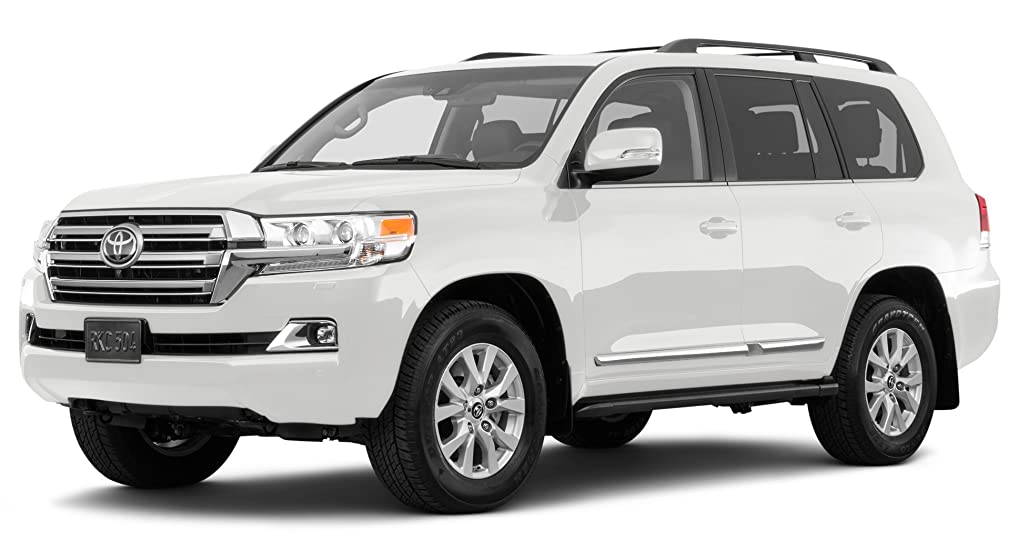 This is one functional car and Sardokie knows this well, the car has 7L V8 engine producing 381hp and 401lbs torque. It's 4 wheels and can take 8 passengers at a time. Having a top speed of 230mph, it was ranked fastest SUV when it was released back in 2017.
1965 Mercedes Benz W110 (9.8 million)
Benz W110 is an entry-level line of midsize automobiles manufactured by Mercedes Benz in the mid-1960s. It delivers 0l 230 six-cylinder engine, [email protected] 5200rpm and torque of 142lbs. It's a black, double-doored, two-seater car with a top speed of 90mph.
Kantanka Mensah – 10.5 million Naira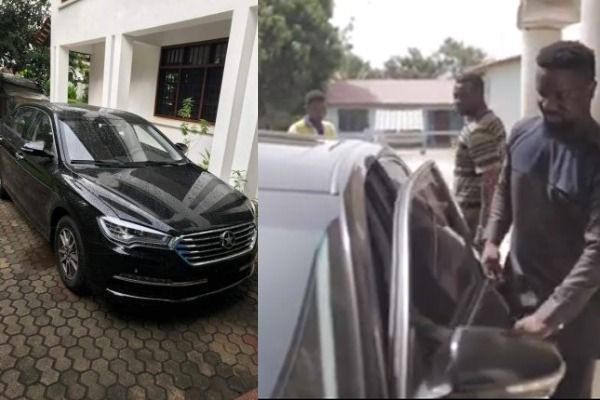 The rapper purchased this as his first Kantanka car when he visited automobile manufacturer Kantanka. It is a black sedan with a 2.4cc which has an exterior dimension of 4866mm in length and a 2775mm wheelbase.
2011 Dodge Nitro – 7.5 million Naira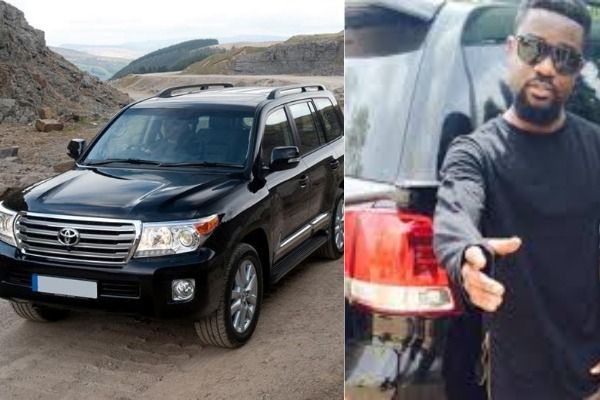 Before Sardokie started veering towards buying exotic cars, he had to settle for cheaper vehicles such as this Dodge Nitro. It is one of the oldest of his cars and the least frequently used. The car is powered by a 3.7-liter V6 engine that generates 210 horsepower. As with his other car, the 5-door 8-seater back SUV is in good condition and has;
a 4-speed automatic transmission system producing an acceleration of 60 mph in 8.2 seconds.
7L V6 engine producing [email protected] 5200rpmand torque of 235lbs
Top speed 112mph.
Bugatti Is Not In His Fleet of Cars
Many fans wonder if Sarkodie owns a Bugatti after he tweeted "I woke up in a new Bugatti".
I woke up in a new bugatti

— Sarkodie (@sarkodie) April 4, 2013
Owing to his reputation of flaunting his cars, "no" would be the best answer to the question as he hasn't made any public appearance with the Bugatti. Stay tuned though, in the event that any new revelations pop up we'll keep you informed.
A Summary of Sarkodie's Cars and Their Price Tag
2016 Range Rover Vogue – 24 million Naira
2016 Mercedes Benz E Class Coupe – 24 million Naira
Lamborghini Aventador – 143 million Naira/C25 Million
2016 Porsche Carrera – 46 million Naira/C. 6.4 Million
2016 Range Rover Sports – 24 million Naira/C340, 335 Ghana cedi
2017 Mercedes Benz G63 – 52 million Naira/ C710,562 Ghana Cedi
2016 Rolls Royce Phantom – 163 million Naira/C2.3 Million Ghana Cedi
2017 Toyota Land Cruiser – 30 million Naira
1965 Mercedes Benz W110 – 9.8 million
Kantanka Mensah – 10.5 million Naira
2011 Dodge Nitro – 7.5 million Naira