Eric Reid's name needs no introduction in the NFL. The talented safety plays for the Carolina Panthers of the National Football League (NFL) and has won several awards since his days in college. He is a social justice warrior and has been outspoken against all forms of racial injustice in the United States. He currently wears jersey number 25 for his current team and is been doing well for himself – on and off the pitch.
Eric Reid's Bio
Eric Reid was born on December 10, 1991, in Baton Rouge, Louisiana. Like other notable NFL players, Eric played football in high school when he attended Dutchtown High School in Geismar, Louisiana. The talented athlete also participated in other sports like basketball and track events. In the game of football, he made 78 tackles, nine sacks, four interceptions as well as three fumble recoveries as a junior. Progressing into the senior year, he was honored with the Louisiana Class 5A All-state award following his impressive 45 tackles and three interceptions. He featured in the 2010 U.S Army All American Bowl.
After high school, Eric enrolled at the Louisiana State University where he played for Coach Les Miles's LSU Tigers football team from 2010 to 2012. He played 13 games as a freshman, started three, and made 32 tackles and two interceptions.
He made 76 tackles, two interceptions, and two forced fumbles as a sophomore in 2011. These impressive starts earned him the second team All-American by Rivals.com and second-team All-SEC selection by the Associated Press. He improved on his performances as a junior in 2012 and won the consensus first-team All-American, and several other awards. He would join San Francisco 49ers as the 18th overall pick in the first round of the 2013 NFL Draft.
Eric inked an $8.48 million 4-year contract on July 5, 2013, with the 49ers and made his professional debut in a 34-28 victory match against Green Bay Packers where he recorded seven solo tackles, a pass deflection and intercepted a pass attempt by Aaron Rodgers. In 2014, though he battled with Jimmie Ward for the starting free safety, he was named starting free safety.
He continued as the starting free safety for the 49ers in 2015 and in November, he made a season-high ten combined tackles in a loss against the Seattle Seahawks. He concluded the season with 72 combined tackles (60 single), seven pass deflections, and a sack in 16 games which he all started.
In 2017, Eric suffered a knee injury that kept him out of the field for a couple of games which allowed Jaquiski Tartt to usurp his safety role. Upon his return from injury, he was moved to a hybrid safety/linebacker role. Debuting on his new role on October 22, 2017, he made four solo tackles in a match against Dallas Cowboys which the 49ers lost 10-40.  Eric joined the Carolina Panthers on September 27, 2018, on a one year deal.
How Much Is He Worth?
Eric Reid surely has made a fortune in the NFL having previously signed $8.48 million contract deal with a $4.54 million signing bonus. Many would agree that the Carolina Panthers safety should be among the big boys of NFL. However, his annual salary is said to be $823,529 and his current net worth is unavailable as at this moment.
Details of his wife and parents, Wife
Eric was born to American Parents; Eric Reid Sr and Sharon Reid. His father was an athlete in his prime. He excelled in hurdling events and was the 1987 NCAA Champion while he was at Louisiana State University.
He has a younger brother named Justin Reid who is also a sportsman. He was picked by Houston Texans in the round three of 2018 NFL Draft. We can simply say that the Reids' have a love for sports.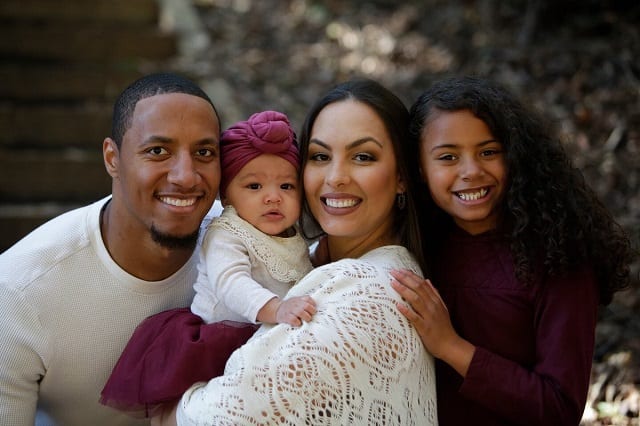 Eric is not just a stylish footballer, he is also an amazing husband and father. He is married to lovely Jaid Reid. They got married on July 19, 2014, when Eric was with the San Francisco 49ers. Jaid was born to a South African mother and Chicago born father and was raised by her mother after her father left when she was a kid.
She schooled at LSU where she met with Eric for the first time. The couple has a daughter named Knysna Reid; she was born on August 13, 2014. They are living happily with Eric's daughter from another relationship named Leilani.
Height and Weight
Reid is one of the NFL players that have got the body and height required of a footballer. He flaunts his body knowing full well that he is hot. The former 49ers safety player has a commanding height of 6 ft 1 in (1.85 m) and weighs 98 kg.
Other Facts
Eric made interceptions in his first two NFL games played against Green Bay Packers and Seattle Seahawks.
He is a social justice advocate; he speaks out against any form of racial injustice and discrimination in the United States.
Eric Reid is a philanthropist and a community man. He spends his leisure time with his community, lending a helping hand to the needy ones. He once disclosed his intention to build a homeless shelter in Baton Rouge, where people will feed, get medical care, education, and skills
He is a disciplined professional footballer who he comes to training early and stays till its late. He has never been found wanting in the job he is being paid to do.