Erica Hill is an American journalist who has had a career that has found her working for big industry names like CNN, CBS, and NBC. She has co-anchored several shows during her years in each of the cable network channels and has also been the lead on some of her own shows. Her love for writing gave her the edge she needed early on in her life to become the successful journalist she is today. Her drive enables her to stay on top of the news and deliver it with no bias. Sit back and read on to learn more about her career, net worth, husband and children.
Erica Hill – Bio
The American journalist was born Erica Ruth Hill to Cheryl and Steven Holmes Hill in Clinton, Connecticut. Her date of birth is the 20th of July, 1976. She grew up with an elder sister whose identity is currently unknown. Before she was born, her parents got separated; that meant that after she was born, her mother, Cheryl, became a single mother and raised her two daughters with the morals and values she had.
High school years went by for Erica Hill at Wethersfield High School. Upon completion, she chased her dream to be a journalist by studying Journalism at Boston University. She played basketball during her college years, and with a high level of competence in her studies, she graduated summa cum laude with a bachelor's degree in 1998.
Erica Hill is fluent in French. She is also a member of Alpha Epsilon Phi, a sorority that is part of the National Panhellenic Conference. Her interest in writing came early on in life, and it's not too difficult to see why she chose journalism as a career.
CNN Career
Fresh out of Boston University in 1998, Erica Hill was ready to take on journalism full-time. She started out as a production assistant for PC Week's new online program PC Week Radio. During this time, she was also a conference coordinator for the Software Publishers Association Europe. She was worked as part of the TechTV crew for the TechTV News program from 2000 to 2003. Her role was that of a general reporter before she climbed up the ladder to become a co-anchor and correspondent from 2001 till 2003. One of her major feats as a journalist was her live reporting of the 'September 11, 2001' terrorist attacks.
January 2003 became a major turning point for Erica Hill; being the month she joined news giant CNN. She started out on the daughter channel, Headline News, as a news anchor. In 2004, she joined the mother channel and rose to the position of national correspondent on the program CNN Newsource. Next, she was chosen as co-anchor alongside Mike Galanos on the Headline News program Prime News Tonight. This gig ran from 2005 to 2006 before Mike Galanos was reassigned to anchor morning news coverage. Erica Hill was left to run the program and it became Prime News with Erica Hill. During this period, she occasionally provided news updates for CNN's Anderson Cooper 360.
She anchored Prime News up till the 25th of January, 2008 when she was re-assigned a new position on Anderson Cooper 360. By February 2008, she became a full-time member of the team. She was also co-anchor of the program CNN Tonight which ran from the 16th of November, 2009 till the 15th of January, 2010. Other reporters to have been on the program are Dana Bash, Candy Crowley, and Kitty Pilgrim.
Erica Hill continued her anchoring duties on Anderson Cooper 360 up till the 8th of January, 2010 when she left CNN to join CBS news. While at CBS, she anchored CBS Evening News, The Early Show and CBS This Morning. She also served as a special correspondent for the news channel in late 2012 before she moved to NBC news. She became co-anchor on the NBC program Weekend Today and reported on MSNBC and NBC Nightly News.
On the 6th of June, 2016 Erica Hill returned to Headline News to her own daily program On the Story with Erica Hill. In, April 2018, Erica Hill returned to CNN, leaving On the Story behind.
Net Worth & Salary
Erica Hill's career as a journalist has earned her a rather comfortable net worth that allows her to live a life she so desires. With an annual salary of $750,000, her net worth is estimated at a healthy $4.5 million. This is not surprising considering she has proven herself many times over in her career.
See Also: Veronica Montelongo – Bio, Facts and Profile of Armando Montelongo's Ex-wife
Erica Hill: Husband and Children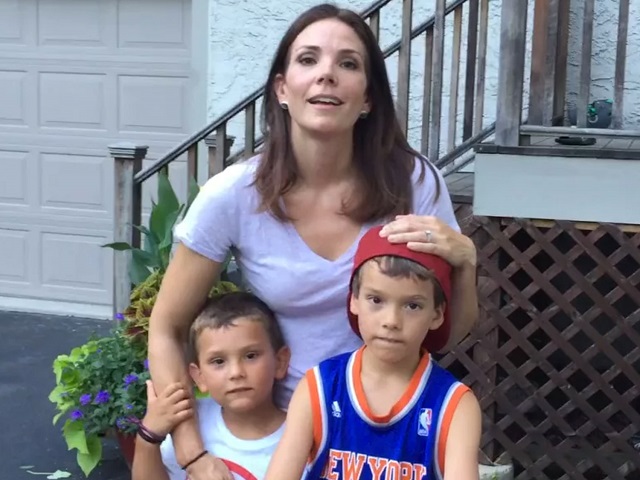 Erica Hill is currently married to David Yount, a practising lawyer. They met in 2004, and after 12 months of dating, they tied the knot on the 25th of October, 2005. The marriage has endured for over a decade, and within that time the couple has brought two boys into the world. Their first son, Weston Robert, was born on the 25th of November, 2006. Their second son, Sawyer Steven, was born on the 23rd of March 2010. The family currently resides in New York City.