Erica Hill is an American journalist who has had a career that has found her working for big industry names like CNN, CBS, and NBC. She has co-anchored several shows during her years in each of the cable network channels and has also been the lead on some of her own shows. Her love for writing gave her the edge she needed early on in her life to become the successful journalist she is today.
Her drive enables her to stay on top of the news and deliver it with no bias. This has been evident over the years, during her stints at different news networks from where she has garnered extensive journalistic experience which has made her stand out in her chosen career, having become an Emmy Award nominee in the year 2018.
Graduating From University, Erica Hill Landed Her First Journalism Gig At PC Week Radio
Upon completion of high school education from Wethersfield High School, Erica Hill chased her dream to be a journalist by studying Journalism at Boston University. With a high level of competence in her studies, she graduated summa cum laude with a Bachelor's degree in 1998. Her interest in writing came early on in life, and it's not too difficult to see why she chose journalism as a career.
Fresh out of Boston University in 1998, Hill was ready to take on journalism full-time. She started out as a production assistant for PC Week's new online program PC Week Radio. During this time, she was also a conference coordinator for the Software Publishers Association Europe. She further worked as part of the TechTV crew for the TechTV News program from 2000 to 2003.
Her role was that of a general reporter before she climbed up the ladder to become a co-anchor and correspondent from 2001 till 2003. One of Erica Hill's major feats as a journalist was her live reporting of the 'September 11, 2001' terrorist attacks.
She First Joined CNN As HLN News Anchor In 2003
January 2003 became a major turning point for Erica Hill; being the month she joined news giant CNN. She started out on the daughter channel, Headline News, as a news anchor. In 2004, she joined the mother channel and rose to the position of national correspondent on the program CNN Newsource. Next, she was chosen as co-anchor alongside Mike Galanos on the Headline News program Prime News Tonight.
This gig ran from 2005 to 2006 before Mike Galanos was reassigned to anchor morning news coverage. Erica Hill was left to run the program and it became Prime News with Erica Hill. During this period, she occasionally provided news updates for CNN's Anderson Cooper 360. She anchored Prime News up till the 25th of January, 2008 when she was re-assigned a new position on Anderson Cooper 360. By February 2008, she became a full-time member of the team.
She was also co-anchor of the program CNN Tonight which ran from the 16th of November, 2009 till the 15th of January, 2010. Other reporters to have been on the program are Dana Bash, Candy Crowley, and Kitty Pilgrim. Erica Hill continued her anchoring duties on Anderson Cooper 360 up till the 8th of January, 2010 when she left CNN.
Vacating Her Role At CNN, Erica Had Stints At CBS News And NBC
Prior to leaving the Cable News Network for CBS News in January 2010, Hill already began serving as the co-host of CBS' Saturday edition of The Early Show in September 2008. Following her departure from CNN, her role at CBS was expanded as she began working as the co-host of the weekday edition of The Early Show, serving as a replacement for Russ Mitchell. Later on, she worked as a fill-in anchor on the CBS Evening News from June to July 2010.
She officially became a co-host of The Early Show in January 2011 and in the next year, specifically in January, Erica Hill started co-hosting the TV network's new program titled CBS This Morning along with Gayle King and Charlie Rose. Moving on from CBS This Morning in September 2012, the broadcast journalist took up the role of a special correspondent for CBS News. She executed this new role for a little over a month and never appeared on-air during such time.
Afterwards, she became a member of the staff of NBC News on November 1st, 2012. While there, she worked as the co-host of Weekend Today show from 2012 to 2016 and also worked in the capacity of NBC News national correspondent. Although she left her role as the Weekend Today co-host in April 2016, Hill continued working as a correspondent on MSNBC Live and NBC Nightly News with Lester Holt. She then made a return to CNN and Headline News Channel in mid-2016.
The Proficient Journalist Has Executed Numerous Roles Since Returning To CNN In 2016
Joining HLN in June 2016 for the second time, Erica Hill was made the host of a daytime news program. She also made contributions on CNN at the time. Later in October 2016, she began hosting her daily new program on HLN titled On the Story with Erica Hill. She hosted the show from 2016 to 2018 when she joined the CNN team as a national correspondent, as well as a lead fill-in anchor.
She has gone on to feature in other of the news network's programs such as CNN Right Now with Brianna Keilar, At This Hour, The Lead with Jake Tapper, New Day, The Situation Room, and Erin Burnett OutFront. She has additionally been working as a host and correspondent on CNN Newsroom since 2017 and also served as the co-host of the 2020 TV special, The ABC's of Covid-19: A CNN/Sesame Town Hall for Kids and Parents.
Having shown a high level of professionalism for many years in her journalism career, Hill was a recipient of News & Documentary Emmy Award nomination for Outstanding Breaking News Coverage To CNN for CNN Worldwide Hurricane Coverage.
Erica Hill Is Enjoying a Flourishing Marital Life With David Yount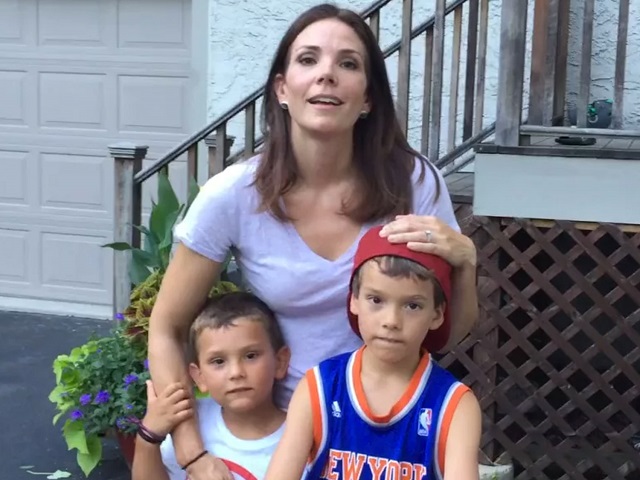 Erica Hill is currently married to David Yount, a practicing lawyer. They began a romantic relationship soon after their first meeting in 2004. After 12 months of dating, the pair tied the knot on the 25th of October, 2005 in Atlanta, Georgia. The marriage has endured for over a decade, and within that time the couple has brought two boys into the world.
Their first son, Weston Robert, was born on the 25th of November, 2006. Their second son, Sawyer Steven, was born on the 23rd of March 2010. As a result of her devotion to her family, the prominent journalist left her role as Weekend Today co-host at NBC in April 2016 in order to have more family time with her husband and kids. On balancing her professional life and family life, she has cited that having a good schedule has been quite helpful. The family currently resides in New York City.
Hill's significant other, David M. Young is a well-known lawyer and businessman. He was born in Indiana, United States on August 29th, 1969. He is a graduate of California State University where he earned a Bachelor's degree in Broadcast Communication. He, afterwards, got associated with media centers such as Fox Sports, Ziff-Davis Television, and NBC News.
He then moved on to study Law at John Marshall Law School from where he obtained a Doctor of Law degree and subsequently began his legal practice in Atlanta, Georgia. Asides being a lawyer, David is also a businessman. He serves as the owner and Chief Executive Officer of LicenseLogix, a company that deals on business licensing works.