Erica Schmidt is a world-class playwright, director, and theatre guru. To the random Joe out there, however, she is known as Peter Dinklage's wife. A quick scan at her catalog though, proves that there is much more substance to her, and she might be a tad underappreciated. Her career in art and entertainment dates back to college. As part of the comedy group called Laughing Stock, she partook in several competitive weekly events. This spurred her on to give acting a go before finding her feet in theatre and directing to admirable success.
Erica Schmidt's Journey to a Professional Entertainment Career
Erica Schmidt was at Vassar College in 1997. She joined a comedy group named 'The Laughing Stock' due to her love for art and performance. She and her group regularly went up against other comedy groups during the weekends. They were part of some of the most epic comedic performances on display at the time.
She graduated from college and moved to Williamsburg, Brooklyn. While there, she found a job as a costume designer with Julliard. She decided to pursue acting roles more actively developing an appreciation for the art at Julliard. Her first major break though did not come as an actress. She secured a position as a deck stage manager for a production of Jesus Christ Superstar at St. Mark's Youth and Young Adult Ministries.
Her first acting stint came when she starred in the drama Miles from Nowhere. Released on September 7, 2002, it remains the only movie appearance in Erica Schmidt's career. She did, however, play the title role in an off-off-Broadway play titled Brandon Teena. Although she pursued acting more vigorously at the outset of her career, she never really hit it off in that regard. A life behind the scenes called out to her, and that is where she has duly excelled.
Making Her Directorial Start and Success Behind the Screen
Erica Schmidt failed to find much work as an actor. In turn, in partnership with other out-of-work actors, they created a company to star and direct their projects. She was duly rewarded with her directorial debut, in 2000 with As You Like It. It was unanimously well-reviewed by critics and earned her critical acclaim. The crowning moment came when she was the recipient of The Princess Grace Award for Theatre Direction in 2001. Erica Schmidt had officially arrived.
As a result of her fantastic debut, she became a sought after theatre director. She has gone to direct more plays that received excellent reviews from critics and viewers. In 2002, she directed Spanish Girl. It became one of her most popular and well-received works. The play became a breakthrough moment for her as it earned her two things: her first huge profit and wider recognition.
The next year, she directed Debbie Does Dollar, which was an even bigger hit than Spanish Girl. She continued to find directorial success in theatre with plays like People Be Hard and Uncle Vanya in 2008. She found incredible success in 2009 when she collaborated with longtime friend, Lorenzo Pisoni to direct Humor Abuse.
The play proved to be so popular it returned to the theatre multiple times. It has been performed at numerous venues such as Philadelphia Theatre Company (2009), American Conservatory Theatre (2011), and Centre Theatre Group (2013). This production also earned her the 2009 Lucille Lortel Award for Outstanding Solo Show.
In 2015, she went on to direct her husband, Peter Dinklage, in a play called A Month in the Country that enjoyed equally significant success. She followed it up with a 2017 offering of All the Fine Boys and Cyrano, in 2018. Both productions received critical acclaim and appreciation.
What to Know About Erica Schmidt's Marriage to Peter Dinklage
Erica Schmidt has been married to Peter Dinklage since 2005. Long before he got his big break as Tyrion Lannister in Game of Thrones, he and Erica eloped to Las Vegas to exchange marital vows. The pair met in 2002 and dated for three years before deciding it was time to take the big jump.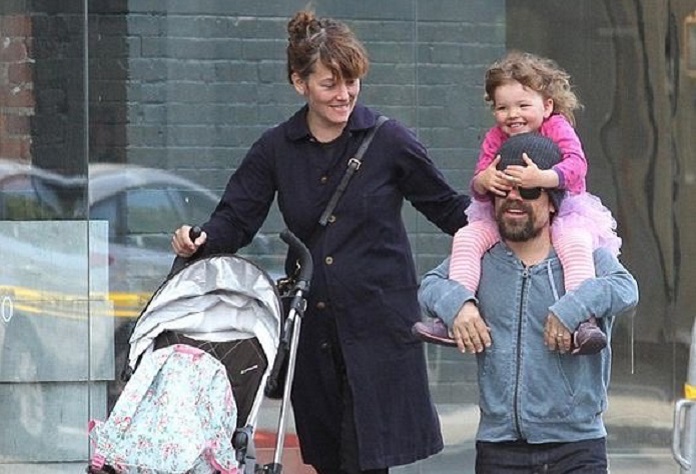 The union has birthed two kids. Their daughter arrived in December 2011 while their second child was born in September 2017. The couple lives a notoriously private and guarded life. They are so private that the name of their children remains unknown, and even the gender of the second child is still a secret. In 2012, the couple moved from Manhattan to rural New York in a bid to stay further away from public glare. However, they were later forced to move back to the city because of the strain of the commute on Erica's career.
Erica Schmidt and Peter Dinklage are Big Deals in Their Respective Professions
Erica Schmidt and Peter Dinklage operate in different entertainment worlds, but they have both found huge success in their fields. She is a celebrated and award-winning theatre director, and he is a famous and successful movie and TV actor. While Erica Schmidt is well known and respected in the world of theatre, she is considerably less popular than her husband outside of it. Peter Dinklage found ridiculous success and popularity when he began playing Tyrion Lannister in Game of Thrones.
Erica entered mainstream consciousness through her marriage to Peter. It is impossible to use social media following as a metric as Erica avoids all social media platforms. The disparity in their popularity and success is perhaps best seen in their net worth. Erica, for all her success and recognition, has an estimated net worth of $1 million. Peter Dinklage, who has been acting since the '90s, has amassed a fortune worth a substantial $16 million.
They are Both Major Awards Winners
In terms of awards, Erica Schmidt has won The Princess Grace Award for Theatre Direction and The Lucille Lortel Award for Outstanding Solo Show. Both of them are major recognition in her field. In Peter Dinklage's onscreen lane, the Emmy is one of the big three awards.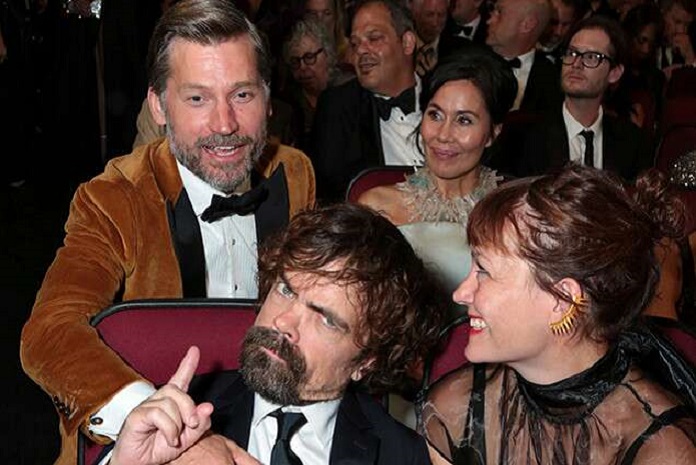 Peter Dinklage broke records in 2018 for most nominations in Outstanding Supporting Actor in a Drama Series at The Emmys with eight nominations. His four wins also make him the most wins in the category. He has 4 Emmys, a Golden Globe and a Critics' Choice award amongst other honors.
It is, however, clear that there is no rivalry of any type, and the couple supports each other without reservations.