Sports enthusiasts would undoubtedly be familiar with the name Skip Bayless. While there is perhaps information readily available about the famous but controversial sports columnist and television personality, not much is known about Ernestine Sclafani, the woman in whose arms he found love for the second time. Besides Skip's career journey from big networks like ESPN and Fox Sports, not many are aware that he shares a lot in common with his wife both professionally and personally. Find-out lesser-known facts about Ernestine Sclafani.
Ernestine Sclafani – Bio, Age
Ernestine Sclafani is a native of New York born in 1962. A pretty private woman, there is no information available about her parents, siblings, family background, early life, and elementary education. However, it is common knowledge that she was born and bred in a decent household in her hometown of Long Island. For her tertiary education, Sclafani is a 1986 Suffolk Country Community College alumna. Moreover, Ernestine's field of specialization is unknown.
There is also a dearth of information regarding Sclafani's career and work experience. However, as per public records, it is safe to say that she has built a solid career as a publicist. Her first known job began in 1990 as the director of public relations at the Ball Of Switzerland. She had a ten-year long stint with the organization before moving on to greener pastures.
Sclafani's next job was in a similar capacity. She has apparently proven her worth in the PR field and currently serves as a vice president for a top public relations firm called the Weber Shandwick. Other than these, there is little or nothing else known about Ernestine Sclafani's career endeavors, ambitions, and goals.
Family
It is Ernestine Sclafani's marriage to the popular TV figure and sports journalist Skip Bayless that flung her to the spotlight. The couple has an interesting love story. Ernestine first crossed paths with her husband while he was still working at ESPN, and at a business rendezvous with Kevin Dillion. Both parties exchanged complimentary cards at their first meet and decided to go on a date a few days later.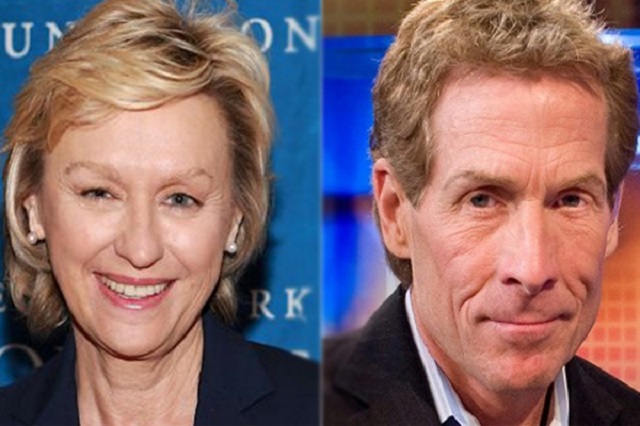 Their first date was quite an interesting one as the sharp-tongued Bayless particularly made it clear to Ernestine Sclafani that his job will always take priority over her. The statement sat quite well with the PR agent who also loves her job. Among other common interests, that fact ironically became one of the uniting factors for the couple. They also bonded over shared interests like the love for '60s music, the classic sitcom, I Love Lucy and Woody Allen.
Soon after, the couple established a romantic bond and today, the rest is history. Other than the fact that they dated secretly for many years, the ultra-private couple has consciously kept details of their wedding under wraps. However, it is believed that they exchanged marital vows in a low-key ceremony that was strictly attended by only close family and friends.
For reasons best known to them, the couple prefers to shield information about their personal lives from the public, thus it is uncertain if they have any kids yet or if they are nursing plans to have any in the near future. Regardless of their discreet lifestyle, Ernestine and Skip are presumed to be living their best lives yet and are waxing stronger together.
Due to the nature of their jobs, the couple has survived a long distance relationship. At the time, Sclafani worked in Manhattan while her husband worked in Connecticut causing them to spend only the weekends together. Ironically, the distance may have been one of the couple's secrets to a long-lasting union as love has conquered over all their challenges.
Read Also: Vivian Liberto Bio, Ethnicity, Wiki, Facts About Johnny Cash's First Wife
While their marriage is the first for Ernestine Sclafani, it is the second for her husband. Bayless claims to have been in four long-term relationships and was previously married to his high school sweetheart whose identity is unknown. Like most other personal details about the sports journalist, the circumstances surrounding his first marriage and divorce has not been disclosed.
Height and Other Facts About Skip Bayless' Wife
Ernestine Sclafani's private lifestyle both professionally and on the domestic front has left the media with mostly speculations. It remains uncertain if she has other means of livelihood and details regarding her exact salary and net worth have not been made public knowledge.
There is no information readily available about Ernestine's height, weight, and other body measurements. But going by her physical features, it is safe to say the blonde-haired woman has an enviable physique.
Given her reclusive lifestyle, it is unsurprising that Ernestine Sclafani shies away from both the mainstream media and social media. She is not active on popular social networking sites including Instagram, Facebook, and Twitter.