Ethan Sandler is a Jewish-American writer, actor, and producer who has featured in a lot of movies and television series, as well as theater plays which have endeared him to the hearts of many admirers and fans over the years.
He is also a very loving husband and father to his kids, who has worked very hard to provide for his family in order to give them the kind of life that he probably never had as a child.
Biography
Ethan Sandler was born in Fort Wayne, Indiana, on December 3, 1972. He was born into a home of Jewish descent, and though he was born in the United States, he was brought up according to Jewish traditions and beliefs.
There is no information available about Ethan's parents – who they are, what they did and where they presently are? Ethan has chosen to live a very private life and has disclosed very little information about his growing up years or very early family life. We do not have information also about his siblings – that is, if he has any at all.
Ethan began his educational pursuits in Mercer Island High School in Seattle, Washington D.C, and completed his education there in 1991. He thereafter proceeded to Northwestern University, Evanston, Illinois. While Ethan was in the university, he was involved very much in theater productions and plays, and he starred in quite a few productions, which ultimately helped to shape his life and career as an actor later in his life. He graduated from the University in 1995.
After completing his education, Ethan began his career proper in the film and theater industry in the United States of America.
Is Ethan Sandler Related To Adam Sandler?
There is a conflicting report on the relationship between Ethan Sandler and Adam Sandler other than the fact that both Hollywood actors have the same last name and share a few things in common.
Some say that both Ethan and Adam could be cousins or some sort of distant relatives since they both share the same last name and both have Jewish ancestry. Some, on the other hand, believe that there is no relationship or link whatsoever between both actors, as they have not been known to have associated with each other publicly or made any statement to suggest that they are related.
Other Facts About Ethan Sandler
Though Ethan prefers to live his life quietly and far away from media spotlight and scrutiny, and even though he hardly divulges any personal information about himself to the public, we have gathered some few interesting facts about him that is worth noting:
Family: Wife And Children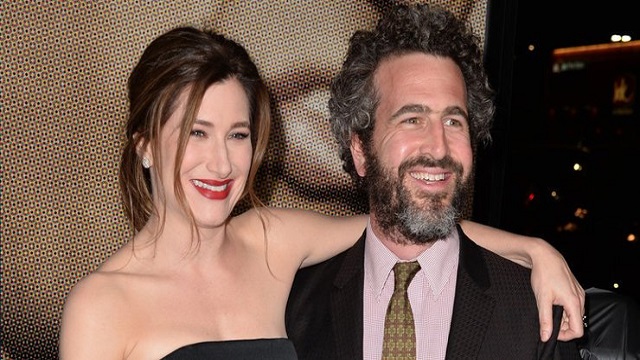 While Ethan Sandler was studying in Northwestern University, he met a very beautiful lady known as Kathryn Hahn – who has now become a very popular comedian and actress, and they got to like and know each other much better.
According to the accounts of both Ethan and Kathryn, they recollect clearly that they both began dating each other when they were still very young – both were in their early twenties then, but they were simply madly in love with themselves and couldn't care about their age and inexperienced then.
The young lovers dated each other for a very long time believed to be between 7 to 10 years before Ethan proposed to Kathryn on Thanksgiving day of 2000. They were engaged for two more years before they eventually got married on January 3, 2002. The couple began their married life in earnest, and their different career pursuit kept them busy till they had their first child – a son they named Leonard in October 2006. He was subsequently followed by a little sister, they named Mae, who was born on July 27, 2009. There is an unconfirmed report that the couple has had a third child together, but the name of the child is not readily available.
Ethan and Kathryn have been married for more than 17 years now, and their love for each other has not waned a bit at all. Kathryn once said in an interview, that she appreciates the fact that she and her husband got the chance to "grow up together" in their relationship.
Net Worth
Ethan Sandler has been actively involved in the entertainment industry for more than 3 decades now, and he has appeared in a lot of movies, television series and theater plays garnering up a very decent amount of money.
He is deemed to be worth about $3 million, but some believe that his net worth should be closer to the $10 million mark. His wife, Kathryn, on the other hand, is thought to be worth about $2 million, but some suggest that she should be worth a lot more than this figure.
Read Also: Adam Scott (Actor) – Bio, Height, Age, Wife, Kids, Siblings, Family, Is He Gay?
Ethan's Romantic Gesture That Made His Wife Cry
Kathryn disclosed a "romantic" gesture made by her husband, Ethan Sandler, which made her cry for joy.
While they were just starting up their family and we're still not wealthy, she recalled that he surprised her by installing a shelf in their bathroom while she was away on a trip. She stated that they had a rusty shelf in their bathroom which was constantly falling down, and she wished they could afford a new shelf, but never discussed it with Ethan; so she was pleasantly surprised that he was thoughtful enough to "know her thoughts" and grant her her secret wish.