Like many other stars, Eva Mendes has weathered the rocky road to fame and established herself as a Hollywood A-lister. Though initially inclined to pick up a religious vocation, the American-born Cuban actress eventually chose the path of showbiz. More so, she took a big gamble by ditching her college degree for Hollywood, and with patience and hard work, that decision has surely paid off. Besides her acting career, Mendes also has an impressive resume which includes modeling, fashion designing, and of course, wife and mother. Here are lesser-known facts about Eva's career and ultra-private personal life.
Eva Mendes' Age & Ethnicity
The Cuban-American actress was born on 5th March 1974 to Juan Carlos and Eva Perez Suarez. Though born in Miami, Florida, Eva and her siblings (Carlos and Janet) were mostly raised by their mother in Los Angeles after their parents divorced. Eva Mendes is of Cuban descent as her parents emigrated from Cuba to the United States. Raised in a typical Cuban household, Mendes is known to be proud of her Latin heritage and culture.
As a roman catholic, Eva initially nurtured dreams of becoming a nun as a child. But her aspirations changed after she caught the attention of a Hollywood agent. She attended Hoover High School, Glendale, and then the California State University, Northridge where she majored in marketing but eventually dropped out in 1997 to pursue a career in Hollywood.
Eva has an exhaustive list of movies to her credit. From her debut role in 1998's Children of the Corn V: Fields of Terror to her breakthrough role in the 2001 film Training Day, it's been an array of versatile performances. Some of Eva's notable hits include Stuck on You (2003), 2 Fast 2 Furious (2003), Once Upon a Time in Mexico (2003), Hitch (2005),  Ghost Rider (2007), Last Night (2010), The Other Guys (2010), and Girl in Progress (2012). Mendes has also worked as a model for several popular brands including Revlon, Reebok, and Calvin Klein, among others.
Brother
The year 2016 brought a mix of emotions for Mendes and her family. The actress lost her older brother Juan Carlos Mendez in April 2016 and also welcomed her second child Amada, a month after his passing. Carlos was diagnosed with throat cancer in 2014, and after a long battle with the disease, he died at age 53, leaving behind two children. Mendes who obviously loved her brother very much helped Carlos through his battle with cancer and described his death as the hardest thing she's ever had to go through in her life. More so, at the 2017 Golden Globes, Eva's partner, Ryan Gosling who won Best Actor in a Comedy or Musical dedicated his speech to the memory of Mendes' brother, Carlos.
Eva Mendes' Kids and Husband (Ryan Gosling)
Eva Mendes is married to one of Hollywood's most sought-after Canadian actors, Ryan Gosling. The infamously private A-list couple have been quite a Hollywood paradox as they have tried to keep their long-term romance so under the radar.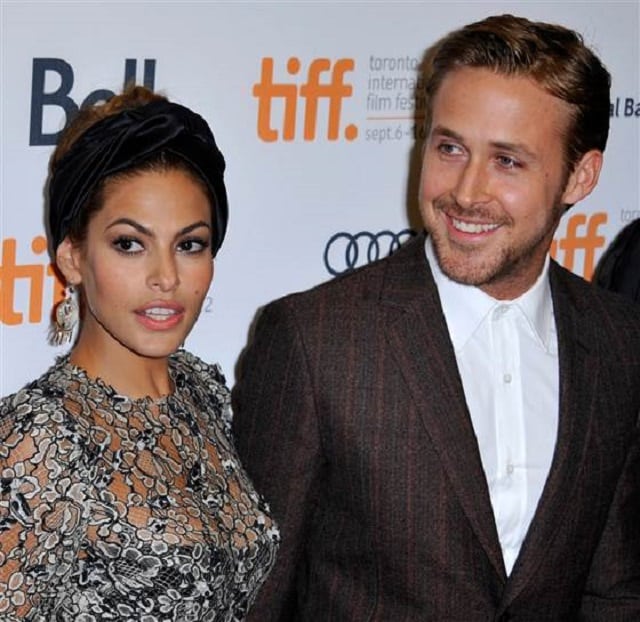 Eva and Ryan met while filming the 2012 crime drama The Place Beyond the Pines. The couple who co-starred as boyfriend and girlfriend in the film quickly bonded and decided to take their characters' relationship off-screen. However, there are reports that Mendez and Gosling had actually been friends for years before filming, but the project was the first time that they got to work professionally together.
Before meeting Ryan, Mendez had personal political beliefs that marriage was an old, misogynistic institution, and therefore nurtured no plans on ever getting married. But the striking Canadian actor eventually became the one exception to her rule.
Eva and Ryan, who reportedly secretly married in 2016 have two children together. The family-oriented couple welcomed their oldest daughter, Esmeralda Amada on 12th September 2014, while their second daughter Amada Lee was born on 29th April 2016. The couple deliberately named their two daughters Amada (Spanish for 'beloved') after Eva's grandmother, a norm for her Latin heritage. The name not only holds particular significance for Mendez but also for her family. Their first daughter was named Esmeralda after the character from the Victor Hugo novel. Famously known to be proud of her Latin heritage and culture, Mendez and her husband are also raising their kids to be bilingual.
See Also: Is Jessica Biel Married? A Look At Her Personal Details
Since they began dating, Gosling and Mendes have become one of Hollywood's most attractive but secretive couple, who rarely open up about personal matters. Given how busy both actors are with their high-profile careers, they have tried to balance their time between their red carpet appearances and family. As an A-list star, one of the highlights of Mendes' career used to be hitting the red carpet as often as possible, but the actress who is more grateful for her new life as a wife and mother actually loves to stay at home with her family more than anything else.
Eva Mendes and Ryan Gosling are not only committed to each other but are also devoted parents to their two daughters. Arguably considered to be Hollywood's most cryptic couple, the actors have become adept at avoiding paparazzi and shielding their private lives away from the media. As expected of her chosen career paths, Mendes's relationships over the years have always made headlines. Before meeting Gosling in 2011, she was romantically linked to filmmaker George Augusto from 2002 to 2011 and also Jason Sudeikis in 2011.
Height
Asides her prolific acting skills, the Miami-born actress is also famous for natural beauty and striking features. With her slim physique, Mendes stands at an average height of 5 feet 6 inches and weighs 56 kg. Her body measurements are bust – 36 inches, waist – 25 inches, and hips – 36 inches.