Evan Peters has carried on with life ever since he broke up with Emma Roberts in 2019. He has appeared in numerous projects like X-Men: Dark Phoenix, I Am Woman, Dahmer – Monster: The Jeffrey Dahmer Story, and other movies in the American Horror Story series. He also started a relationship with singer Halsey, however, the two have since parted ways.
Evan Peters and Emma Roberts had a romance that could rival the plot of a Hollywood script. The two movie stars first started dating in 2012 after meeting on the set of Adult World. They subsequently endured a volatile seven-year romance during which they broke up and made up thrice. There were also broken engagements and allegations of domestic violence before the pair finally called it quits in March 2019.
A Timeline of Evan Peters and Emma Roberts Relationship
Evan Peters and Emma Roberts first met on the set of the indie comedy film, Adult World, in 2012. During filming, Roberts made it quite obvious that she was interested in the actor while he was a bit demure. The two eventually started dating after filming wrapped up.
Evan Peters and Emma Roberts spent the first few months of their romance making joint red carpet appearances. They were also spotted strolling the streets of several cities. The couple, however, experienced their first relationship drama while holidaying in Canada in July 2013. They got into a fight and were so loud that bystanders were forced to call the cops. Upon their arrival, the cops discovered that Peters had a bloody nose and bite marks while Roberts was completely unscathed. She was arrested for domestic violence but was later released as the actor refused to file any charges.
Following the incident, Peters and Roberts reconciled and by December of that same year, got engaged. This engagement however lasted for a year and six months before the couple parted ways in June 2015. They, however, did not stay apart for long as they made up, three months later, in September 2015. This second stint of the Evan Peters and Emma Roberts' romance lasted for nine months before the couple split up once more in May 2016. Both parties moved on with their respective lives but they couldn't resist the force between them. The two movie stars reconciled yet again in September 2016. They even got re-engaged but finally called it quits for good in March 2019.
The split was an amicable one and both parties have maintained a respectable silence about what led to the breakup.
Summary of Evan Peters and Emma Roberts Relationship
| Parameter | Information |
| --- | --- |
| Met | On the set of the film "Adult World" in 2012. |
| Started Dating | Mid-2012 |
| Engagement | Peters proposed to Roberts in late 2013. |
| Notable Incidents | In 2013, Roberts was arrested following a domestic dispute, but no charges were filed. |
| Break-ups | The couple had several breaks in their relationship, including in 2015 and 2016. |
| Final Split | In 2019, they reportedly ended their relationship for good. |
| Post-relationship Status | Both have since moved on with their lives. Roberts became a mother in 2020. Peters has also been linked to other relationships. |
Where Is Evan Peters Now After His Split From Emma Roberts?
Since the breakup, Peters has focused his attention on pursuing his burgeoning acting career. He has continued his legendary work on the American Horror Story series. He also appeared in the 2019 movie, X-Men: Dark Phoenix, which is the 12th installment in the X-Men film series. The movie featured the likes of Sophie Turner and James McAvoy, among others, while Evan Peters portrayed the super-fast superhero known as Quicksilver.
Who Is He Dating Now?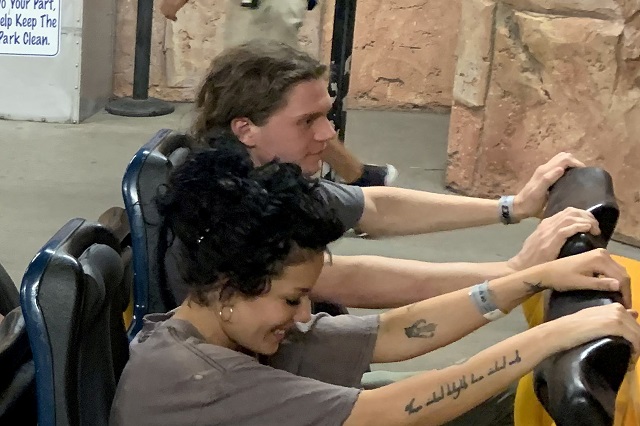 Evan Peters is also doing well on a personal front. The American Horror Story star has been romantically linked with Halsey, an award-winning American singer, and songwriter. Halsey, whose real name is Ashley Nicolette Frangipane, has dropped several hit tracks such as Colors, Now or Never, Bad at Love and Without Me. She has also been featured on hit collaborations including Closer by The Chainsmokers and Boy with Luv by BTS. Halsey has thus far received several awards including multiple Billboard and iHeartradio Music Awards.
The actor and Halsey first sparked dating rumours after they were spotted hanging out at the Six Flags Theme Park in Los Angeles on the 21st of September 2019. A source later described the duo as flirting and laughing while waiting for their turn.
Peters and Halsey have yet to confirm their romance. It would, however, not come as a surprise if they started dating as Halsey has not hidden the fact that she likes the actor. Between 2012 and 2014, the singer shared a series of tweets expressing her affection for Peters.
Meanwhile, Evan Peters is not the only one moving on with his love life. His ex, Emma Roberts, is now in a relationship with actor, Garrett Hedlund. The romance commenced in March 2019 and the pair have kept a low profile.